The number of people who use Digital Payment systems at least once a month has grown to 100 Million. (Source: ET)
That is what Digitalization has done to the world. It seems to be another era when cash used to be the medium of all our transactions. The payments industry has evolved, and so have the consumers. From swiping our debit and credit cards at the point of sale too depending on mobile wallets for our day-to-day transactions, we have gone cashless- quite literally. 
To keep up with the trends, even the banks have changed their methods. They have moved from customer service to customer engagement. With the plethora of alternatives available to a regular person, the banking industry understood the need to offer more. The rise of seamless banking apps is a result of that.  
These are the most basic changes that we have gone through. But there are some major shifts that have taken place. Here they are:
State Bank of India (SBI) launched the State Bank Buddy mobile wallet. Other digital wallets launched by banks include Pockets (ICICI Bank) and Lime (Axis Bank). Service providers including Paytm, Oxigen wallet and FreeCharge are all adding to the digital payment alternatives.
Consumer-centric methods

:
The payments industry, like any other industry, has started revolving around its customers. Customer experience has become of prime importance, and that is leading to the rise of easy payment solutions
Mobile payments have become one of the preferred modes of payment because of the quick and hassle-free process. According to the McKinsey reports- Mobile apps have accounted for more than 30% of global digital commerce volume.
The cashless economy has given rise to cashback and rewards. This makes digital payments even more appealing.
Banks are losing the monopoly over banking, loans, and investments. Banks have the brand whereas FinTech's have the technology, they will go forward with -collaboration.
No device discrimination:
There's no one person who holds the power. Every device can be used as a merchant or consumer device.  
Financial institutions are leveraging technology to secure the payments and out-smart the fraudsters.
The exhausting and inflexible methods will be replaced by open and agile ones to gain a competitive advantage.  
They are some of the major shifts we have gone through in recent times on a global level.
Let us now talk about one of the biggest markets that the payments industry has to cater to – India. 
Source- 2019 J.P. MORGAN GLOBAL PAYMENT TRENDS:
Like any other part of the world, the ways of payments in India are going through an extensive and continuous revamp.
Here are 5 global trends that will affect digital payments in India in 2019-2020
Mobile payments have become the norm

:
According to the McKinsey -Mobile commerce accounts for 48 percent of digital-commerce sales globally as of 2017 and is forecasted to reach 70 percent by 2022 (tripling to $4.6 trillion). Digital wallets are estimated to have added approximately 40 billion to global payments revenues. As the use of smartphones is at an all-time high, mobile commerce has become the norm. That includes in-app payments and mobile browser payments. Also, there has been a recent shift towards online shopping which has made app-based payments and digital wallets even more dominant. 
             

Entry no bar

:
The financial services is no longer a closed market. For the longest time, there was nothing but banks ruling the finance industry. It is quite recent that the entry barriers have been broken and FinTech's have started to become dominant. According to PwC – Global investments in FinTech more than tripled in 2014, reaching more than $12 billion. After all, what would life be without Paytm, Google Pay, PayPal, and other such payments giants?  
             

Customer-centric scenario

:
From serving the customers, the goal has shifted to engaging them. Revenue growth has started to depend on how well a business understands its customers. In today's day and age when customization has become the aim even for the financial services industry – the more you know about your customers and their needs, the better. IoT and Big data come to play here. Processing and analyzing the available data has given rise to apps that give customers exactly what they want. According to PwC's 18th Annual global CEO survey – 63% of insurance CEOs believe that the Internet of Things will be strategically important to their organization.
               The hottest of all- Blockchain:
Blockchain can change how financial services work. It is a decentralized public ledger that comes with a promise of securing your transactions like never before. It will remove the need for intermediaries, thereby completely eliminating many processing and transaction fees. The best part? Your financial information will never be at risk as no one institution will hold power over it.  
             

Less artificial, more intelligent (AI):
The AI market worldwide is set to achieve year-over-year growth exceeding 150 percent through this year, and it will continue to grow, with projections forecasting 127 percent year-over-year by 2025. Artificial intelligence has been around us for quite some time now. From chatbots that will ensure better and cheaper customer service to machine learning that will make payments secure, AI is set to make massive improvements. Ultimately, it will take customer service to a whole new level by changing customers' behavior and leveraging the 'next best action'.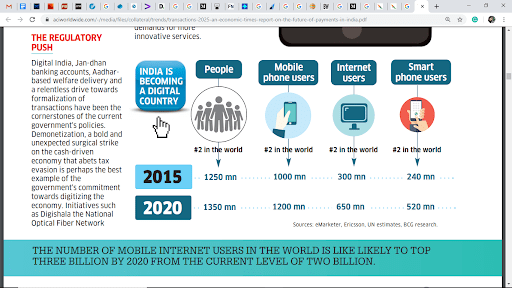 Future of digital payments in India – Insights:
India is truly becoming a digitized nation. And Smartphones have a huge part to play in this. With the number of smartphone users rising exponentially, mobile payments are set to become the norm.

Sourced from The Financial Express, here is where Indians will make digital payments.
According to Transactions 2025 – An Economic Times report on the future of payments in India – 
India by 2025 could be a $1 trillion market for digital transactions. The cash to the non-cash ratio in India by 2025 could be the exact reverse of what it is today.

By 2025, it is likely that almost all transactions happen via mobile devices.

The current user base of digital transactions in India is nudging 90 million. It could more than triple to 300 million by 2020 as the use cases for digital transactions grow.

Payment service companies will soon have access to a mind-boggling volume of consumer transaction data.
 CONCLUSION:
After Demonetization in 2016, there has been a spurt in digital payments in India. The scope is vast, to say the least.  We have come a long way, but there's a lot more to explore. The digital payments scenario will go through some major shifts. Now we know what to expect.  
Author Bio:
Pradeep Makhija is a Digital Marketing Executive at Space-O Technologies, a mobile app development company. He likes to share his knowledge and experience with people around by writing articles related to mobile apps & new technology. In his spare time, Pradeep likes to explore and read more about the trends and needs of a mobile app in different sectors.