With the rise of the Internet, eCommerce has become an indispensable part of our everyday lives, introducing us to a completely new level of convenience — virtual stores at our fingertips, custom tailored offers, same-day deliveries. Used to these curated experiences, customers are now expecting the same from other industries, and banking is no exception.
Banks, however, are still stuck in their old ways and often fail to meet the increasing customer demands. Throw into the mix the tough competition from nimble fintech startups, and the banking industry faces serious challenges. This is where eCommerce can lend a helping hand. By applying success lessons from eCommerce in banking, financial institutions can significantly improve their competitive positioning.
1. Digital-first banking
If anything, eCommerce mainstream success has proved the ultimate convenience of digital experiences. The possibility to shop from the comfort of their own homes or on the go has turned users into loyal customers and helped online merchants boost their bottom line.
And now that digital has become the preferred touchpoint for consumers, banks can capitalize on this. By opening digital-first or even digital-only branches, financial institutions can more effectively reach their target audience while decreasing operational costs. Moreover, every digital interaction with a customer provides banks with valuable insights on their financial lifestyles and habits, which enables FIs to personalize their offerings and increase engagement.
Top performing banks have already leveraged financial software development services to embrace the digital-first banking model. CaixaBank, a leading bank in Spain, launched ImaginBank, its mobile-only sub-brand that allows customers to perform transactions through social media. The core product includes a commission-free current account, P2P payments and transfers, as well as the ability to send money to a CaixaBank ATM. This year, CaixaBank expanded imagin beyond banking services to include non-financial services for its 2.6 million users.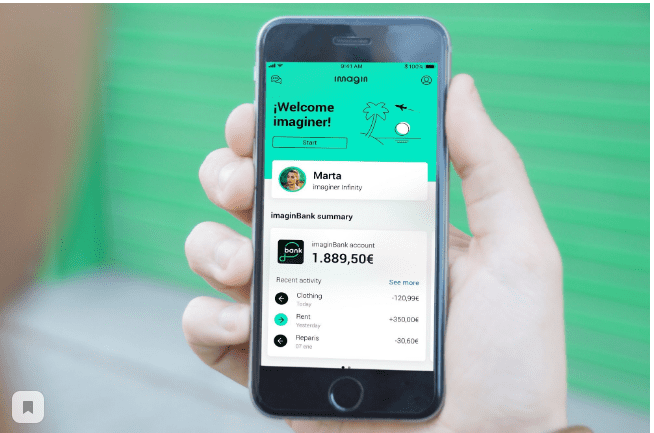 2. Comparison engines
Comparison engines are yet another way to introduce eCommerce in banking and significantly improve customer service. A bank client can spend hours reading about different credit card options, and still be at a loss. Adding a comparison feature with easy-to-use filters to a banking website will help customers gain clarity and find the right match faster.
There are comparison sites that collect information on banking products and services from multiple sources. Also called financial aggregators, these sites perform many roles from consulting and rankings for customers to promotion and direct sales for financial institutions. What's more, comparison sites get better traction with Google and other search engines. According to Gartner, these sites own 34% and 25% of first-page search results for banking and lending, which makes them increasingly attractive for affiliate marketing initiatives.
3. One-click convenience
Back in 1999, when eCommerce was still in its infancy, Amazon patented a one-click ordering technique (as well as the "1-Click" trademark). At that time, the idea of a customer entering their information just once and then going on and buying something with just one click was nothing short of revolutionary.
The patent expired in 2017, and now one-click purchase is a popular feature of eCommerce sites that want to offer hassle-free shopping for their users. Banks too can significantly simplify their processes and offer streamlined one-click operations, including payments, lending, and even mortgages.
4. Omnichannel experience
A customer's shopping journey is almost always non-linear. It's more dynamic and complicated than ever, spanning across multiple channels. Starting in an online store, users may go to Google to do their own research, look for cheaper options, or go to social media for reviews and opinions. They may even decide to continue their journey offline and go to a brick-and-mortar store to make a final purchase.
With banking, it's the same — customers can start the process online, using a website or a mobile app, but then contact a consultant or go to a physical branch to receive the necessary information. The key is to collect the relevant data in order to pick up the conversation with a customer right where they left off to ensure seamless omnichannel experience throughout all the steps.
5. Proprietary eCommerce platforms
Some banks go even further and foray into the eCommerce space with their own platforms. One such financial institution is China Construction Bank, the world's second-largest bank by total assets. CCB has set up and launched an online mall at buy.ccb.com, which combines financial services with eCommerce.
Bank-operated online malls can also be found outside Asia. In a move to capitalize on the growing eCommerce in banking trend, Dubai bank Emirates NBD has launched SkyShopper, an exclusive online marketplace. The platform allows Emirates NBD customers to pay for purchases ranging from flights, hotels, electronics, fashion items, to groceries and entertainment, using one check-out.
Wrapping up
The potential of eCommerce in banking is gradually unfolding. From digital-first branches through one-click transactions to full-fledged comparison sites and even proprietary eCommerce platforms, savvy financial institutions leverage the best practices to effectively market their services and products to digital-native customers.
About the author Olga Ezzheva is a technical writer at Oxagile, a leading software development company. A tech enthusiast, Olga covers a host of topics – from Big Data to Machine Learning to Computer Vision – w