One of my responsibilities here at Mercator is to keep an eye on the changing consumer zeitgeist, particularly when it comes to the way consumers spend and pay. More often than not, I turn to our own data for inspiration and content. That said, when I find compelling insights from other sources, I am more than willing to give credit where credit is due.
With the outbreak of COVID-19 and the economic ramifications that have ensued, there is no shortage of material being published on consumer feedback of how this has impacted them personally. Some of it is very good and others, well, not so much.
One of the good sources that recently came across my desk was from JD Power, titled Financial Services COVID-19 Pulse Survey April 3 5, 2020 Update. While there is a lot of great information in this report, I wanted to focus on two charts.
The chart below shows the changes that consumers are planning to make as a result of COVID-19. The first takeaway from this is that the proportion of consumers planning to spend less has skyrocketed to 6 in 10.
Judging by the way this result has nearly doubled from the time this survey was first conducted, it is clear that consumers are concerned about their personal financial situations and are planning to spend less as a result. Furthermore, nearly 4 in 10 are putting the brakes on major purchases. Again, it is not necessarily the right time to buy.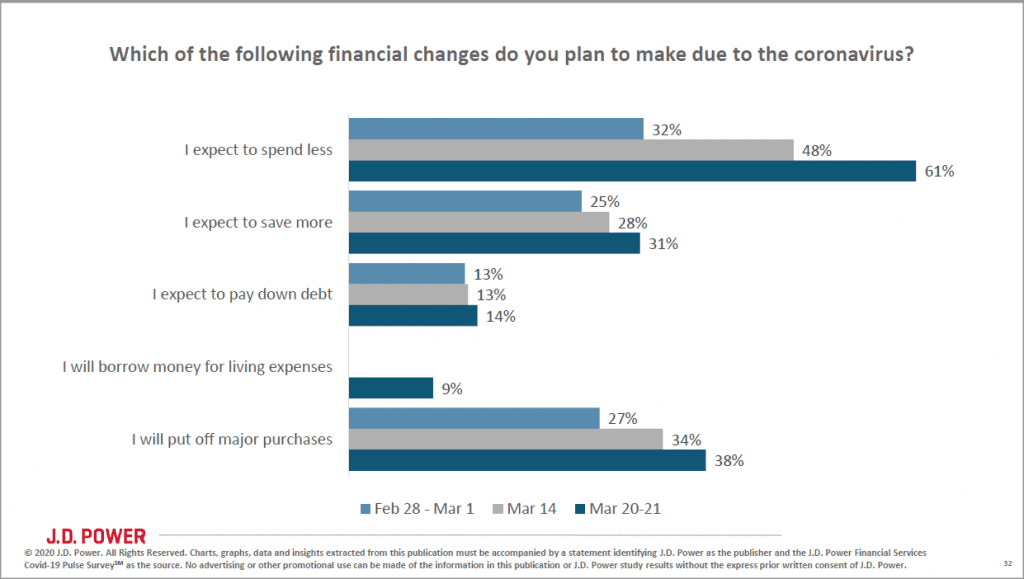 This is no passing blip in the economy. Consumers see a real threat to their personal financial situations and are adopting a wait and see approach before opening up the purse strings.
The other chart I want to highlight is the potential long-term behavior changes that will come out of the pandemic. Out of necessity brought on by the pandemic, many consumers will have to abandon the old way of doing things and try new things. For example, in the chart below we see that respondents report that are increasingly more likely to use mobile payments and remote capture to deposit their checks.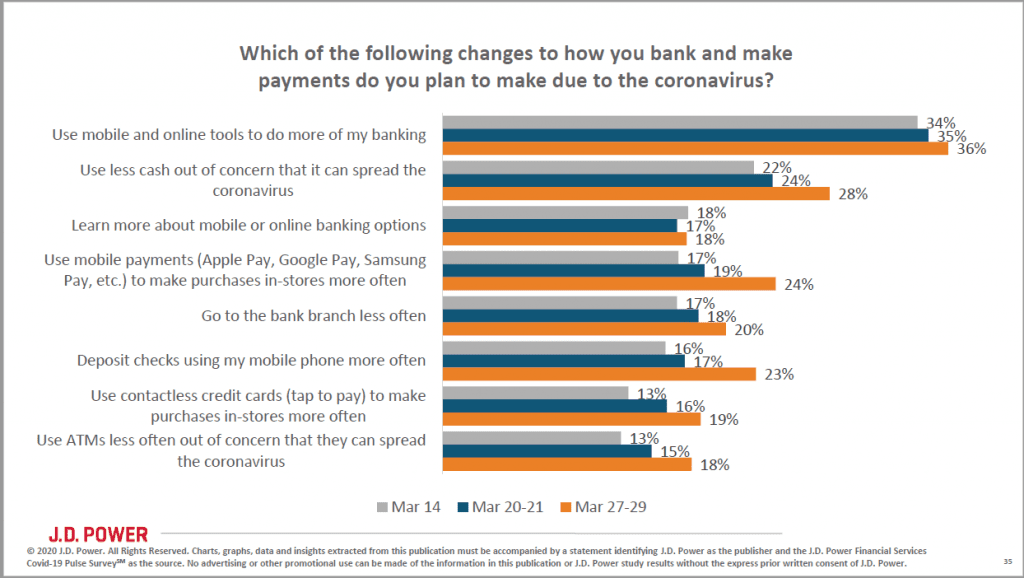 Looking at the two examples in the chart above, I cannot help but think that the increased use of these two technologies will last beyond the pandemic. Simply stated, as consumers start to become accustomed to these new way of doing things, some will continue to use them, even when they don't "have" to. To follow on this thought, I wonder if we will see a rebound in cash.
The change in behaviors that will come from this extended pandemic will be hard to quantify for some time. However, this data show that the consumer has been forced to change the way they bank and make payments. It will affect consumer spend. The operative question is how much of these new behaviors will stick?
Overview by Peter Reville, Director, Primary Research Services at Mercator Advisory Group