Despite the fact that Adam Ludwin, the CEO of Blockchain platform company Chain, identified that "In fact, on almost every dimension, decentralized services are worse than their centralized counterparts" the hype continues:
"A British company that has been investing in internet and information businesses is having its best day on record.

On-line Plc jumped as much as 394 percent on Friday after announcing plans to change its name to On-line Blockchain Plc, following an initial climb of 19 percent on Thursday when it first announced the news. It's the biggest one-day gain for the small-cap company since its December 1996 listing. The trading volume that reached 2.9 million shares by early afternoon in London is equal to more than 16 times the entire year's trading before the last two days."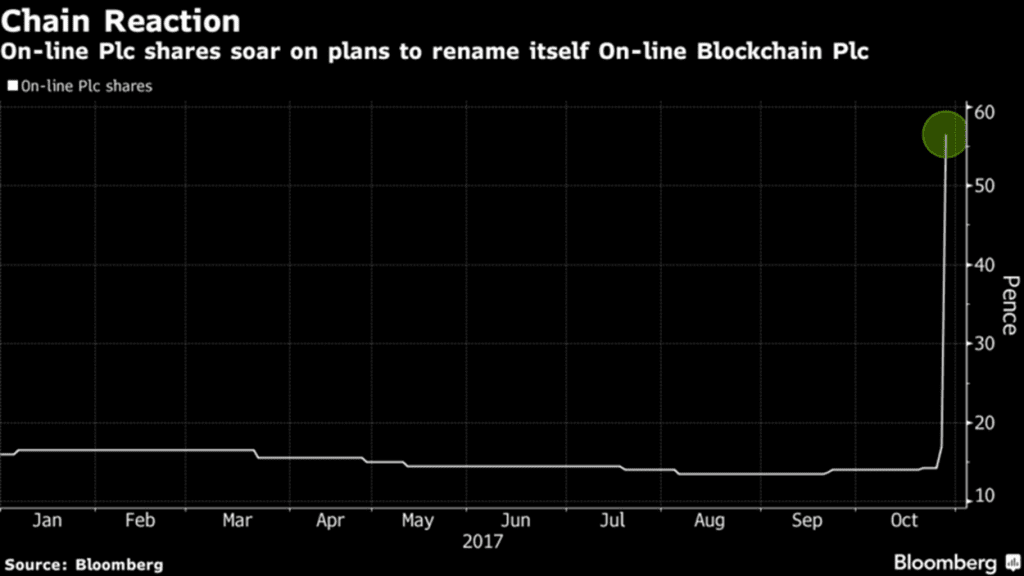 I feel compelled to document Adam's statement that identifies the many limitations of a blockchain compared to a centralized solution and the one unique benefit – resistance to censorship:
"In fact, on almost every dimension, decentralized services are worse than their centralized counterparts:

They are slower
They are more expensive
They are less scalable
They have worse user experiences
They have volatile and uncertain governance

And no, this isn't just because they are new. This won't fundamentally change with bigger blocks, lightning networks, sharding, forks, self-amending ledgers, or any other technical solutions.

That's because there are structural trade-offs that result directly from the primary design goal of these services, beneath which all other goals must be subordinated in order for them to be relevant: decentralization.
This valuable admission was followed by the one benefit that blockchains deliver and I totally agree with Adam on this point:
"And not only are decentralized applications better at this one thing, they are the only way we can achieve it.

What am I referring to?

Censorship resistance.

This is where we come to the elusive signal in the noise.

Censorship resistance means that access to decentralized applications is open and unfettered. Transactions on these services are unstoppable.

More concretely, nothing can stop me from sending Bitcoin to anyone I please. Nothing can stop me from executing code on Ethereum. Nothing can stop me from storing files on Filecoin. As long as I have an internet connection and pay the network's transaction fee, denominated in its crypto asset, I am free to do what I want.

(If Bitcoin is capitalism distilled, it's also a kind of freedom distilled. Which is why libertarians can get a bit obsessed.)"
Every blockchain implementation should be evaluated by this framework. Is the ability to eliminate the risk of censorship, also called immutability, the core value proposition being delivered?  If not it is almost assured that the use case can be delivered faster, at lower cost, and with better performance as a centralized solution.
Overview by Tim Sloane, VP, Payments Innovation at Mercator Advisory Group
Read the full story here