CNBC has published an article that utilizes data from Bain Research to compare mobile payment adoption across multiple countries and regions. It appears U.S. shoppers continue to reach for the card despite the ever-present mobile phone in their pocket, perhaps because of muscle memory, a preference for cards, and continued acceptance challenges at the point-of-sale (POS).
Mercator Advisory Group has witnessed very few clean mobile acceptance implementations. POS devices that accept contactless continue to be primarily designed for card acceptance. Few merchants clearly indicate that NFC is accepted; they leave that to the little NFC icon on the POS. Complicating the matter is that a lot of POS devices lack clear indications as to where and when the tap should be initiated device. There is also no feedback when the POS senses the NFC transmission. The only feedback the consumer receives is seconds later when the transaction authorization has been completed.
This article is certainly worth reading if you're a payment geek interested in consumer usage data, although Mercator has more detailed U.S. consumer payment usage data than is presented in this article:
"Despite growing smartphone dependence, most Americans still aren't using the devices to pay for things.

In other countries, it's a different story.

Places such as China and India are witnessing rapid adoption of smartphone payments. In China, for example, more than 80% of consumers used mobile payments last year, according to management consultancy Bain. In the U.S., major mobile payments apps had adoption rates of less than 10%.

"The U.S. is not a leader when it comes to mobile payments — at best, it's the middle of the pack compared to other countries," said Gerard du Toit, partner and head of the banking and payments sector of Bain's financial services practice in North America.

It seems odd considering the ubiquity of iPhones and Androids in the United States. More than 81% of Americans own a smartphone, up from 35% just eight years ago, according to Pew Research Center. While experts say mobile payments in the U.S. will eventually close the gap, they see legacy financial systems, a lack of a need for other options, and rewards cards as major headwinds.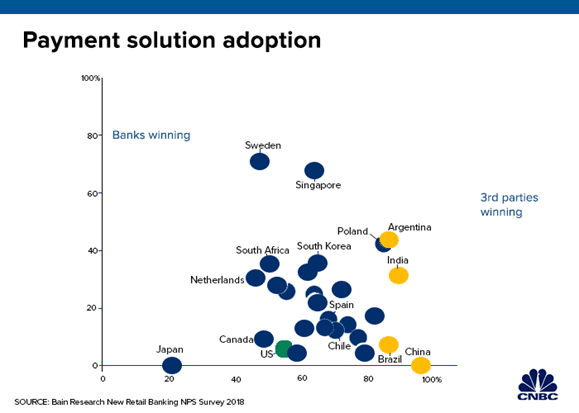 'Friction factor'

One reason phones are the go-to payment method in some countries abroad is because cash was the only other, and far less attractive, option.

"China and India have been very cash-based economies — that has a pretty high hassle and friction factor," du Toit said. "Mobile payment is a dramatic improvement versus having to manage a whole bunch of cash."

In India, for example, regulators have been pushing to abandon cash and go digital.

Moving away from physical bills was a way to get more tax revenue, since cash transactions often happen under the table. India also added some requirements to make low-value bank-to-bank transfers available in real time and in a more widely available way. As a result, mobile payments took off "unbelievably fast," duToit said.

China's mobile-payment Renaissance was less a result of government intervention. Instead, tech giants Alibaba and Tencent began battling for customers' wallets and eclipsed banks in the process. Because they deal with both merchants and consumers, there's less of a need for credit cards to act as the middlemen. "
Overview by Tim Sloane, VP, Payments Innovation at Mercator Advisory Group