While traditional financial institutions have long been the primary way to send and receive money, the rise of peer-to-peer (P2P) payment platforms has created a new way to handle financial transactions. P2P payments allow individuals to send and receive money directly from one another, without the need for a bank or other third party. Where does Zelle fit in this?
Bank of America published some new statistics today on the growth of its customers' use of person-to-person (P2P) app, Zelle. There is still a lot of transaction growth, even two years after its initial launch. Here are the stats on Bank of America's Zelle activity:
So far this year, Bank of America has sent and received 163 million transactions. That's up 4% over transactions recorded in all of last year.
By last count, they have 8.4 million clients who are active on Zelle, meaning they sent or received a transaction in the last 90 days.
In second quarter alone, they processed 60 million transactions and $18 billion in transaction value with an average transaction amount of $268. The number of transactions are up by nearly 50% over last year.
How does this compare with Zelle volumes overall and Pay Pal's reported Venmo volumes? We have a chart for that: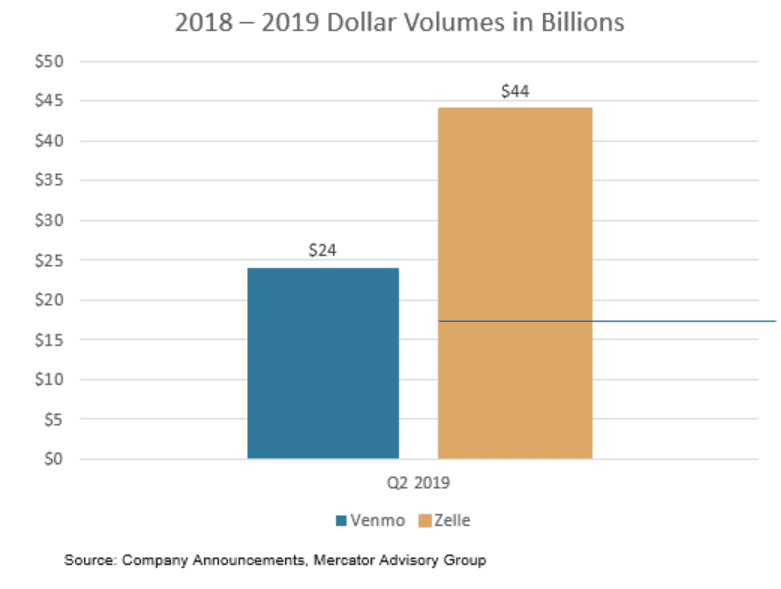 Bank of America also reported who is using Zelle and how:
Adoption of Zelle is increasing across all generations of Bank of America clients, including 68 percent of millennials and Gen Z, 20 percent of Gen X, and 12 percent of baby boomers and seniors.

Bank of America clients are using Zelle most often for paying rent, splitting utilities, family care and gifting.

Since offering Zelle to eligible Bank of America small business clients in June 2019, 180,000 small business owners have used their small business accounts to send money using Zelle.
Overview by Sarah Grotta, Debit and Alternative Products Advisory Service at Mercator Advisory Group