Today, I came across a very interesting infographic from the National Center for the Middle Market. For background, the Center, at the Fisher College of Business of Ohio State University, is dedicated to understanding middle market companies in the U.S. Middle market companies are defined as those with annual revenues between $10 million and $1 billion and represent about 200,000 companies and one-third of GDP and employment. Suffice to say, middle market companies are a very important, yet often overlooked, part of the U.S. economy.
This infographic gives the reader a lot to unpack. They source data from three different surveys to make a very strong point—the COVID-19 outbreak has made things bad, but not as bad as previously thought. The following illustration highlights the differences between to waves of the survey—one conducted in March and the other in June. In March, for example, 43% of middle market companies expected major negative long-term impact on their revenue because of the pandemic. In June, that number has essentially halved.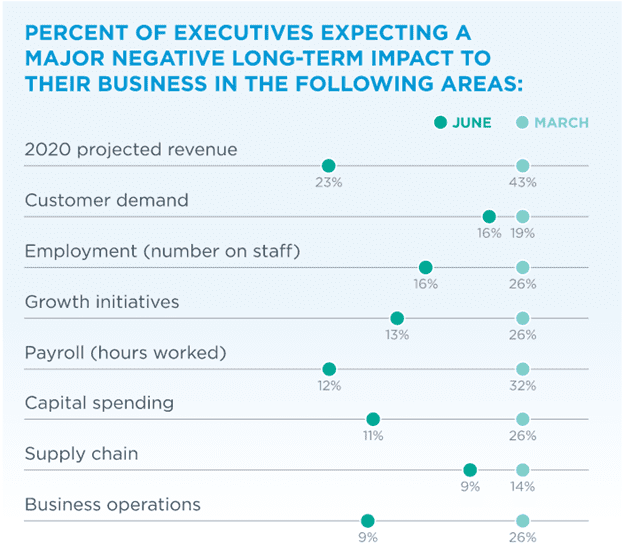 On top of the easing of negative projections regarding revenue, meaningful changes can be noted in payroll (32% to 12%), business operations (26% to 9%), capital spending (26% to 11%), and growth initiatives (26% to 13%).
It is important to note that these numbers represent the percent of middle market company leaders "expecting a major negative long-term impact to their business." Those are pretty strong words associated with these rather damning results.
That said, while there has been a substantial easing in all the doom and gloom, that doesn't mean they are out of the dark yet. In all likelihood, these middle market companies were still in panic and react mode when the March wave of this study was conducted. Now that they have had some time step back and assess the real impact of COVID-19 on their business, things are not as bad as they initially thought—but they are still not great. During the three months, they have been able to assess the situation and make, what I would argue, is a more informed assessment of their business.
The time to assess their business between March and June has also changed their attitudes towards when this will all be over. In March, 19% felt it would take them six months or more to get back to full capacity. By June that number rose to 40%, indicating that many have determined that getting back to normal will take longer than first anticipated.
As I stated earlier, there is a lot to unpack from this infographic and I've only captured a portion of it. For those interested in this important sector of the economy, the entire article where the above graphic was pulled is worth a careful read.
Overview by Peter Reville, Director, Primary Research Services at Mercator Advisory Group