New Mercator Advisory Group research analyzes initial performance of same-day ACH credits and the impact that same-day debits will have on the payments industry.
 Boston, MA – October 04, 2017 – With both same-day ACH credits and, since September 15, 2917, same-day ACH debits available in the marketplace, this faster form of ACH is finding applicable use cases in both business and consumer applications according to a new research report by Mercator Advisory Group
The National Automated Clearing House Association (NACHA), the governing body for ACH, has from time to time rolled out new features to broaden ACH's appeal across channels, most recently faster, same-day transaction processing services. Mercator Advisory Group's latest research report, Same-Day ACH Debit's Debut, examines the impact that Same Day ACH (SDA) is having on the payments market.
"ACH, a stalwart among payment types, has again created greater utility by adding a new feature, namely faster transaction processing options. How Same Day ACH fits in among other types of more rapid payment options and how relative market pricing evolves will be critical to users and providers," commented Sarah Grotta, Director, Debit Advisory Service at Mercator Advisory Group, author of the report.
Highlights of the report include:
A review the initial results of the launch of same-day credits, rolled out last year
Discussion of the most common use cases that have emerged from the introduction of SDA credits
Prediction of the likely uses of ACH debits, made available on September 15, 2017
Analysis of the impact SDA may have on other legacy payment methods, including wire transfers
Consideration of the fraud concerns inherent with SDA
Conclusions regarding SDA's impact on real-time payment initiatives
One of the 3 exhibits included in this research report: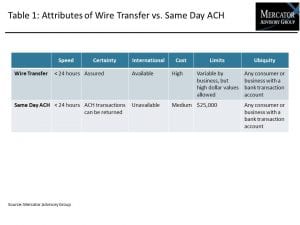 This report has 13 pages and 3 exhibits.
Members of Mercator Advisory Group's Debit Advisory Service have access to these reports as well as the upcoming research for the year ahead, presentations, analyst access, and other membership benefits.
For more information and media inquiries, please call Mercator Advisory Group's main line: 1-781-419-1700, send email to media@mercatoradvisorygroup.com.
For free industry news, opinions, research, company information and more visit us at www.PaymentsJournal.com.
Follow us on Twitter @ http://twitter.com/MercatorAdvisor.
About Mercator Advisory Group
Mercator Advisory Group is the leading independent research and advisory services firm exclusively focused on the payments and banking industries. We deliver pragmatic and timely research and advice designed to help our clients uncover the most lucrative opportunities to maximize revenue growth and contain costs. Our clients range from the world's largest payment issuers, acquirers, processors, merchants and associations to leading technology providers and investors. Mercator Advisory Group is also the publisher of the online payments and banking news and information portal PaymentsJournal.com.