In his annual shareholder letter released on April 7, 2021, JP Morgan Chase CEO Jamie Dimon listed fintechs as "enormous competitive threats" to banks. According to Kyle Pexton, President and CFO of NMI, that assessment is undeniably true.
For years, major players in the fintech space have rapidly encroached upon banks' traditional customer base, services, and revenue streams. But that doesn't mean all hope is lost for banks. By embracing new technology that will put them on the same playing field as fintechs, banks can successfully compete with such disruptors.
In a recent PaymentsJournal on-demand webinar, NMI's Kyle Pexton joined Mercator Advisory Group Director of Merchant Services Raymond Pucci to explore how digital banking services enable banks to successfully compete with fintechs.
Consumers are embracing payments technology, forcing merchants to keep up
To understand why fintechs are gaining a competitive edge on traditional banks, it's important to understand the new ways consumers are behaving.
A Mercator Advisory Group survey of consumer payments behavior since COVID-19 began found that more than one in three consumers reported using new payment technology, such as smartphones, universal wallets, and chip cards, much more frequently.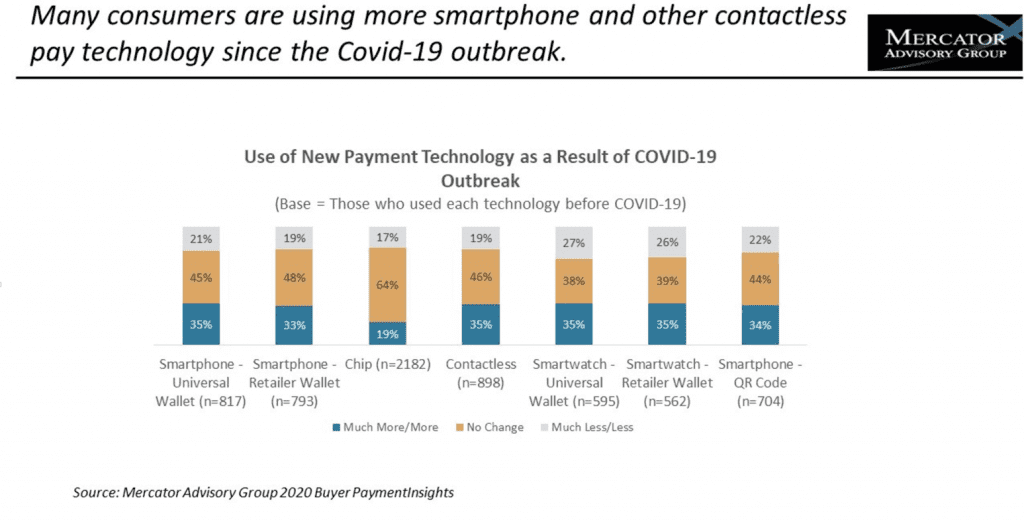 "The alignment of social distancing and no contact fits so well with mobile payments [and] contactless payments. As we know, the card issuers and networks were really cranking out contactless cards, and consumers really took to that," explained Pucci.
Merchants and businesses need to become compatible with the various payment technologies consumers are using. This means that merchants, and in particular small merchants, need "to be permissioned for accepting credit cards very, very quickly," said Pexton. "But it's not a monolithic type of environment," he warned, meaning merchants need the ability to accept payments in any form the consumer uses, not just credit cards.
Technology is where banks are being left behind
Banks have historically been the trusted advisor and trusted player for merchants to become provisioned and get up and running in the payments space, but that role is being eroded by disruptive players like Square and Stripe.
These competitors recognize that if they can make merchant onboarding a seamless and easy experience, they can take some of the businesses that traditionally fell to banks. As a result, services like demand deposit accounts and small business loans, which once fell exclusisvely to banks, are being offered in enticing ways by fintechs.
"They've leveraged that information to move upstream and start encroaching upon the traditional banking infrastructure in the traditional banking services that community, midsize, and large banks have utilized as their bread and butter revenue strains. So this is a significant threat to banks," said Pexton.
By understanding the nature of the threats fintechs pose and embracing technology that removes friction from the merchant onboarding and payment processing experiences, banks can take this business back.
"It's a great wake up call for banks and financial institutions to see the trail that's being blazed by fintechs, and there's no reason financial institutions can't emulate that, come up with their own strategy, and align that with long-term relationships with their merchant customers," said Pucci.
How banks can compete with fintechs
At the heart of the fight to compete with fintechs lies technology. According to Pucci, banks "need the technology expertise."
That leaves banks with a few options: building a technology stack themselves or partnering with a player that already has the inherent technological capabilities to meet demand. But there are a few barriers for banks when it comes to building a technology stack themselves. Namely, time is not on their side.
Building a technology stack in-house requires a significant investment of time and money. Additionally, it needs to be updated continuously to avoid becoming antiquated in today's rapidly changing world. It can also be difficult to address all segments of the payments value chain, resulting in a siloed and fragmented customer experience—the very thing banks need to avoid to remain competitive in the modern world.
That leaves the option of partnering with an already existing player that has the infrastructure banks need to compete directly with fintech disruptors. NMI, for example, has a fully modularized platform that enables banks to provide a full commerce platform experience to their customers. Its white-labeled solution means that merchant customers believe that the technology is coming directly from the bank itself, rather than a third-party payments provider.
The takeaway
COVID-19 permanently changed consumer payments behavior, and fintechs have stepped in to equip merchants with the tools they need to keep up. Banks need to move rapidly to close that gap in technology if they want to remain merchants' trusted payments provider.
In the on-demand PaymentsJournal webinar, Pexton and Pucci dig much deeper into consumer and merchant payment trends during COVID-19 and what banks can do to turn the tide and effectively compete with major fintech disruptors.