Considered to be more dependent on technology than other generations, Millennials and Gen Z consistently depend on technology to connect to everything from family and friends to shopping. In line with this generational shift, fast moving consumer goods (FMCG) players should offer more advanced methods of payment to tap into the next generation shoppers, says leading data and analytics company GlobalData.     
The explosion in smartphone, Internet, and social media usage has resulted in evolving behaviors and interactions, in turn reshaping the needs and attitudes of Millennials and Gen Z.
This reflects in GlobalData's 2018 Q3 global consumer survey in which younger cohorts significantly displayed more dependency on advanced payment methods, such as Apple Pay, compared to seniors who only account for a small proportion of global consumers.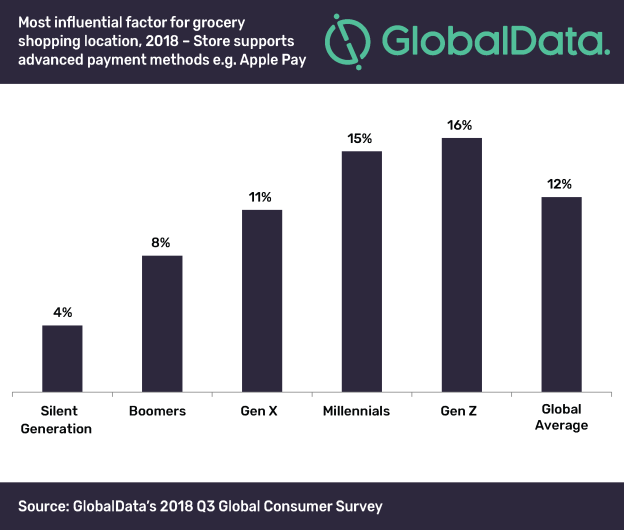 According to the survey, 16% of Gen Z consumers stated advanced payment methods was the most influential factor when grocery shopping, closely followed by millennials at 15%—both higher than the global average. In context, only 4% of the Silent Generation considers the same factor most influential.
Charles Sissens, Consumer Analyst at GlobalData, says: "These findings suggest that FMCG retail outlets, especially supermarkets and convenience stores, need to offer more advanced payment methods to accommodate younger generations."
The survey results underpin Sainsbury's recent decision to trial checkout-free shopping in London. The new payment system allows customers to leave the store with their groceries without stopping at the checkout. The scan, pay and go technology lets shoppers pick up what they want and scan it as they go, before paying through Apple Pay.
Sissens concludes: "This is the type of advanced payment method which retailers can introduce to best prepare for the next generation of shoppers. Doing so will allow key FMCG players to adapt to generational shifts and technological advancements simultaneously."