I actually got in my car and ventured into the world this week. During my expedition, I made a stop at a rest stop on the Merritt Parkway in my home state of Connecticut for a cup of Dunkin' coffee. I was struck by two signs I saw.
One was at the front door of the building which houses a small convenience store, a Subway and, of course, a Dunkin'. This sign asked patrons to adhere to a set of guidelines to prevent the spread of COVID. As I read down the list, imagine my surprise when I noticed the second to last guideline – contactless payment. Along with the request for social distancing, lower capacity etc. they were asking people to pay with contactless. I had to take a picture. I think it is worth noting that when they describe contactless payments, they leave out NFC enabled cards.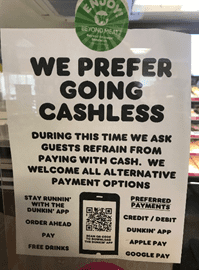 Upon entering the building and getting to the Dunkin' counter, I was struck by the next sign taped to the new Plexiglas partition between the customer and cashier – "We prefer going cashless." Here again, there is an explicit request to use contactless payments (or cards).
An earlier article I wrote discussed findings from a recent survey of consumers that found that consumers were trying contactless for the first time because of the COVID crisis. My trip to the rest stop, however, was the first time I actually saw merchants asking customers to use contactless because of COVID.
Since these rest stops are run by the same company up and down Connecticut's Merritt Parkway, I am pretty confident in saying that these signs exist at those rest stops as well. It's really hard to tell how many people will use, or try, contactless when they shop at these establishments, but it does point to some of the ongoing concerns about the use of cash and, to a lesser degree, the use of a POS terminal.
The big questions for those in the payment industry who pay attention to these things is, "What does this mean for the long-term adoption of contactless payments?" As I have stated before I think some people who are new to contactless will continue to use it after the pandemic, and some will go back to their old habits.
That said, with merchants explicitly asking for contactless payments, more new consumers should be entering the fold of contactless triers. In summary, I think actions like these by merchants will nudge consumers, as a whole, to contactless but not push them.
By Peter Reville, Director, Primary Research Services at Mercator Advisory Group.