While it appears lawmakers in Congress are backing a bipartisan border deal to fund the government after a three-week truce, the longest shutdown in U.S. history severely harmed federal workers, according to a survey from Clever Real Estate.
57% of government workers surveyed said they were negatively impacted by the shutdown, with 23% indicating they would need to borrow money or utilize their savings after just one to two weeks without pay. About 1 in 3 respondents sought supplemental income through gig-economy work (like Uber or Lyft) or through freelancing opportunities.
While the median federal salary is $77,000, about one-fifth of workers make less than $50,000. Many have said they have less than a month of savings. This reflects the findings of several larger studies that suggest most American don't have significant savings, with about 25% saying they had nothing saved in an emergency fund.
The Impact of The Shutdown 
The 35-day shutdown was the longest in history, with more than $9 billion in compensation going unpaid to federal workers. 60 agencies were directly impacted, as well as tens of thousands of government contractors.
The government is still in the process of paying money to federal workers who were furloughed or working without pay, and if an agreement isn't signed by February 15, the process will start over again.
According to the Congressional Budget Office, the shutdown cost the economy $11 billion, including a permanent $3 billion loss. They also project economic growth will slow further as the benefits of the new tax law recede.
The Politics of Government Closure 
In the aforementioned study, 41% of respondents identified as Democrats, 30% as Republicans, and 29% as affiliated with another or no party at all. Overall, the largest share of respondents blamed President Trump for the shutdown (44%), while 22% blamed the Democrats in Congress, 5% the Republicans, and 25% both parties equally.
However, 90% of Democratic government workers blamed the President for the shutdown, while only 9% of Republicans did. Clearly, politics figured large into perception of the closure.
Much of the tension over the shutdown centered around the funding of President Trump's border wall. Even the new agreement to fund the government includes a smaller provision for border security. So how did federal workers feel about a border wall—before and after the shutdown?
63% of federal workers were not in favor of the border wall prior to the shutdown. Of the 37% who did support the wall prior to January 22, only 5% have since changed their stance. While the border wall doesn't seem to be popular among federal workers, the opinions of those who did initially support the measure have, for the most part, remained unchanged.
How The Shutdown Affected Federal Workers' Lives 
Over one-third of survey respondents reported that the shutdown negatively impacted their ability to save for or make a major purchase or life event, like buying a new home, getting married, or saving for retirement.
For those impacted, the most common items paused were buying a home (38%) or a new car (38%). Additionally, many federal workers said the shutdown negatively affected their ability to retire (31%), pay college tuition for either themselves or a family member (23%), and get married (16%).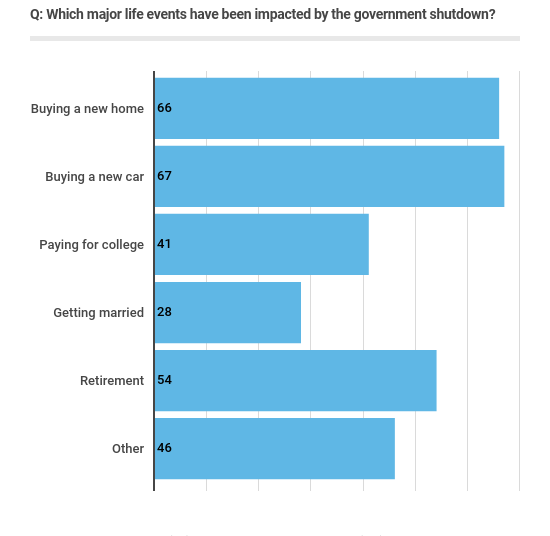 16% of federal workers also missed a mortgage or rent payment because of the shutdown. While most government employees were still able to make ends meet, it seems many are living paycheck-to-paycheck.
Post-Shutdown Life for Federal Workers
In the past, people have considered government jobs stable and safe. For many federal workers, the shutdown has shattered this sense of security. Many are either actively seeking or considering alternative employment opportunities.
Approximately 5% of respondents have either already quit their jobs or plan to do so in the near future; 10% said they were actively looking for new jobs; and nearly 15% said they were considering looking for a new job.
While it does seem like the Senate and House are coming to an agreement to avoid a second shutdown, it all depends, of course, on President Trump's signature. He told reporters on Wednesday that he would "take a very serious look" at the pending legislation, as he doesn't want another shutdown.
"I don't want to see a shutdown, a shutdown would be a terrible thing," the President said during a Wednesday Oval Office meeting with Colombian President Ivan Duque. "I don't want to see another one, there's no reason for it."
If a new spending bill isn't signed on Friday, federal workers will once again face financial insecurity and reconsider their jobs.
Author Bio
Luke Babich is Co-Founder and CSO of Clever Real Estate. Luke is also an active real estate investor with 22 units in St. Louis, and a licensed Real Estate Agent in the State of Missouri.
Summary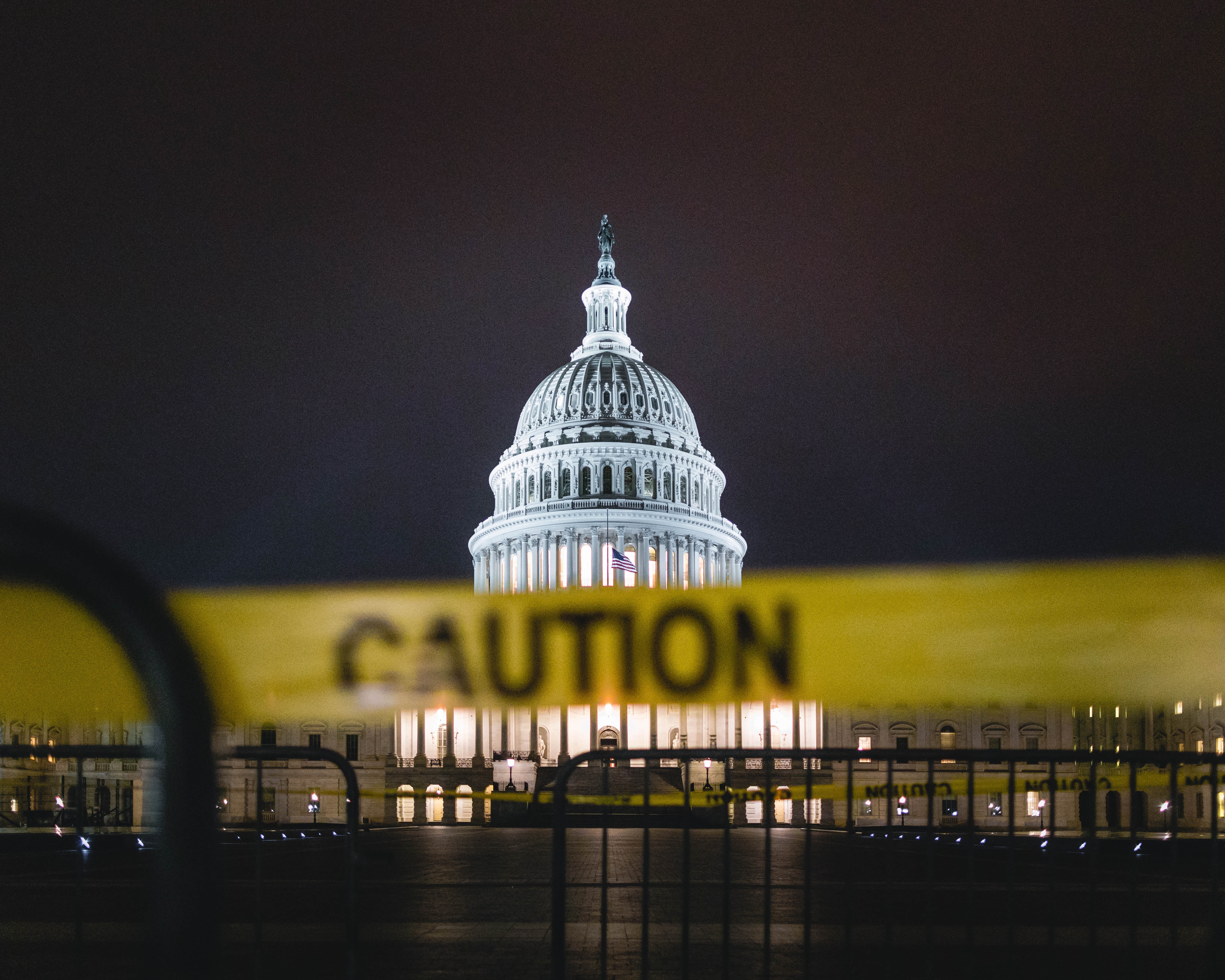 Article Name
How A Government Shutdown Hurts Federal Workers Financially
Description
While it appears lawmakers in Congress are backing a bipartisan border deal to fund the government after a three-week truce, the longest shutdown in U.S. history severely harmed federal workers, according to a survey from Clever Real Estate.
Author
Publisher Name
Publisher Logo