Gamification has been accepted as a highly effective learning and engagement tool. It has been deployed in educational and training settings worldwide. But is that the limit of its potential? We know it has scope within the field of customer engagement. But how about fintech?
Some of the top reasons that fintech startups have issues getting off the ground relate to getting early adopters and activating them, as well as churn and poor differentiation. Gamification has the potential to provide the solution to these problems, helping to make fintech fun for customers and providing fintech companies with the strategy they need to stand out.
What is gamification and what could it look like for fintech?
Gamification is the assimilation of gaming elements into a non-game platform. This might be through progress and status monitoring, challenges, task completion, and the use of leader boards to introduce a competitive element – where appropriate.
In fintech, this means using gamification to enhance user experience and user engagement through a more satisfying interface. Gamification prompts enhanced customer satisfaction, increased and earlier uptake, and better conversion rates, as well as reduced customer churn. When a customer's experience is both enjoyable and memorable, they are more likely to return and return more frequently. When you introduce aspects of play to areas that may otherwise be a tedious necessity, you create unexpected positive experiences. That helps to build loyalty, which will ultimately translate into higher sales.
How does gamification work?
There are three foundational elements to gamification: objectives, rewards, and competition. Objectives allow us to create clear goals that users can be striving to achieve. Once achieved, users are then rewarded through positive reinforcement, and this makes users feel happy. The competition then pushes us to perform better. Whether this is users competing with themselves or with other users, this keeps users engaged.
Gamification is built upon the principles of psychology. Because through gamification you are giving your customers choices. You may present them with a goal, and you may provide them with encouragement to achieve it. But only they can decide whether or not they wish to engage. This puts them in control of whatever issue they have come to you to resolve, whether that is investments or insurance. And that control makes the experience more rewarding.
How can you gamify your fintech products?
Gamification can take many forms, but it is really important to find a style that is relevant to your business, your products, and your customers, and not to go overboard. These are some of the most common approaches.
Collectables and rewards – Built upon the premise of positive reinforcement, collectables and rewards acknowledge customers' achievements as they progress towards the goals you set for them.
Progress bars and streaks – This method of gamification provides motivation for customers to achieve their desired end.
Challenges – Working to spike interest and re-engage users, challenges work by helping users to refresh their goals for new rewards.
Leaderboards – Human beings are innately competitive. We all get a kick out of coming first. Leaderboards can work as well amongst strangers as they can when a social element is tied into a contest.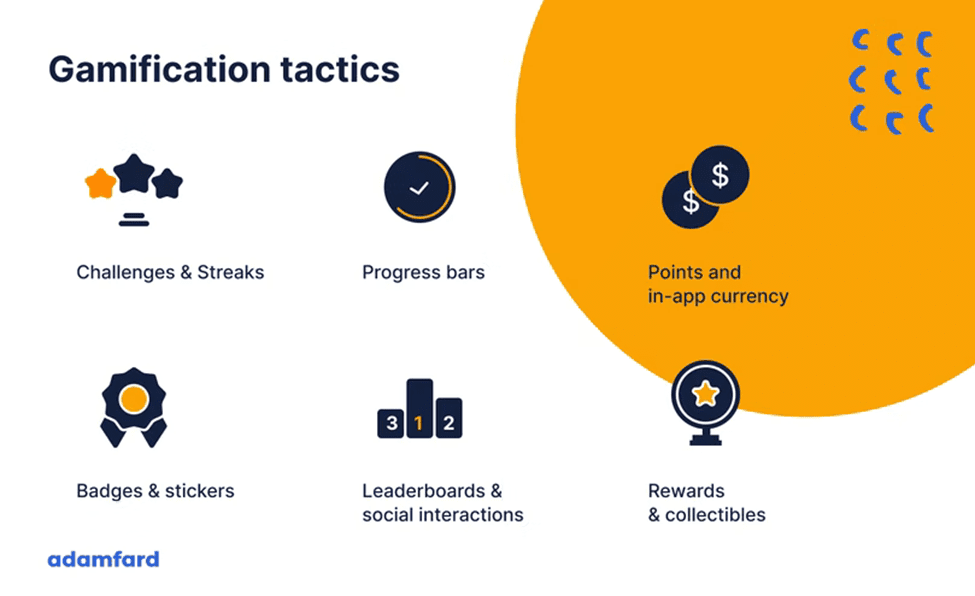 Can gamification work in both B2B and B2C spaces?
So far, we have talked about the use of gamification in the consumer space. But there is also a lot of scope within the business-to-business market. With gamified incentives, you can help to drive sales and improve customer engagement and loyalty in much the same way as in the B2C arena. On top of that, gamification also has a place in-house.
By gamifying elements of service, you can create that competitive spirit amongst your employees and users alike. Building enthusiasm as well as engagement works to improve customer service levels.
Here is an example of how Salesforce allows implementing leaderboards for sales employees. Yes, the big, "white collar," scary Salesforce has gamification elements. Again, gamification can be implemented anywhere where there are objectives, rewards, and competition.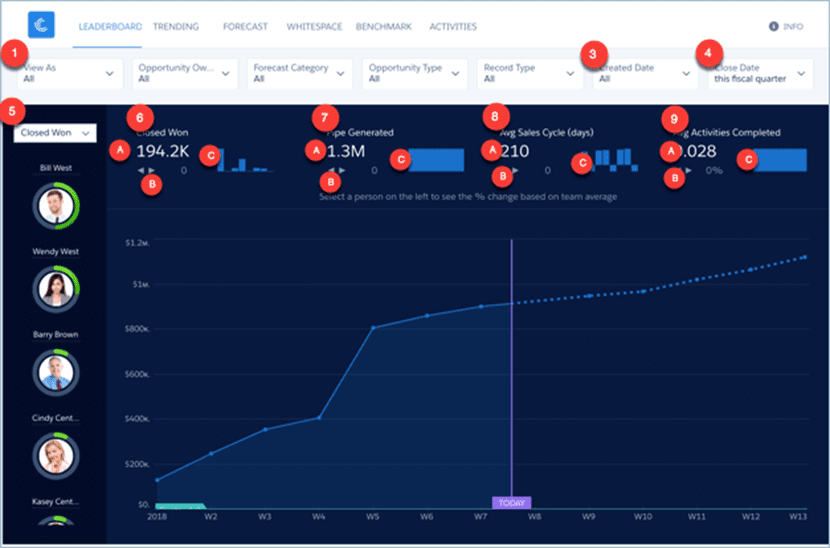 Does gamification work in fintech?
Research by Finances Online indicates that gamification can have a massive impact on the success of a business. Companies that introduce gamification elements to their products have been shown to reach up to a 700% increase in conversion rates, while 83% of employees who have experienced gamified training are more motivated at work.
Gamification is not yet common in fintech, but it is growing in popularity. Other industries have already tested the water. When Foursquare incorporated gamification in its mobile application, it grew 10 times its size in five years. Extraco, the Texas bank, tested a gamified marketing process, which resulted in a rise in conversion rates, from 2% to 14%, and raised customer acquisitions by 700%. Teleflora gained a 105% increase in Facebook referrals and a 92% conversion rate when it gamified its storefront.
In fintech, uptake of gamification has been slow, largely because of a reluctance to infantilize a serious subject. But times are ready to change. And it will be interesting to see which brands are left behind.