JP Morgan led the pack of the top 20 global financial advisers for the Healthcare industry in the latest mergers and acquisitions (M&As) league table for Q2 2018, compiled by GlobalData, a leading data and analytics company.
Driven by the $80bn Takeda-Shire deal, the biggest transaction in the quarter for any sector, the bank topped the league table in terms of both value and volume, with $99.2bn and 11 deals, respectively. The same deal helped Goldman Sachs, Citi, Morgan Stanley and Evercore to complete the top five slots.
According to GlobalData, which uses its tracking of all merger and acquisition, private equity/venture capital and asset transaction activity around the world to compile the league table, JP Morgan was ranked third in its global league table of financial advisers released recently.
Global Healthcare deals market Q2 2018
The overall global Healthcare deals market has seen a more than a doubling in value from $70.3bn in Q2 2017 to $166.6bn in Q2 2018, but slipped marginally in volumes by 9% from 923 to 840 respectively during the quarters in review.
All announced deals count towards the league table total complied by GlobalData.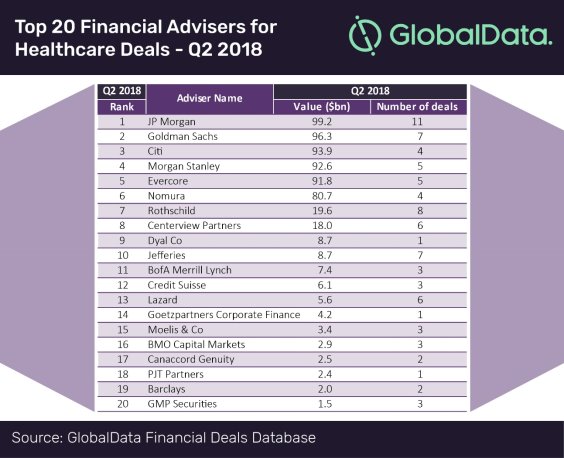 IMAGE FOR PUBLICATION: Please click here for chart: 'Top 20 Financial Advisers for Healthcare Deals   – Q2 2018'
A few financial advisers such as Dyal Co, Goetzpartners, PJT Partners made it to the top 20 list, despite featuring in just one deal each during Q2 2018.
Sullivan tops legal advisers ranking
US law firm Sullivan & Cromwell grabbed the top rank in the Healthcare league table of top 20 legal advisers for the second quarter of 2018. The company also came first in the global league table of top 20 legal advisers released by GlobalData recently.
Even though Sullivan and Davis Polk were involved in four deals each during the reporting period, Sullivan edged past Davis Polk to lead the table riding on the back of deals involving Novartis and Bayer.
In terms of volumes, the top three ranking positions were taken up by Latham & Watkins, Kirkland & Ellis and Cooley with eleven, nine and eight deals, respectively. These three firms were ranked 3rd, 11th and 13th respectively in value terms.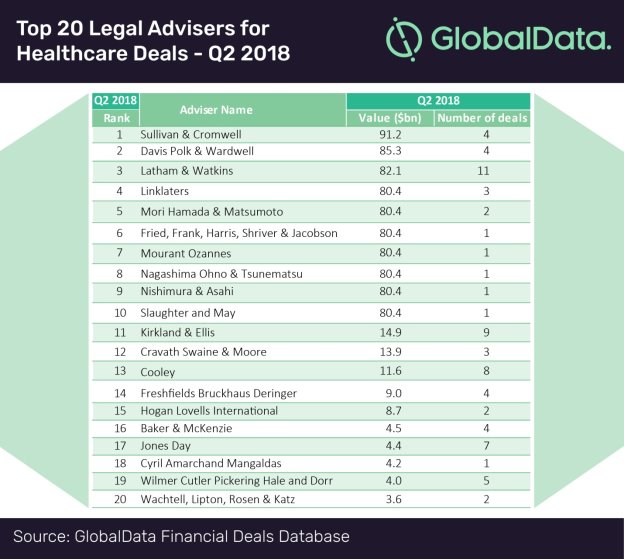 IMAGE FOR PUBLICATION: Please click here for chart: 'Top 20 Legal Advisers for Healthcare Deals   – Q2 2018'
GlobalData Financial Deals Analyst Prakhar Baghmar said: "Q2 2018 has been an eventful period for global healthcare deal activity, with about a 137% jump in deal value as compared with Q2 2017. At US$80bn, the Takeda-Shire deal accounted for close to half of the total healthcare deal value in the quarter and also played a key role in deciding the top rankings for both league tables."