Zoom happy hours. Video conference calls. Telemedicine. Facetime with friends.
The pandemic and the changes it has brought about a number of changes in our personal and professional lives. I think it is safe to say, the use of video is one of the biggest "winners" in the COVID environment.
A recent article in the American Banker "Pandemic pushes customers to give video banking a go" (paywall), talks about how video banking is taking off as a result of closed branches, limited hours and safe distancing. Consumers are turning to video to get their all their banking needs done, from simple service requests to more complicated transactions like applying for a loan.
The video banking provider POPi/o, whose platform allows banks to connect with their customers on a screen set up in a branch or via their computers or smartphones, says its businsess has surged. Calls between an institution and a customer that result in a transaction or service have more than tripled since the coronavirus pandemic started, to about 25,000 per month. The company expects to hit 100,000 calls in June.
Not only are these video capabilities being used to connect with consumers on their own devices like PCs and smartphones, video at the ATM is also becoming more popular. The article gives an example of a credit union in Idaho whose ATM video transactions grew by more than 50% in from February to March this year.
Right now the biggest hurdle to ATM video transactions and servicing is likely availability, and customer comfort with the technology. Looking at the Mercator PaymentsInsights U.S. ATM data collected in Q4 shows only 3% of bank ATM users are using ATM videoconferencing services.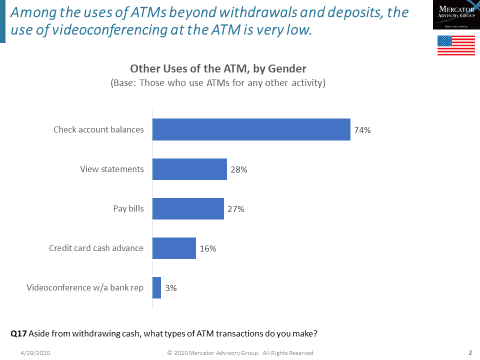 I think it is pretty safe to assume that banks with video enabled ATMs have seen a marked increase as a result of the pandemic. Further, the success of the banks who currently have ATM video capabilities will likely seriously consider investing in new ATMs that offer video conferencing capabilities.
Whether the popularity of video servicing will remain after when the market returns to "normal" remains to be seen.
Overview provided by Peter Reville, Director, Primary Research Services at Mercator Advisory Group.