Early Warning reported second-quarter growth numbers for person-to-person app Zelle, revealing continued upward movement in transaction activity as they add more business from community banks and smaller credit unions. They now have over 1,100 financial institutions live on their network. This growth comes on top of a blockbuster year in 2020 which saw significant pandemic fueled growth. 
The recent growth has caused me to restate my forecast for 2021 as shown below: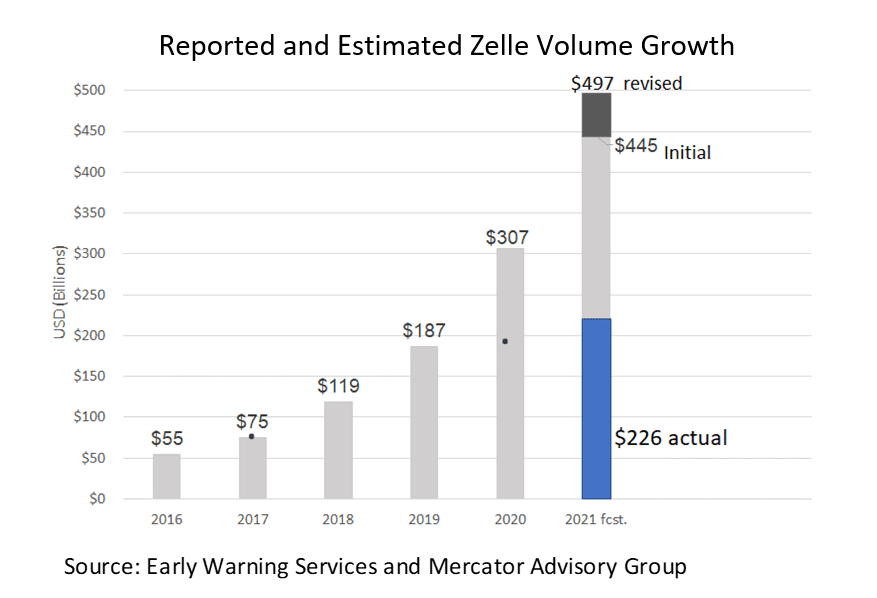 The continued rollout of the small business solution will be one to watch.  Recent announcements from PayPal regarding new, higher pricing for Venmo business activity can make Zelle an attractive alternative if competitively priced.
Here's more from today's press release on Zelle's recent growth:
Nearly 1700 financial institutions (FIs) signed on to the Zelle Network®, representing 74% (577 million) of all U.S. DDA accounts
Credit unions and banks under $10 billion in assets are driving growth, representing 40% of FIs in the Zelle Network®
Small businesses and consumers sent 436 million payments worth $120 billion with Zelle® in Q2 2021
Overview by Sarah Grotta, Director, Debit and Alternative Products Advisory Service at Mercator Advisory Group