The fight against payments fraud is ongoing. Those committing fraud are constantly changing their methods and tactics.
As covered by Digital Transactions, the latest installment of the Association for Finance Professionals' (AFP) Payments Fraud Report shows that 71% of organizations report being victims of payments fraud. Although overall it has declined 3% from 2020, checks continue to be the number one payment type subject to attempted/actual payments fraud. Of note was the 4% increase in ACH debit fraud for reasons which have been summarized from the report by Digital Transactions below:
"Companies are shifting checks to digital, and with that shift organizations may also need to make sure the policies and procedures for identifying ACH debits promptly remain in place.
Conducting daily reconciliations rather than monthly.
Utilization of ACH debit filters/debit blocks.
Updating company IDs for filters on a timely basis.
Holding an independent review of the processes done by internal audit."
We recently published a report that similarly examines payments fraud committed against organizations by outside actors as well as fraud committed internally. Although overall fraud rates have slightly decreased, it is still critical that organizations continue to invest in mitigation efforts to protect their financial resources.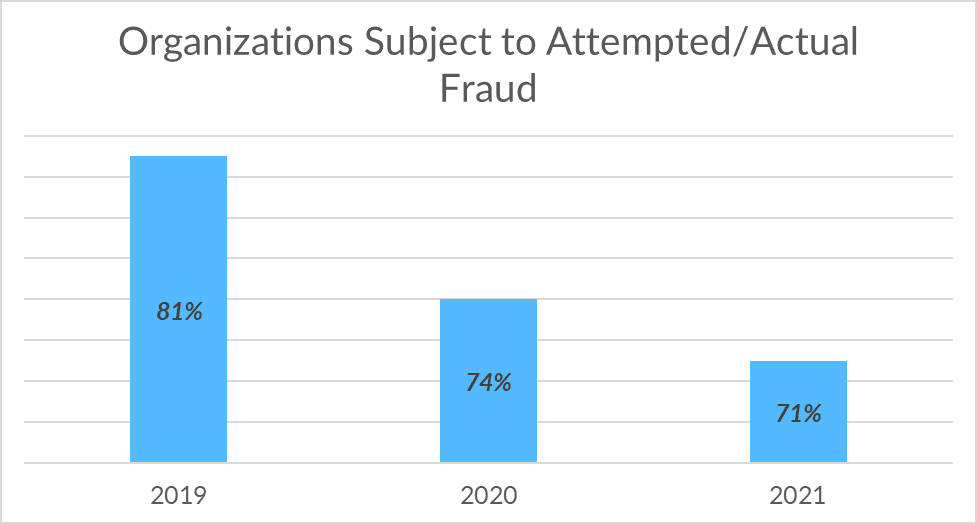 Overview by Ben Danner, Research Analyst at Mercator Advisory Group