One of the markets hard hit by the global pandemic has been international remittances. This graph from World Bank and Pew Research Center makes that point: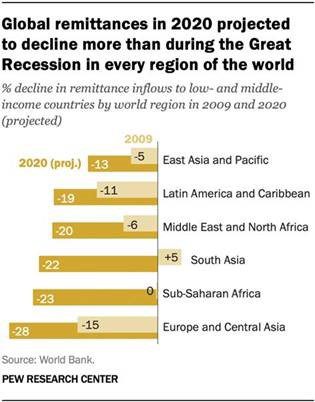 But that hasn't stopped market participants from developing and enhancing solutions. One example is the partnership formed by PayPal and several of its brands with Visa and the Visa Direct global push payment network. Visa Direct and also Mastercard Send have been growing domestically for person-to-person payments and business-to-consumer disbursements, but as more faster and real-time payment options become available at less expensive price points, focusing on cross border and cross currency markets makes sense. 
These debit networks have a clear advantage with already built global networks and foreign exchange capabilities.
This article on Yahoo Finance provides the announced details of the partnership:
Whether sending money to a family member in another country or obtaining same-day access to earnings, fast and secure digital payments have become an essential part of how the world pays and gets paid in the wake of COVID-19. Visa Inc. (NYSE:V) and PayPal (NASDAQ: PYPL) today shared details about an extension of their global partnership, which will expand real-time access to funds for consumers and small businesses that are sending or receiving money via PayPal, Venmo or Xoom. This collaboration expands PayPal's Instant Transfer service, which leverages Visa Direct for real-time payment capabilities, to global markets and enables fast domestic and cross-border digital payments.

The global partnership will also enable PayPal to extend global white label Visa Direct payout services through PayPal and its Braintree, Hyperwallet and iZettle product solutions. This expansion follows the successful launch of the Instant Transfer service across North America and other markets in Asia Pacific and Europe.

Real-time access to earnings has become a critical component of improving cash flow for small and microbusinesses. Seventy-six percent of U.S. SMBs have reported struggling with cash flow shortages in the last few months3, with 91 percent expressing interest in real-time settlement capabilities4. Through Visa's collaboration with PayPal, eligible PayPal, Braintree, iZettle and Hyperwallet merchants will be able to access their money quickly and efficiently, eliminating the need for paper-based processes that can delay quick access to funds.

For more information, visit the Visa Direct page and PayPal's Instant Transfer page.
Overview by Sarah Grotta, Director, Debit and Alternative Products Advisory Service at Mercator Advisory Group