Nacha reported transaction growth figures for 4th quarter, 2019. As DigitalTransactions reported, the growth numbers over 2018's ACH volumes in total were healthy:
All told, fourth-quarter volume for the ACH totaled 6.4 billion transactions, up 8.1% year-over-year, Nacha reported. That performance continues a recent streak in which the ACH has logged a better than 5% growth rate each quarter. Total dollar volume came to $14.7 trillion, a 10.6% increase from the same quarter in 2018. "With this impressive performance in the fourth quarter, it's evident that the modern ACH network is thriving," said Larimer, who took over as head of Nacha last year.
Same Day ACH (SDA) played a big part in the growth trajectory. Nacha summarized overall growth and SDA activity in Q4 in this infographic: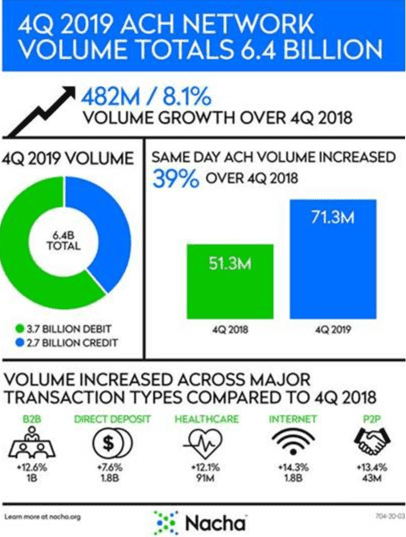 Nacha is driving continued growth in SDA with pending changes including another same day ACH processing window that goes into effect on March 19, 2021. Nacha is also expanding the per transaction limit this year to $100,000 from the current $25,000. This particular change takes place effective March 20, 2020.
The increase allows same day ACH to cover additional higher dollar use cases like large insurance settlements, real estate transactions and more general business-to-business activity. It is no coincidence that real time payments provider, The Clearing House just announced today that they will be increasing their transaction.
Overview by Sarah Grotta, Director, Debit and Alternative Products Advisory Service at Mercator Advisory Group