AUSTIN, Texas (May 8, 2018)—Q2 Holdings, Inc. (NYSE:QTWO), a leading provider of secure, experience-driven digital banking solutions for community-focused financial institutions (FIs), today launched Biller Direct, a modern, card-enabled payment solution designed to consolidate and present direct biller relationships and provide a new revenue model for financial services providers.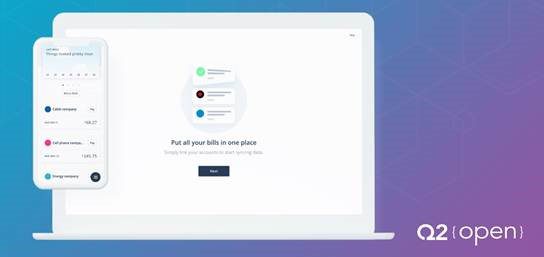 Biller Direct provides a centralized payment environment where users can enroll, manage their bills and view projected spend. By enabling card payments, Biller Direct gives users expedited payment options while generating valuable interchange revenue for card-issuing institutions that offer the service.
"Users are increasingly paying their bills directly through their billers' websites, which is a challenge for FIs looking to keep their cards top-of-wallet," said Paul Walker, general manager of the Q2 Open group. "By creating a next-generation, card-centric payment model, Biller Direct centralizes and enriches the overall financial experience and, ultimately, turns bill pay from a cost center into a revenue source."
Built from the Q2 Open API portfolio, Biller Direct is available as a turnkey, white-label solution, or via its API, which allows any company to build or integrate card payment capabilities into their applications.
Q2 will demo Biller Direct at FinovateSpring in Santa Clara, California, on May 8. For more information on Biller Direct and the Q2 Open portfolio, visit https://www.q2ebanking.com/api.
About Q2 Holdings, Inc.
Q2 is a leading provider of secure, experience-driven digital banking solutions headquartered in Austin, Texas. The company is driven by a mission to build stronger communities by strengthening their financial institutions. Q2 provides the industry's most comprehensive digital banking platform, enriched through actionable data insights, open development tools and an evolving fintech ecosystem. It helps clients elevate the experience, drive efficiency and grow faster. To learn more about Q2, visit www.q2ebanking.com.