As payment technology continues to rule the world, debit cards, credit cards, and even mobile devices are always close at hand, for most. Venmo and Cash App are today's biggest payment apps to transfer funds digitally and require a bank account, but for instant cash, it could take you days for the money to transfer to your bank account or weeks to receive their branded card. And what about those who are unbanked/underbanked, especially right now, with many banks closed or working on a limited capacity due to COVID-19 and the global pandemic?
What is StoreCash?
StoreCash, a form of digital money, makes it easy for users to request, receive and instantly use digital funds directly from their phones that can be used in-store or online at retailers including but not limited to Amazon, Doordash, Target, Uber, Grubhub, CVS, Google Pay and iTunes plus over 200 other major retailers.
How StoreCash was born:
StoreCash initially started as an opportunity to allow the 85 million unbanked/underbanked teens and adults in the U.S. to request and instantly receive funds from their phones, no bank account required. Daricus Releford, CEO of StoreCash, started the company when his nephew asked for money and they realized he couldn't receive the funds via Venmo/Cash App without a bank account. StoreCash has partnered with Western Union to help solve this problem.
Many companies offer a similar service via email or text message, the StoreCash app however displays an easy to redeem barcode on Smartphones for redemption in purchase. Additionally the gift card can be requested by the recipient – and funded by others who have a credit card or bank account, especially when used in a time of need to shore up a purchase. Gift cards are also commonly called "Branded Store Cash" so someone at Target or an Auto repair shop can ask someone to assist.
Since then, users have also used StoreCash to send instant funds to pay their employees, to receive funds faster than Venmo/Cash App and send funds for things like DoorDash to friends during the pandemic.
COVID-19- How are underbanked people being affected?
Pre-pandemic unbanked/underbanked turned to Western Union and similar type institutions for their money needs but those services don't provide fully digital or instant solutions. Currently, many of those in-person services have limited availability that include substantial risk of receiving cash in terms of spreading germs and the COVID-19 virus.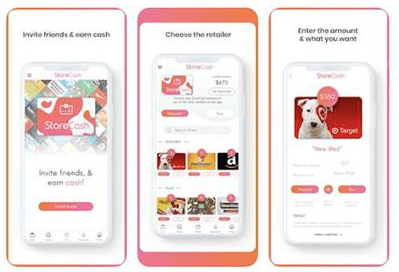 COVID-19- An Enterprise Solution:
As many employees are now working from home during the pandemic, some companies are turning to StoreCash as a simple gesture to thank their employees, boost morale and send rewards/incentives during the pandemic. Employers send StoreCash credits to hundreds of employees in less than 5 minutes with just the recipient's name, phone number or email, and the amount, and StoreCash handles the rest- saving employers time and money.
Now is the time to try StoreCash down load their app to register … you just might win. See the details below.
COVID-19: How we are giving back:
As we all continue to navigate new normals of quarantine life, StoreCash is offering many incentives to go digital.
– Now offering up to 10% cashback at food and other online retailers.
– Refer a friend to StoreCash and receive up to $10 to spend instantly!
– GIVEAWAY TIME! StoreCash has pledged to give away up to $15,000 to new users who sign up from May 11-22. Prizes will be awarded in increments of $1, $3, $25 and $100 in instant cash for over 200+ major retailers.
Overview provided by C. Sue Brown, Director, Prepaid Advisory Group at Mercator Advisory Group.
For the complete article quoted in this coverage, please click here.