During the early days of the COVID-19 outbreak, there was a significant amount of press given to the pending dissolution of the retail bank branch system with the pandemic forcing people to use ATMs and mobile banking. This author was a little skeptical about these gloom and doom proclamations but did realize that branch dynamics will likely change as customers get used to using non-branch banking services like mobile banking.  
A recent article in American Banker announced that U.S. Bank was closing 400 more branches in addition to the 300 that it had closed over the past year and one-half. Interestingly, the reasons given for the closures were driven, at least in part, by some of the customer behaviors that have been accelerated by COVID.
"A lot of the decisions with respect to branches are really tied to changing customer behaviors," [Chief Financial Officer Terry] Dolan said, noting that three-quarters of service transactions and over half of loan applications are now processed digitally. "The role of the branch is changing, and as it becomes much more of an advice and problem-resolution center, the density and distribution you have to have changes over time."
There is also the cost saving associated with closing all these branches that cannot be overlooked.  According to Dolan, the company will save around $150 million as a result of closing these branches. Much of these savings will be used to continue the company's heavy technology spend.
All of this being said, while branches may be losing their popularity within the U.S. Bank executive suite, an article in The Financial Brand, Why that Spike in COVID-19 Bank Branch Closings Didn't Happen (Yet), points to FDIC data that indicates that yes, the number of branches is declining, but it has been for years. Furthermore, they are not seeing a significant numbers in branch closures since the start of the pandemic some eight month ago.
Everyone I know in the industry expected big declines in branch counts, but that's not what the FDIC data indicate.

They show a net decline of 1,463 branches. That figure is only slightly up from the last year's change (+12%). And more surprisingly, the data shows nearly 1,200 new branches, about 20% higher than the average of the last ten years. Credit union branch counts declined by about 400 branches during the last 12-month period, a reversal of the last few years' trend of slight increases in branch counts. [To read the chart below, branch counts (dotted lines) are read off the left-hand axis and firm counts of banks and credit unions (solid lines) are read off the right-hand axis.]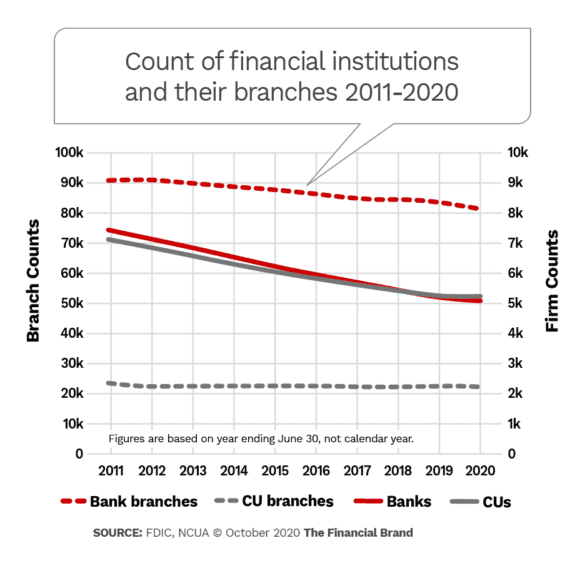 I'm not going to get on my soapbox to rail against the value of overly pessimistic predictions made by others. Rather, I want to talk about what these data mean.
Branch closures are going to continue, and probably at a faster rate than new branches will open. As the chart above illustrates, the net number of branches has been declining for years and there is nothing to tell us that this trend is going to change. Bank customers will continue migrate many of their routine banking activities on their computer or smartphone. However, it doesn't look like COVID has brought on a huge increase in the number of closures.
Just like the rest of the retail world is transforming, retail banking is evolving as the way people interact with the physical manifestation of the bank changes in response to the new reality. 
Overview by Peter Reville, Director, Primary Research Services at Mercator Advisory Group