There is no doubt that the COVID-19 pandemic has been debilitating to many small businesses across the globe. Companies that sell their products and services to this critical sector of the economy would do good to understand the issues they are facing and develop strategies for helping them regain some sense of normalcy.
In all the discussion about how the pandemic has affected small businesses, the human factor many have been lost. The spread of COVID-19 and its subsequent effect on the U.S. economy has caused a precipitous deterioration in the outlook of small businesses. They have less access to operating capital than larger businesses, a fact which has broad implications; from paying employees to paying rent, it is more difficult to stay in business. Moreover, small businesses are more likely than larger businesses to face shutdowns and voluntary or involuntary shelter-in-place orders. Many constituents of the retail sector have also missed out on the lift generated by the Economic Impact Payments (EIP) made by the federal government.
Visa recently published a global research report entitled The Visa Back to Business Study which surveyed consumers and small businesses in eight countries around the globe. I wanted to address some of the highlights from the small business portion of this study.
The report identifies generating revenue and attracting customers as the top concerns for small business. Mercator Advisory Group has seen very similar results in our most recent U.S. Small Business PaymentsInsights results which identify customer retention and cash flow as top concerns. Our survey also revealed that employee retention and security are also key concerns to U.S. small businesses.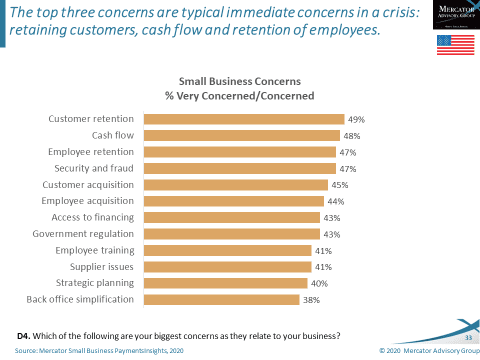 One of the most interesting insights I saw in the report was the more personal challenges that the pandemic has made small business face.
The unpredictability about virtually every matter associated with COVID-19 is unsettling for business owners who depend on projections and forecasts. The biggest operational challenges SMBs are facing are shifting consumer behavior (35%), balancing challenges in their life with their business challenges (28%) and keeping their employees safe and healthy (27%).
The current environment brings new challenges and mystifying advice from "experts." As consumers try to react to all these changes, small businesses are trying to figure out which of these changes are fleeting and which will stick. Clearly, this is a daunting task.
I also found it interesting that about three in 10 worry about balancing their work and personal life in the midst of a pandemic. Also, a similar proportion worry about the health and wellness of their employees.
Sometimes we forget the humans behind small businesses and the very personal issues they face.
Overview by Peter Reville, Director, Primary Research Services at Mercator Advisory Group