The start of a new year is always a big time for bold predictions. For the past 10 years, payment prognosticators have said that this year was going to be the breakthrough year for digital payments. Alas, each and every year, the great digital payments breakthrough doesn't happen.
Forbes recently published thoughts from its Technology Council titled 16 Ways To Make Digital Payment Methods More Effective. It polled members of its technology council to opine on how to increase the use of digital payments among consumers. While all of the suggestions made by the council in this article are sound are sound, I would like to add my own two cents.
What I think the contributors to this article are missing is the consumer sentiment that is currently preventing the use of digital payments. As usual, I looked at our Mercator Advisory PaymentsInsights data – a survey of 3,000 American consumers – to see what is preventing them from using digital payments.
I was quickly drawn to a question we asked about what factors were preventing smartphone users from using a mobile wallet like ApplePay or Google Pay. While this question may not cover all types of digital payments it does provide insight into the "non-user" mindset.
The graph below shows the the reasons smartphone owners gave for not using a mobile wallet: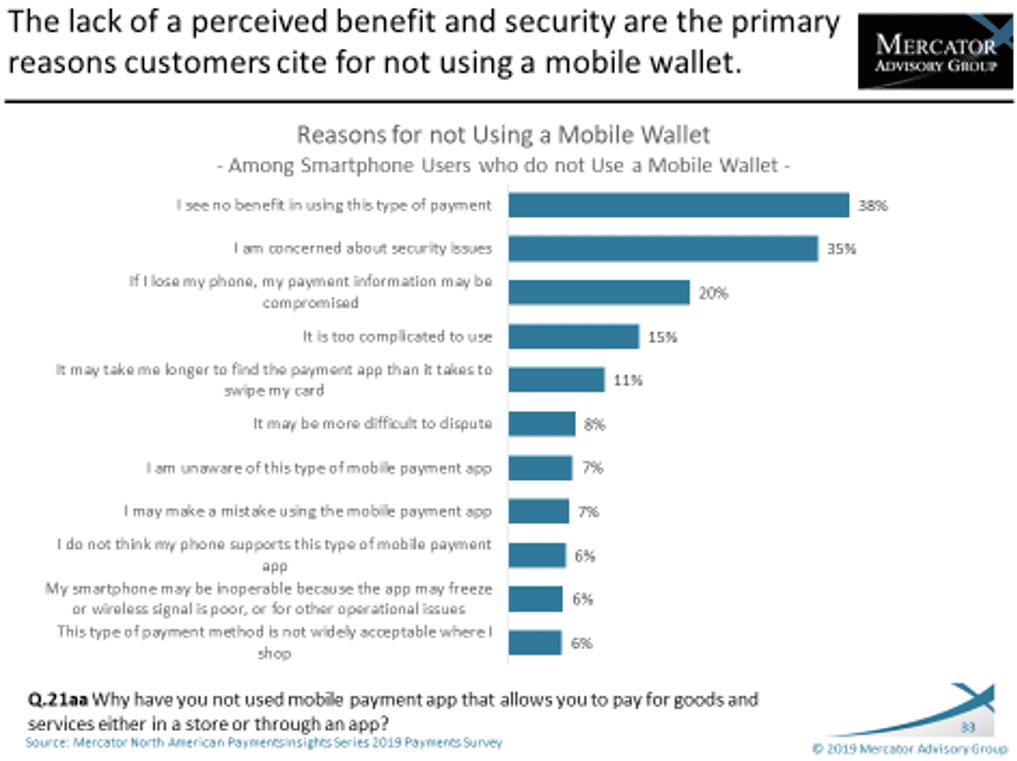 Nearly four in 10 report that they see no benefit in using a mobile wallet. This means that the value proposition of the mobile wallet has no compelling impact over the status quo. Essentially, what consumers are saying with this response are "what I'm currently doing is just fine, no need to change". That is a big hurdle to gaining adoption.
The second and third most popular reasons cited by consumers relate to security. This is another difficult hurdle to overcome that may be allayed by a well-thought out campaign to convince customers of the security.
I hate to say it, but getting people to embrace digital payments is more about getting into the heads of consumers than technology. For too long, the payment industry has been enamored by the technology and the consumer has largely yawned. Solve a problem and allay some fears, and maybe this year will be the year of digital payments.
Overview by Peter Reville, Director, Primary Research Services at Mercator Advisory Group