Women tend to use cash 6% more frequently than men at a global average, which is a very common trait across all the markets, according to a consumer payments survey conducted in 2017 of 30,000 consumers across 35 markets by leading data and analytics company GlobalData.  
The company found that majority of consumers feel most comfortable paying with cash, as 89% of consumers surveyed said they use cash for in-store payment up to 25 times a month.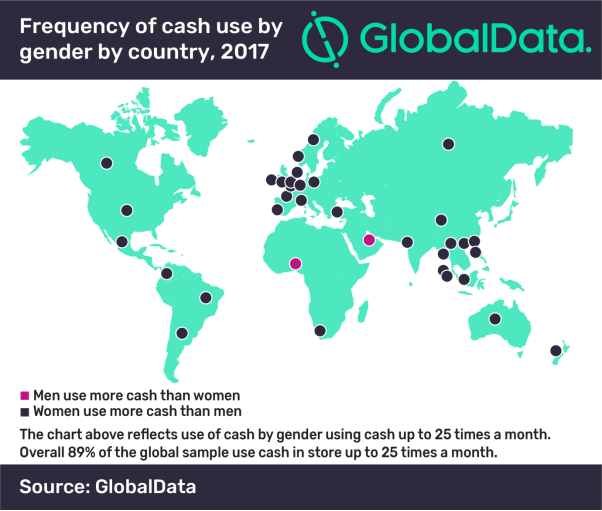 IMAGE FOR PUBLICATION: Please click here for a high resolution image
Arnie Cho, Senior Financial Analyst at GlobalData says: "That women use cash for payment more frequently compared to men reflects their traditional societal roles. In most cases, women tend to bear the responsibilities for looking after the household and taking their children to and from school, which increases opportunities for cash purchases.
"In some parts of the world, people still prefer to shop for meat and vegetables from wet markets where vendors still only accept cash and women are most likely the ones in the household to make the purchase."
GlobalData also found that about 33% of the female and 35% of male respondents cite comfort as the main reason for choosing to pay with cash. Other reasons why consumers use cash include convenience, low risk and of the unavailability of alternative payment methods. Like the choice on comfort, weighting on the other reasons chosen were pretty much the same between women and men with only one to two percentage point difference.
Cho continues: "Though there are occasions where cash is the only payment option for consumers when making payments in-store, there are some other aspects of consumer behavior that explain why consumer choose cash as their payment choice.
"For example, the Gen X and Y segment use cash more often than the other age groups, partly as a result of being out at work which increases their opportunities for in-store purchases. Payments providers should look to understand the specific occasions for cash usage across demographics in order to offer viable alternatives to consumers."