Consumers love debit—and merchants are paying attention. In fact, for day-in and day-out transactions and routine purchases such as groceries and gasoline, debit remains one of the top payment methods, presenting a vital opportunity for merchants everywhere.
In a recent study sponsored by Discover® Global Network, 54% of merchants agreed that debit cards are a highly important payment option for their customers.1 While different demographics prefer debit transactions to varying degrees, the study showed that consumers prefer the convenience, ease of use and financial control that debit provides.
For merchants, debit usage often replaces cash and check payments, providing greater merchant security and eliminating the costs involved with handling and safeguarding cash in-store. Not only does that directly benefit the merchant, but the acceptance of debit is also critical in ensuring a positive customer experience.
Consumers typically choose debit at more-traditional point-of-sale (POS) systems in grocery stores, at gas stations, at small businesses, for subscription services and for any transaction between $25 and $100, the survey showed. No longer just a convenient bank card to be used at ATMs, most consumers today also enjoy the convenience of getting cash back from the merchant directly when transacting at the POS.
While the physical POS is key to many transactions, digital payment adoption is also on the rise in global markets, as interest in different online payment types, including digital wallet, has grown. Consumers are showing a preference for using debit in this expanding world of digital wallets. In fact, 66% of consumers have debit cards as the default payment type in their preferred digital wallet.1
Transaction security and fraud protection are firmly top-of-mind for both merchants and consumers, particularly in recent years as fraudsters have become more prevalent. When using debit in-store, most consumers prefer to use a PIN to authenticate themselves at POS.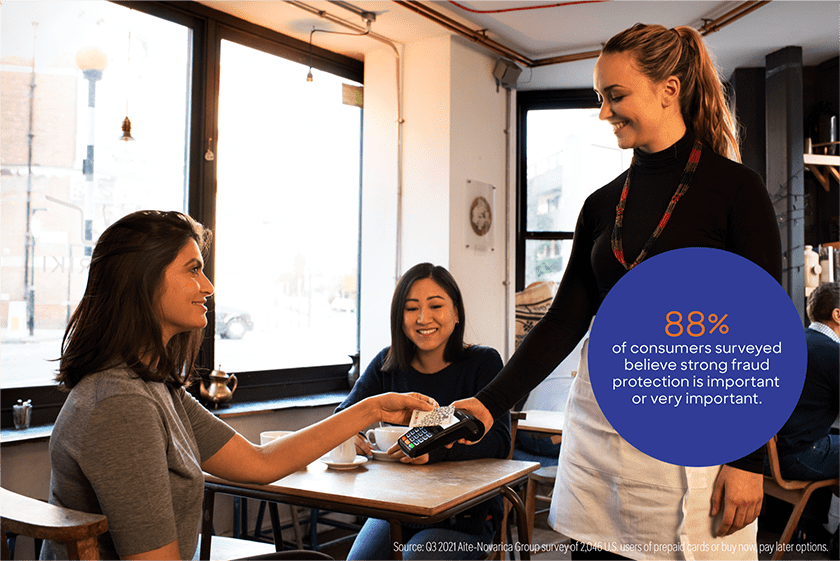 Whether it's the preferred payment method in digital wallets or for a variety of in-store purchases, here are five key reasons why debit remains a leader in payments:
Convenience
Consumer preferences in spending and shopping habits have evolved considerably in the past few years. Increasingly, consumers want payment options that are convenient and easy to use. As a result, they've turned to debit, particularly for everyday purchases between $25 and $100.1 This trend, which is widespread across multiple demographics, is expected to continue. Not surprisingly, debit is the preferred payment method for grocery store purchases (where the average in-store transaction is $42.07).2 Debit also dominates in several other merchant categories, including gas stations, small businesses and local stores.
2. Security
Merchants and consumers alike are concerned with security and fraud protection. According to a recent study, 88% of consumers surveyed believe strong fraud protection is important or very important.3 Meanwhile, another study reveals that 64% of merchants strongly agree that fraud is becoming a growing problem in their industry.4 With modern advances in digital security, debit transactions carry among the highest fraud protections available anywhere. And for consumers, payment security is top-of-mind. For digital purchases, security of their personal information is the top concern for consumers. When using debit cards, a full 73% of consumers prefer to authenticate with a PIN at the POS, providing that extra level of assurance that their transaction is secure.1 As a result, merchants should recognize the importance of the technology, including PIN pads, that's needed to ensure that consumers are comfortable using debit cards in-store.

3. Cash back
Consumers want the ability to get cash back quickly and easily, whether or not they're near their bank's ATM. Providing greater convenience to consumers, merchant POS is the preferred method for customers to receive cash back, with a majority of consumers preferring to get cash at an in-store merchant location. Offering the option of cash back at the POS is a means for merchants to generate customer loyalty. In fact, almost one-third of consumers say the ability to get cash will significantly increase their loyalty to that merchant.1
4. Cashless
A shift away from using cash is another trend that is gaining momentum across multiple age groups of consumers. As consumers have moved from paying with cash to touch-free and digital transactions, debit has seen an increase in usage compared with cash. According to one recent survey, 79% of consumers prefer to use cards for in-store purchases, with 51% preferring contactless payment methods.5 For online transactions, debit usage is high across all adult age groups.
5. Financial control
Consumer demand for real-time payments has strongly increased in recent years. From paying bills to receiving funds from a business, consumers are showing great interest in a number of practical applications for real-time payments. Not only do real-time payments appeal to consumers for their speed and efficiency, the immediacy of payments to and from a consumer's bank account provides an important element of control over personal finances. This is why consumers choose debit for not only everyday transactions, but also for their growing subscription services and in their digital wallets.
---
1 Mercator Advisory Group, Debit Consumer Trends Study, February 2022.
2 Food Industry Association. "Supermarket Facts." Viewed 14 March 2023.
3 Q3 2021 Aite-Novarica Group survey of 2,046 U.S. users of prepaid cards or buy now, pay later options.
4 451 Research, part of S&P Global Market Intelligence, Key Findings: Global Merchant & Consumer Payments Survey: Commissioned by Discover Global Network, completed November 2021.
5 451 Research, part of S&P Global Market Intelligence, Global Consumer Fintech Survey: Key Findings, August 2022.