The author of this referenced posting in Bloomberg Tax is the CEO of Beanworks, a 2012 startup out of British Columbia that specializes in accounts payable automation. Most readers will know that manual processes and paper checks, although familiar, workable and highly engrained, are not the solution for a modern world with the technology advances that are available.
Indeed, one thing we are finding is that once these traditional methods are replaced, they become anathema to those who adopted the new ways. For this piece, the author goes on to speak about fraud prevention as a main benefit of payables automation.
'Accounts payable fraud is a silent threat faced by many companies….Turning a blind eye creates a serious risk;…The danger is not only to the finance department, but also to a company's reputation and integrity if a fraud scandal is exposed….AP fraud has come a long way. Gone are the days of pretending to buy toner for the printers. Now with increasingly sophisticated scams, and ever larger business operations, the right tools are needed to detect and protect against AP fraud. Accounts payable automation is a key tool in the fight.'
We have given considerable coverage to the topic of fraud management, both from a bank's perspective and that of industrials as well. The WFH environment has exacerbated the 'attempts' game as bad actors try every and any social method to break into these processes.
Part of the problem is a lack of planning and basic due diligence, which we described (see below) in the last member report released on the topic. We expect some of that has been resolved in the past 18 months, but surely remains an issue.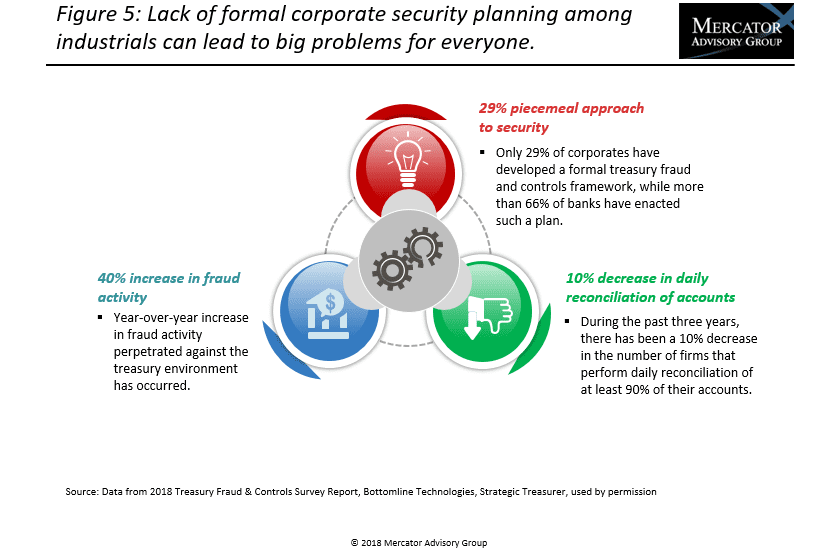 Prevention and mitigation involves various efforts, but of course digitization of processes is a big step forward since resulting data can be consumed and analyzed faster and better. The author goes on to chat about some of the threats and ways to offset, then concludes with the AP automation appeal, with which we can't disagree.
'The comprehensive solution to prevent AP fraud is the digitization of the AP process. By going digital, human error can be taken out of the picture, with the process of detecting some kinds of fraud becoming an automated process….The digital system is able to first flag duplicate payments, with accounting teams then automatically alerted. Human expertise can then enter the fray, with the human eye there to investigate whether it was a simple mistake, or indeed a fraudulent act….An additional benefit comes in robust approval channels made available through a digital AP platform. Those allow for communication through reviewing and approving invoices before they are paid….Accounts payable fraud is a systematic risk, with fraud or errors which could go undetected for years. It is impossible to track either the historic or yearly value of AP fraud, given that the success of AP fraud implies that it has not been detected. What is sure is that AP fraud is not uncommon, and no business will ever know the extent of AP fraud unless it safeguards itself by digitizing the process.'
Overview by Steve Murphy, Director, Commercial and Enterprise Payments Advisory Service at Mercator Advisory Group