The open banking space is widely considered to be primarily in the domain of consumer-related products and services, which at this stage is generally true. Just as with other fintech developments over time, the path of least resistance (or perhaps fastest way to get users) is through consumer apps. PSD2 however, pertains to all uses and there is a gradual uptick in the goodies that are being marketed for businesses. This piece in Tech Crunch by one of the staff writers talks about a very recent Germany-based startup (like starting up now) called Airbank. The firm is described as a cash management SaaS for bank account management, real-time cash flow monitoring, cash forecasting and payments and received seed round funding to pursue the model.
'Airbank just raised a $3 million (€2.5 million) seed round led by Pia d'Iribarne and Jean de la Rochebrochard at New Wave, with Speedinvest and Tiny VC also participating. A handful of business angels are also joining the round, such as Cris Conde (executive in residence at Accel), Luca Ascani (Accel scout) and Marc McCabe (Sequoia scout)….The startup's value proposition is quite simple and can be easily explained in one screenshot. With Airbank, you can enter your login information for all the bank accounts and related accounts that you use. After that, you can view everything from your Airbank account: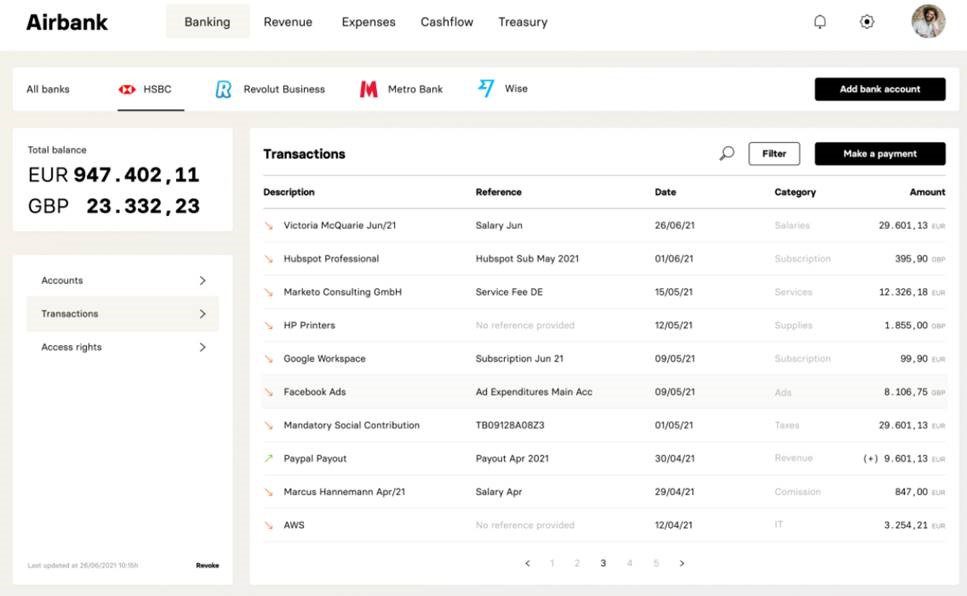 Again, as we have been advising members through research and other readers through various postings, Europe is a bit ahead of the game, along with a few other markets that have pushed for open banking regulatory initiatives. Banks in the U.S. are approaching it from a client demand standpoint, since there is no regulatory zeal around it (on the contrary, privacy matters are more often highlighted), but more activity is building, so be on the lookout for B2B open banking innovations.
'Other startups have been working on cash flow management, such as Agicap, and B2B payments, such as Libeo and Upflow. Airbank is starting with account aggregation and wants to tackle B2B finance in a holistic manner….Vertical SaaS products have been booming lately. And there's a reason why the space is quite competitive: There's still a ton of stuff to do around B2B fintech and specialized software-as-a-service products.'
Overview provided by Steve Murphy, Director, Commercial and Enterprise Payments Advisory Service at Mercator Advisory Group