Is traditional retail banking facing a "death by a thousand knives?" Today's installment of this ever-present question looks at online-only or, as some say challenger banks. In this space names like Ally, BankMobile and Chime come to mind.
A recent posting by research and polling firm YouGov takes a look at the online-only banking ecosystem from the consumers' perspective. In the post, Can tech companies and mobile-only banks win over banking customers?, the authors cite a recent survey YouGov conducted that shows fairly high awareness of online-only banks among consumers. Actual usage of these services, however, still has room for improvement.
Looking at eight of the top mobile-only banks (according to Forbes), new YouGov data finds that about 62 percent of consumers are aware of at least one mobile-only bank and nearly one in five (22%) have used one before. An additional 13 percent say they are extremely likely to use a mobile-only bank in the next year.
When they asked consumers about the drawbacks to these types of banks, consumers were most often likely to cite security (27%) and privacy (25%) as the top two barriers to joining. A similar proportion said they see no barriers.
How can these banks make more inroads or, to flip it around, what may keep them from gaining more traction? If you think about it, for many people, their banking life wouldn't be much different with an online bank than it is with their current banking institution. As our research shows, most consumers are already using their computer and/or mobile phone for banking.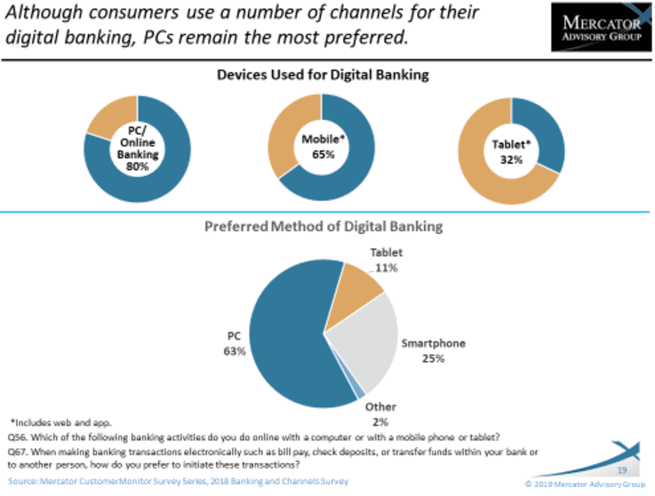 This chart begs the question; if people are already banking digitally, wouldn't a digital bank be a no brainer?
I'm not breaking any new ground here when I bring up some of the challenges (I couldn't bring myself to use the word "headwinds) the challenger banks have in front of them. Here are a few:
Trust – Trust is more than just security and privacy. It is a warm, fuzzy feeling of confidence that the place where you keep your money is reliable, safe, well intended, etc. Even those people who don't trust banks in general, trust their own bank.
Inertia – We all know that inertia is a big deal in banking. It takes a lot to get a consumer to switch to another bank.
Comfort in the availability of branches – Our research shows than even Millennials and Gen-Z consumers still value having a branch to go to.
Traditional Banks – Don't think the traditional banks are going to sit on the sidelines and not get into this part of the retail banking world. Many have, and it is a safe bet that many more will follow.
Like so many of these fast approaching new ways for consumers to handle their money, there is no way to tell where challenger banks will fit into the larger financial services world. On paper they make a lot of sense. That said, consumers don't always read the same papers we do.
Overview by Peter Reville, Director, Primary Research Services at Mercator Advisory Group