As the cryptocurrency industry awaits a legal framework from Congress—two House committees are now collaborating in an effort to bring legislation forward—the Biden administration is pushing a proposal to tax miners for their energy use.
In a blog post published Tuesday by the Council of Economic Advisers, the administration said it wants Congress to impose a 30% tax on the cost of the electricity used in cryptocurrency mining.
From the post: "Cryptominers' high-energy consumption has negative spillovers on the environment, quality of life, and electricity grids where these firms locate across the country."
And: "Currently, cryptomining firms do not have to pay for the full cost they impose on others, in the form of local environmental pollution, higher energy prices, and the impacts of increased greenhouse gas emissions on the climate."
The proposed excise tax is dubbed DAME, for Digital Asset Mining Energy.
Mixed Cryptocurrency Mining Approaches in the States
As Javelin Strategy & Research detailed in a recent report, Bitcoin Mining and ESG: The States Start Moving, the absence of any legal framework for mining operations by the federal government has prompted individual states to step into the gap and impose their own rules.
Bitcoin, by far, is the most notable example of a cryptocurrency that is mined using proof-of-work protocols, whereby large computer operations solve complex algorithms and gain access to coins. The resultant energy use from these large operations has been targeted for increased regulation by some states.
The result has been a scattershot of rules, some designed to rein in crypto mining (New York) and some putting up a welcome sign for mining operations (Missouri and Mississippi, for example).
Who's the Regulator?
By any measure, these attempts at bringing legal coherence and regulation to a nascent industry so far have spawned mostly chaos.
Two federal agencies, the Securities and Exchange Commission and the Commodity Futures Trading Commission, are engaged in a turf battle over who has oversight of crypto and digital assets.
SEC Chairman Gary Gensler has staked out the view that digital assets are securities and wants crypto firms to register with the agency and behave like the firms it traditionally oversees.
The CFTC, in contrast, has labeled bitcoin and ether, the two dominant cryptocurrencies, as commodities. Chairman Rostin Behnam wants Congress to give the agency control over crypto spot markets.
And then there's Congress itself. The two-committee gambit by House Republicans—Financial Services and Agriculture, which have oversight of the SEC and the CFTC—is the latest effort legislative effort to bring clarity to the space.
"Two committees working hand in hand on a joint legislative product like this is unprecedented, and I believe it vastly increases our chances of getting it right," said Rep. French Hill (R-Ark.), the chairman of the Financial Services Subcommittee on Digital Assets, Financial Technology and Inclusion.
How Much Energy?
As of Tuesday, the University of Cambridge Bitcoin Electricity Consumption Index showed an estimated annualized total of 131.22 terawatt hours, with a theoretical low of 63.64 terawatt hours and a theoretical high of 231.98.
The consumption has risen dramatically from 2017: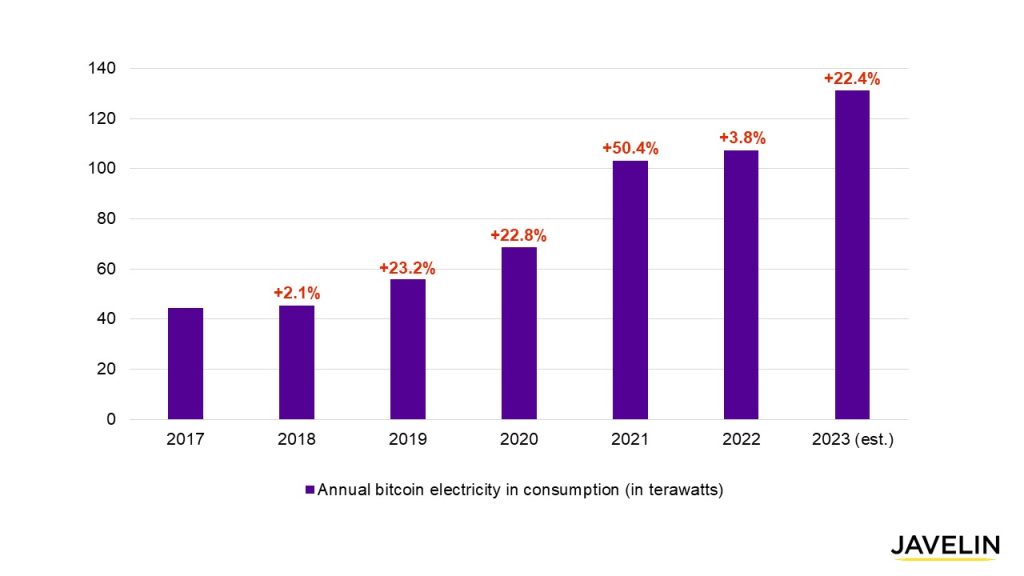 However, Javelin Strategy & Research analyst Joel Hugentobler described the proposed tax as a blunt and errant instrument that, if enacted, will drive the industry away.
"Taxing miners, whatever the reasoning is, is going to result in their going to another country where they can find power just as cheap and won't have to pay taxes," he said. "The federal government keeps saying it wants to be the leader in innovation, but everything it's proposing, or has taken years to propose—regulatory framework in general—is proving otherwise."
He also took issue with specifics of the administration's case for the tax, pointing out that crypto miners already avail themselves of renewable power and innovative approaches such as harnessing natural gas flaring sites for power, thus reducing methane emissions.
"Miners don't raise the power prices to consumers. They sign agreements with utility companies to lock in their price per kilowatt hour," he said. "It's a win-win for both parties. The utility gets guaranteed payment for supplying the power, and the mining company gets a guaranteed price. And miners are willing to shut down in cases of emergency so that additional baseload power is available for citizens.
"What they've done in Texas with the Ercot power grid is unbelievable. In blackouts, miners have been able to shut down within 10 minutes and supply that power to those who need it. No other industry can do this."