A recent article published in Android Pit online magazine reported the findings of a consumer survey of British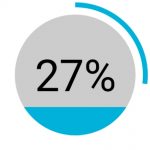 shoppers sponsored by Mastercard which stated that 27% of all money spent by British shoppers was bought either on a smartphone or tablet, as British shoppers are avoiding going to stores. This is certainly not the case in the United States where brick and morter stores are still the primary mode of shopping for most categories despite the growth of online shopping. Merchants need to improve the shopping experience by enabling the consumer to interact in the stores via technology to personalize their products and experience.
Janne Karppinen, Head of Retail at Mastercard UK, said: "Technology will have an increasingly important role in helping retailers woo shoppers back to the high street. The most successful stores are always gearing themselves around the overall shopping experience. These shops are becoming places to interact and personalize products rather than simply a place to buy things. We expect to see this trend to grow as smaller retailers realize they can offer something the online world can't."
The in-store experience is critical to consumers as most U.S. consumers, even young adults still say they do most of their shopping in stores than online. Yet, for holiday shopping, more of their shopping is being done online and by mobile, particularly when it involves sending packages. According to our Customer Merchant Experience Survey Series; Merchant Experience, based on an online survey of 3,000 U.S. consumers conducted in March 2018, 78% or more of consumers reported that most of their purchases in nearly every retail category outside of airline/travel/hotel and online retailers and services were made in stores. Our research also points to the fact that consumers want to personalize their experience in stores. Young adults are attracted to stores that enable them to use a mobile app, voice activated agents or other technology to improve their shopping experience.
Furthermore, 67% of consumers use their mobile phones to shop for goods and services online and 82% of them used them to help while shopping in stores, as noted in our latest study on mobile payments, Mobile Payments: Still Waiting for Broader Adoption in the U.S. Consumers still primarily shop in stores for most products, but engage on their phones if they can improve their experience. In the U.S., nearly half of smartphone owners have paid for goods and services by mobile phone, primarily using a retailer's mobile app, though the base is stalling.
Overview by Karen Augustine, Manager, Primary Data Services at Mercator Advisory Group