Contactless payments are high on the global payments agenda. Consumers' intent to use contactless more was demonstrated by our research studies both from 2017 and 2020. Now in the current pandemic, with the WHO encouraging contactless payments where possible and countries around the world raising contactless limits, consumer behaviors are changing more rapidly than ever.
Unsurprisingly, 88% of banking executives consider contactless their primary payment priority. Card payments still dominate nearly half of all global payments, with almost 1 in 5 payments being made with a contactless card. A figure rapidly on the rise…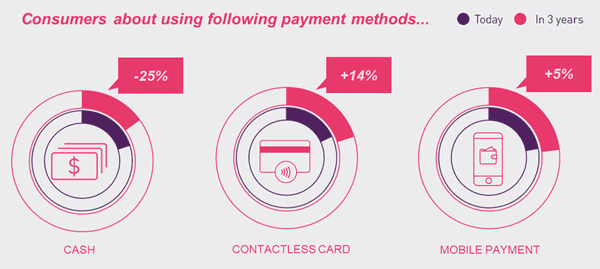 However, some contactless card concerns remain. Consumer fraud fears, combined with the increasingly complex issue of the payment cap, are posing issues for consumers and financial institutions alike.
But these may not be concerns for too much longer. As biometric payment cards get ready to enter the consumer market, with several rollouts scheduled for later this year, banks are faced with the perfect opportunity to take their contactless card strategy to the next level. But first, why do contactless cards need to evolve?
Why do we need Contactless 2.0?
In markets where contactless is already prolific, around 59% of consumers said they want to use their contactless card more.
Card remains the king of payments globally, and contactless offers a UX consumers love. But payment caps remain a major limiting factor. 79% of banks view this as their primary frustration with contactless cards, too, limiting transactions.
In the wake of the pandemic, consumer desire to make more 'tap and go' payments has only increased. In response to the WHO, payment networks globally have enabled countries like the UK, The Netherlands, Canada, New Zealand, and many more, to increase the contactless payment limit in a bid to promote more hygienic payments. As a result, even cash-heavy countries such as Germany have seen a growth of contactless from 35% to 50% of card transactions since raising the cap from 25€ to 50€.
But many believe this hasn't gone far enough, with the limits still too low to enable contactless payment for, say, a family's weekly shopping. The need for PIN entry will remain an unwelcome experience with current hygiene concerns. Not forgetting that, fundamentally, consumers are tired of remembering a plethora of PINs and passwords: 6 out of 10 feel they have too many and worry about forgetting them.
On the other hand, the rise of the cap will inadvertently lead to more payment fraud and, crucially, more consumer anxiety. 38% of consumers who aren't 'tap happy' cite security as the primary concern they have with using contactless cards. Raising the cap without additional security features will undoubtedly trigger this to increase too.
So, how can we enhance the convenience and UX of contactless cards, without simply adding to security concerns?
Biometrics – the remedy to contactless concerns
Biometric authentication offers an additional layer of security to contactless card payments that can empower the financial world to completely remove the payment cap – bringing an end to remembering PIN codes and physically interacting with PIN pads altogether.
By strengthening security, the cards can also reassure consumer concerns around contactless card fraud, enabling even greater adoption. And, in turn, increased card payments for banks and throughput for merchants.
Adding biometrics to payment cards is a natural evolution. Biometric authentication on smartphones is already commonplace, with 82% of consumers with access to the technology now using some form of biometrics to unlock their mobile device. And consumers are now ready to embrace this technology for more than just unlocking their smartphones.

Even with biometric payment cards currently being in pilot phase, 56% of consumers surveyed would already like to own one, and half of them so much they would even be willing to pay. With the steady rise of mobile payments too, biometric payment cards are the perfect complement. In the age of strong customer authentication, biometrics can enable a harmonized user authentication experience across form factors.
Why bank on biometrics?
Biometric payment cards offer banks a win-win. For those yet to implement contactless, it's the perfect opportunity to skip past the challenges of the payment cap and fraud fears to a more mature, long term solution.
For banks in already successful contactless markets, the race is on. By offering biometric payment cards, banks can get ahead of the competition and deliver customers a more convenient, 'cool', trusted and hygienic solution. All while boosting transaction rates, reducing fraud and strengthening existing customer trust.
Over 20 biometric contactless payment trials are underway with banks across the globe, with more commercial rollouts expected in the coming months. Significant progress has already been made by all stakeholders to showcase the readiness of the technology to enter the payments ecosystem. Rigorous testing and certification has been completed to align with industry standards and earlier this year, Fingerprints was proud to be part of the first commercially certified biometric payment card by a global payment network. As we gear up for commercial volume deployments, the next generation of contactless feels just a tap away.
Download our infographic to learn more about the opportunities for banks when launching biometric payment cards.