This announcement was picked up in Finextra and discusses one of the fastest-growing technology uses across financial institutions, which is the use of APIs for interactivity between various systems. APIs have of course been around for many years, but formerly used as internal systems connectivity mechanisms.
Now with the onset of open banking (from both a regulatory and market need standpoint), the more sophisticated use of APIs is becoming a primary method of integration between FIs, their clients and technology partners. In this case Citi has reached 1 billion API calls through CitiConnect, the corporate banking communication platform launched in 2017.
'This rapid rise in API volume is fueled by the many changes our clients are facing due to the rapidly evolving business environment, including supporting direct-to-consumer flows, new e-commerce models, the switch from batch to real-time, and the advance of Instant Payments. Whether it is to top up mobile wallets in India, disburse micro loans in Argentina, or pay instantly in the USA, Citi's digital channel solutions play a pivotal role in helping clients of Citi Treasury and Trade Solutions (TTS) reach their goals and navigate a transforming industry. Citi has collaborated with leading providers of enterprise resource platforms (ERP) and treasury workstation systems and FinTechs to embed API capabilities in an effort to build a seamless integration experience.'
We have written about API usage in corporate banking now for the past several years in member research, which is being driven by things like PSD2 (Europe and institutions that operate in Europe), and other regulatory initiatives in Australia, Hong Kong, along with the rising demand by corporate clients for easier experiences in treasury related products and services.
This was again pointed out in our CEP Outlook for 2021 (see below), an ongoing theme for the past couple of years. The need for resilience and product flexibility is a main driver behind the increasing move to the cloud, another place where APIs proliferate. As one of the top global corporate banking institutions, Citi is typically a harbinger for FI innovation.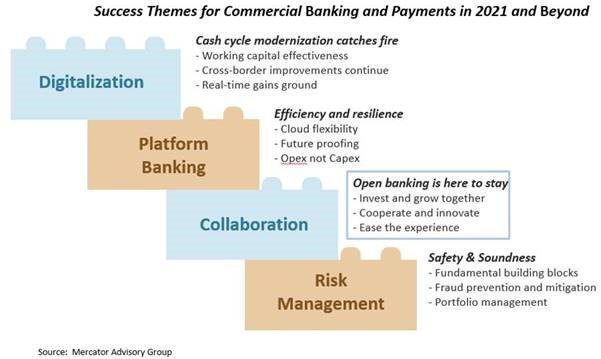 ' "Our clients are looking to drive efficiencies in their Treasury Operations. Operational tasks that used to take days to complete, are now being completed in minutes, powered by APIs," said David Terra, Executive Director at TOTVS. "TOTVS has partnered with Citi to initiate payment instructions, and get real-time status updates. Using APIs allows us to help our clients reconcile transactions faster and more accurately. This in turn helps our clients to better manage their working capital.".…The CitiConnect® solution offers over 83 APIs for both data driven services and transactions. These APIs allow clients to directly access products and services to help provide a seamless and real-time banking experience. Services provided include self-service reports, real-time FX information, and account services such as statements, cut-off times and proof of payment. Transactions include payments, instant payments, request-to-pay, and WorldLink® transfers.'
Overview by Steve Murphy, Director, Commercial and Enterprise Payments Advisory Service at Mercator Advisory Group