The persistent cost-of-living crisis in the United Kingdom has another symptom: a rise in shoplifting.
A news report from the country cited incidents "being reported rampantly in the UK." The report fixated on food costs, noting that they had risen 19% in March 2023 from a year earlier.
That inflationary rate for food nearly doubled the overall March rate of 10.1% reported by the Office for National Statistics last month. The agency's next report is due on May 24.
British tabloid Metro cited a survey indicating that one in 10 young people has resorted to shoplifting. The same report suggested that the crisis is landing on the younger set with particular force: 37% of young adults have sought financial support to buy food, compared with 5% of those over 55.
Prices have skyrocketed in recent years, with a steady climb beginning in March 2021. A downward drift has occurred only recently, but it has not been enough to ease the pain. Each monthly number is year over year:
UK Inflation Rate, February 2021-March 2023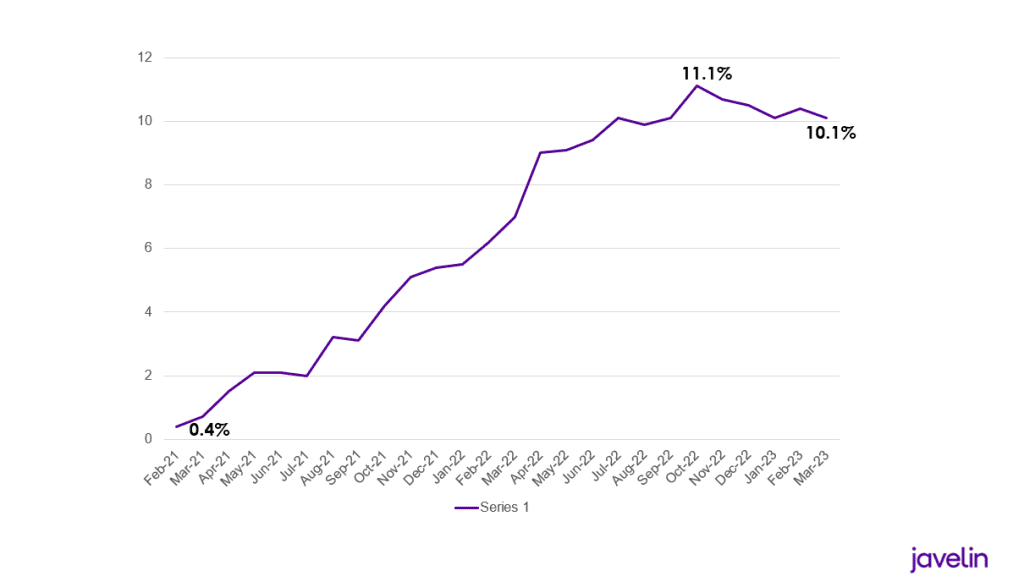 Contrast that with the U.S. numbers during the same period (again, monthly statistics are year over year):
U.S. Inflation Rate, February 2021-March 2023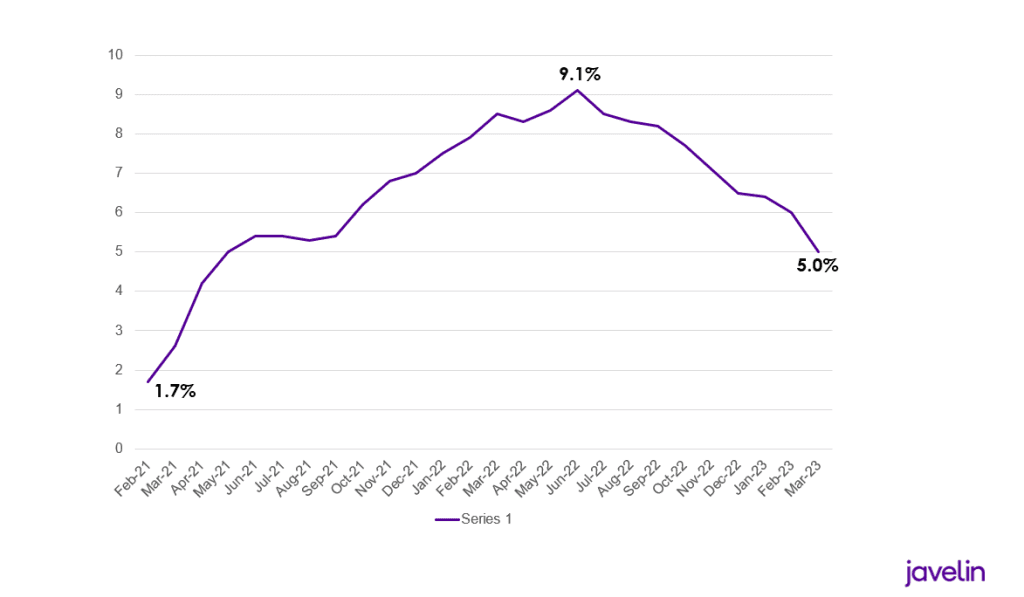 Inflation is a global problem, but the impact isn't the same everywhere.
On Thursday, the Bank of England increased the interest rate for the 12th consecutive time, lifting it to 4.5% from 4.25%, in an effort to tame inflation. The central bank has said that it expects the inflation rate to fall later this year. Initial projections had it dropping to around 4%, but around 5% is now anticipated.
Dealing With the Pain
Earlier this year, a report indicated that some UK residents were using buy now, pay later (BNPL) loans as a way of soothing their money woes during the cost-of-living crisis.
At that time, more than a third of workers in the UK had used the loans, with another 15% saying they expected to use such loans, in which goods or services are received, then paid for in installments that are generally interest-free.
The problem, of course, is that many consumers who are cash-strapped now put themselves in greater jeopardy by taking on future obligations. Indeed, BNPL users often profile as debt-laden.
These payment products—which don't trigger credit checks, a fact that makes them more appealing to younger, less creditworthy segments—are now drawing regulatory attention in the United States, as outlined in a Javelin Strategy & Research report written by analyst Daniel Keyes, Buy Now, Pay Later's Suddenly Uncertain Future.
Meanwhile, Back in the UK …
In a sign of where the UK crisis is landing hardest, the pediatric medicine Calpol is reportedly one of the most frequently shoplifted items. A news report said daily essentials such as milk and cheese have been fixed with security tags.
According to data compiled by Statista, reported shoplifting incidents hit nearly 275,000 in England and Wales in 2021-22, up from 227,983 in 2020-21. And though that's a remarkable rise, the numbers in the five previous years—before the cost-of-living crisis—were much higher:
2015-16: 337,257
2016-17: 370,306
2017-18: 382,650
2018-19: 375,173
2019-20: 359,315