Nowadays, digital commerce has become an integral part of sales industry. For this reason, e-commerce applications are in massive demand with modern businesses of any size. And this stands for a reason. In fact, e-commerce applications help sales companies upgrade operational activities, develop an extensive base of loyal customers, and significantly maximize revenues.
If you plan to optimize the sales potential with an application, our article  "How to create an e-commerce app?" will help you specify the  primal scope of features of a successful e-commerce application.
Fundamental requirements for an e-commerce application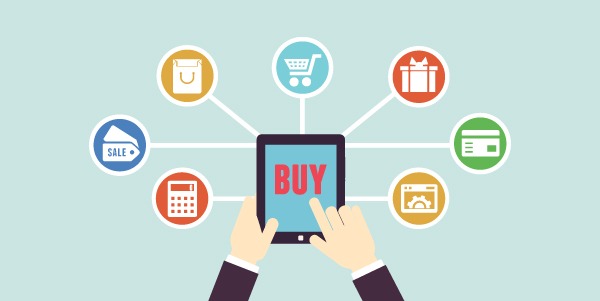 In case you want to launch a genuinely robust product in the app market, first, you need to consider the following quality criteria of a successful e-commerce application.
#1 Data safety
As a rule, an e-commerce app is a place where users make online purchases. Consequently, this type of apps deals with bank transactions. Given this, an e-commerce app should enable adequate measures for protecting users' data.
In fact, security is one of the most critical factors that affect customer's decision to start using an e-commerce app. For this reason, your customers should always be a hundred percent positive about banking transactions safety in your app. Remember, any security issue in your app will adversely impact your company reputation.
#2 Ease of use
Being easy to use is a must for any e-commerce app. Your application shouldn't be glutted with lots of forms, elements and unnecessary information as well. All of this makes the overall user experience too complicated.
Otherwise, a user has to spend a good deal of time puzzle out how to use your app. As a rule, such confusing apps tend to be deleted after a while.
Thus, if you want to avoid facing such issues, consider building a simple app featuring an FAQ section.
#3 Fast performance
A successful e-commerce application has no lags in performance and quickly responds to customer's commands.  
In view of this, you should provide all necessary means for reducing the delay time to the minimum in the app.
#4 Flawless experience
If you plan to cover a large customer base, you will need to create an e-commerce app compatible with multiple mobile operating systems. In such a way, your app should offer the same user experience on various platforms.
Moreover, your app should be stable in providing exceptional service for customers.  For this reason, proper support and maintenance consist a critical need for any e-commerce project. They include conducting regular testings, analyzing customer feedbacks, rapid responding to tech issues, as well as releasing updates according to user preferences and claims.
Feature set of an e-commerce application
Basic functionalities
In fact, a simple e-commerce app is an ideal solution for startuppers. Nevertheless, the following list of features is a must for any project.
Payment system integration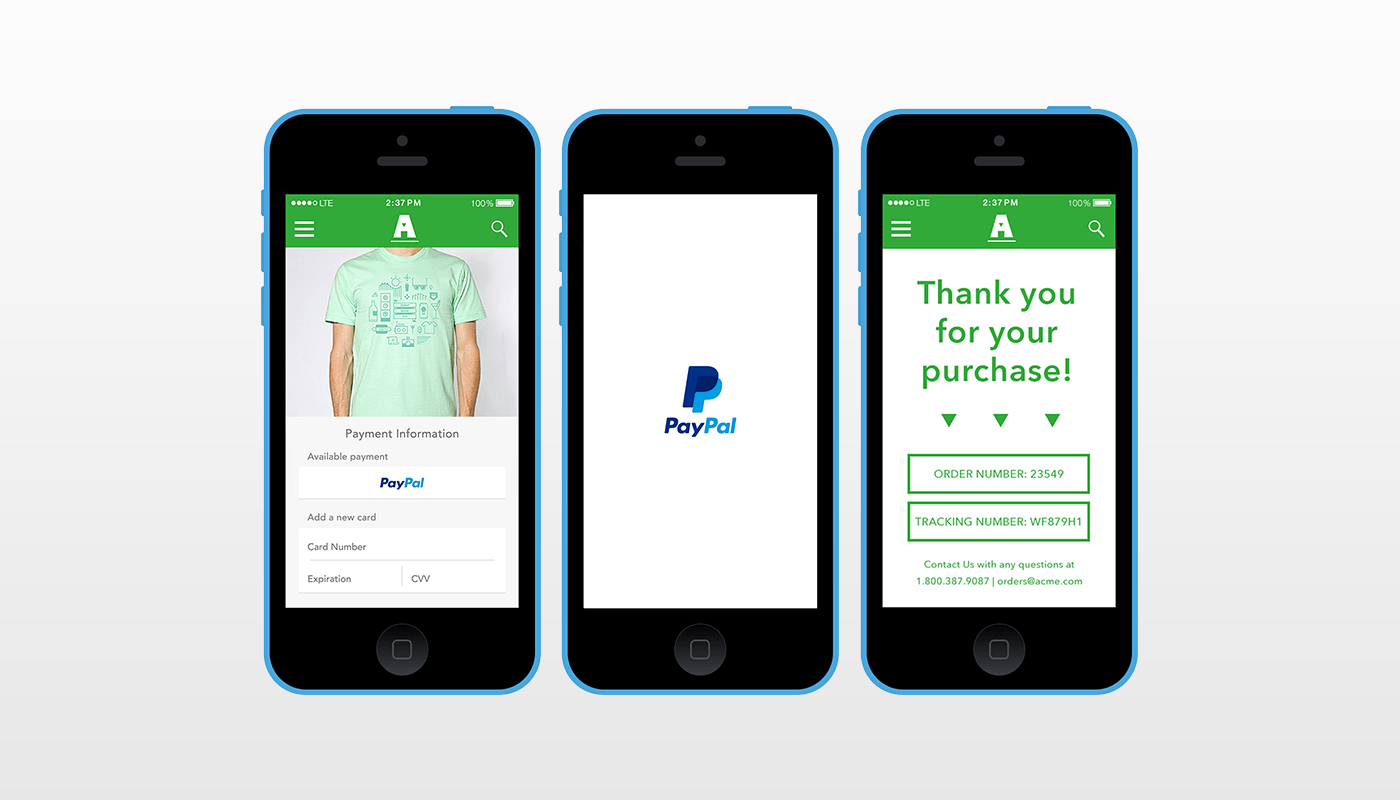 Source: One Touch Mobile PayPal
To enable in-app purchases, an e-commerce application should not only process transactions but also capture and store payment data. All these functions are possible to realize with the help of the payment processing frameworks.
Luckily enough, there is a broad range of frameworks enabling payment execution, financial reports, and customer support in a mobile e-commerce application. Such services as  Stripe, Brainee Payments, Google Wallet, Apple Pay, and Amazon Pay are held in high repute among modern entrepreneurs.
Customizable user profile
This feature enables a user to add personal information, look through buying history, as well as create wishlists.
Synchronized feed
The synchronized feed updates in real time and includes suggestions for the next purchase based on user's preferences, previous orders, and wishlists.
Search filters

Source: Wine Store
An e-commerce app should enable search filters based on multiple criteria to make searching process more convenient and precise.
Product comparison
In fact, a lot of users tend to research a product before buying it. If a customer is able to compare  the characteristics of chosen goods without leaving the app, he/she is more likely to finish an order.
Order tracking
With the help of this feature, a user can check up a status of an order. Moreover, it allows a user to keep track of its current location.  As a rule, this feature makes a customer feel more positive about the reliability of your service.
There is a great variety of out-of-the-box tracking solutions for e-commerce applications. The most widely used tracking platforms are AfterShip and DHL.
Safe authorization
Since e-commerce app contains a bulk of sensitive data, it should offer proper measures to prevent hacker attacks.
Commenting option

Source: Muut
It allows a user to leave feedback on a purchased good. As a rule, this section is designed in the form of a chat that enables commenting both for users and moderators. Besides, comments and reviews help other customers make a decision for next order.
FAQ section
With the help of an FAQ section, a user can easily understand how to work with your app.
Extra features
If you want to make your e-commerce application stand out of the other apps in this niche, it is worth adding some fresh ideas to your project.
Reverse image search
With the help of this feature, a user can easily and fast find what he/she needs. First, a customer uploads a photo of the desired product. Then, an app start searching for goods resembling a product on a given picture and suggests those available for order right at the moment.
E-check
E-check is an optimal solution for cafes and restaurants. It allows a customer to pay for dinner without a need to wait for a waitress. An app gathers information about the order and sums up the prices. Then, a user can check up the list of his/her ordered meals, add a bonus card, and get the final price with a discount if available.
Design editor
If your service provides an option for creating customized outfits, design editor will come you in handy. For instance, a user chooses a basic T-shirt and a print he/she would like to add. Then, with the help of a design editor, a customer can change colors of the print, make some handwriting according to his/her taste.
Online auction
The online auction will be helpful and purposeful for stock resellers. A user can add proposal's description and parameters, set up a starting price and specify the maximum number of participants.
Summing up
In fact, building an e-commerce application is a challenging and multi-componential task. It's development process doesn't end with a release on the app store. Thus, if you want to provide an exceptional service for your customers, make sure you have enough resources for maintaining your product in the future.
Short bio
Helen Morrice is a technical writer at IDAP Group. Crafting coverages on the latest trends in mobile app development is her work of love. To stay tuned with recent IT news, subscribe to her profile on Facebook.