While debit card transactions have always been popular, new digital technology and the surge of fintechs are catapulting debit usage in previously unimaginable ways.
No longer used simply for pulling cash out of ATMs, debit transactions today span virtually every payment type that consumers could want. At the heart of this revolution, technology solutions that bring payment convenience, provide ease of use and help ensure security along the entire transaction journey are a critical focus.
Global consumers, especially led by younger demographics, are adopting new transaction methods almost as fast as fintechs can create them. Whether it's instant peer-to-peer payments or smartphone-based digital wallets, the additional layer of biometric security or the interconnectedness of financial services, consumers are welcoming the many ways that debit makes these possible.
This growing use of debit is in large part thanks to new digital payment capabilities developed by fintechs, often in partnership with card networks like Discover® Global Network. "In fact, 98% of Fintechs either currently partner (70%) or see an opportunity to partner (28%) with a payment network," according to research.1

Today, fintechs and debit issuers are capitalizing on these opportunities. They are increasingly offering digital payment options to consumers, often relying on the trust consumers have in their financial institutions to keep their payments safe.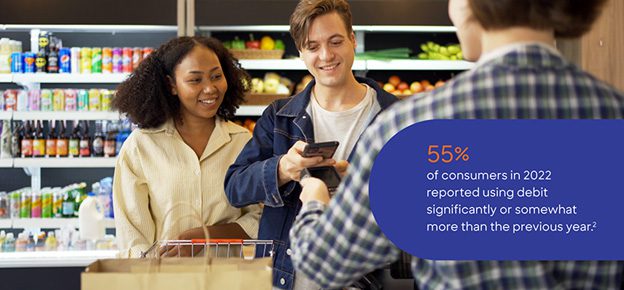 The marketplace surge of consumer debit transactions
The expansion of debit as a payment method surged during the pandemic, as 55% of consumers in 2022 reported using debit significantly or somewhat more than the previous year, according to a study from Mercator Advisory Group.2
Overall, consumers are showing an appetite for smooth, convenient, flexible and secure transactions. As part of that journey, debit cards today are integral to the full gamut of payment alternatives. In particular, they have become a key payment method of choice in digital wallets, P2P payments, e-commerce, recurring payments and smaller in-store purchases.
Digital wallets, in particular, are powering much of the growth. In fact, a recent study from Mercator Advisory Group reveals solid use of debit in digital wallets. "Sixty-six percent of consumers said their debit card was the default payment card linked to their digital wallet," according to Mercator.2 And this type of transaction is likely to grow, as research shows that global total e-commerce digital wallet volume is expected to reach $4 trillion by 2025.3
The linkage between fintechs and payment apps has also boosted customer preferences. More consumers than ever before are making payments with at least one app on their smartphone. In fact, nearly nine out of 10 consumers (87%) have at least one fintech-provided financial service app on their smartphone, while 28% have three or more, according to a study of consumer trends in digital payments.4 Through collaboration, fintechs and banks are able to deliver the types of mobile financial experiences that resonate with consumers.
The security of personal information is also a primary concern of consumers. The security of personal information is also a primary concern of consumers. In fact, it was the top-ranked attribute that consumers look for when deciding to use a digital payment service, according to findings by a study by 451 Research.5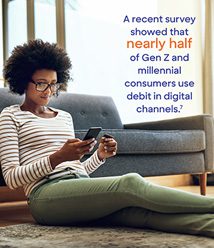 The expansion of digital payments shows no sign of waning
The rapid move by consumers to digital payments is here to stay. According to a recent survey commissioned by Discover® Global Network, 74% of digital payment users first used this payment method less than three years ago.6 And the popularity is growing.
For instance, digital wallets are making steady gains post-pandemic, with more than half of consumers using a digital wallet in the past 90 days, according to a recent survey commissioned by Discover Global Network.6
Debit card usage for e-commerce purchases is also rising across all demographics, with younger consumers leading the way. A recent survey showed that nearly half of Gen Z and millennial consumers use debit in digital channels.7 As these younger consumers move increasingly into the workforce and their buying power increases, the adoption of additional digital payment options—and the amount of spend that moves through these channels—is expected to continue to grow.
As new technology and applications combine with these demographic shifts, the future of debit looks poised to expand. Consumers across all demographics show a growing interest in financial experiences that are faster, open and embedded, research shows.8 And technologies and strategies that prioritize security are a must to move adoption forward.
To achieve this, partnerships among fintechs, financial institutions and payment networks will play a vital role in delivering new products and services that will meet the expectations of today's digital-first consumers. As a 451 Research study noted: "Financial institutions and payment networks will play an essential role in bringing trust and scale to new Fintech use cases."8
For more information on how to grow debit acceptance, visit DiscoverGlobalNetwork.com.
1 451 Research, part of S&P Global Market Intelligence, 2022 Global Consumer Fintech Survey: Key Findings, July 2022.
2 Mercator Advisory Group, January 2023. "Debit Trends Driving Commerce: 2022 Edition."
3 451 Research, part of S&P Global Market Intelligence, Key Findings: Global Fintech Vendor and Consumer Study commissioned by Discover Global Network, completed January 2021.
4 451 Research, part of S&P Global Market Intelligence, July 2022. "Voice of the consumer: The global state of digital payments and Fintech."
5 451 Research, part of S&P Global Market Intelligence, 2022 Global Consumer Fintech Survey: Key Findings, July 2022.
6 451 Research, part of S&P Global Market Intelligence. Custom survey commissioned by Discover, August 2022.
7 Mercator Advisory Group, Inc., 2022. Consumer Debit Industry Trends, Behaviors and Preferences.
8 451 Research, part of S&P Global Market Intelligence, August 2022. "The state of Fintech: Key market observations."