After a harrowing 18 months dominated by COVID-19, the U.S. economy finally began its road to recovery thanks to the availability of vaccines and lifting of pandemic-related restrictions.
However, growing case numbers and concerns surrounding the highly contagious Delta variant are causing many consumers to reconsider how they are spending their money. As a result, certain verticals are once again seeing slowed consumer spending.
"As things have shifted and the Delta variant and others have come on, consumers are shifting their spending patterns to things that are more solitary," said Steve Shaw, SVP of Marketing at Facteus.
Unsurprisingly, travel is a key area impacted by this variant. While consumers eagerly booked flights and took long-overdue vacations in the months following widespread vaccine availability, they are once again approaching travel with caution. Facteus' Insight Report on Consumer Spending and Transactions (FIRST) for the week ending August 15, 2021 found that cruise line spend was down 67% and airline spend was down 22% year-over-year (YOY) from 2019.
But not all travel is suffering. Lodging, which includes hotels and vacation rentals, is experiencing impressive growth, with a 16% increase in YOY spend from 2019. This makes sense, as a road trip with trusted family members and friends is a far cry from spending hours in a confined airplane cabin with hundreds of potentially infected strangers.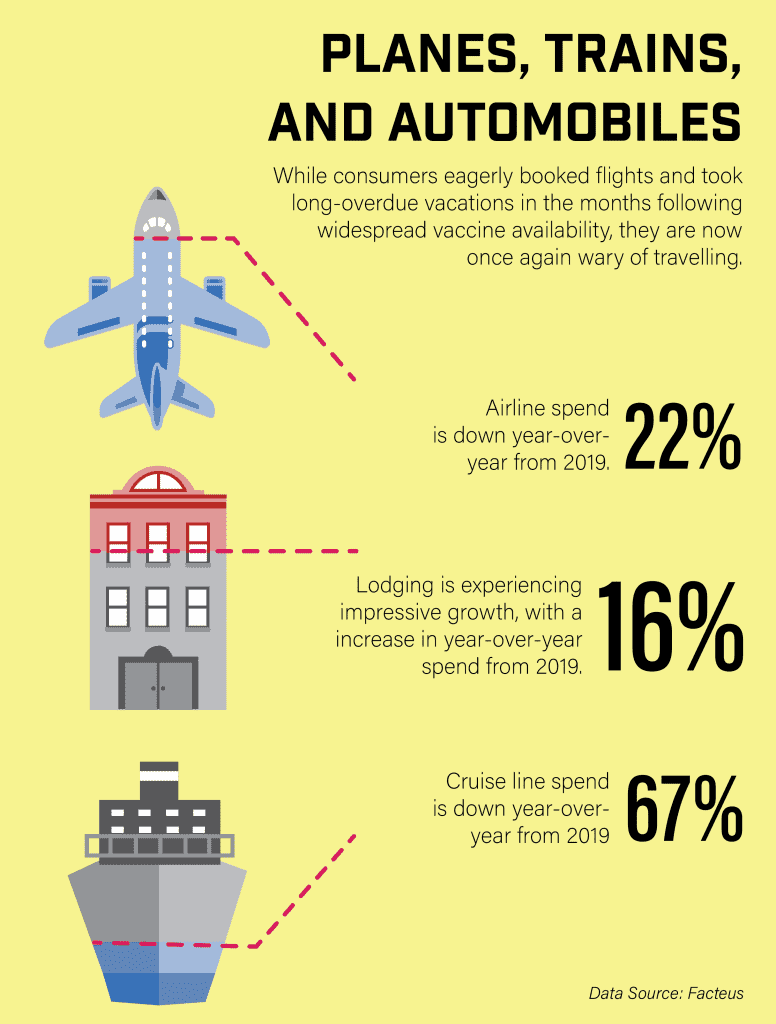 Bank of America experts have suggested that the Delta variant poses a threat to economic recovery more broadly. However, consumer spend overall is still up by nearly 10% compared to 2019. In other words, the spend is there; it just doesn't look the same as it did before.
These statistics come as the Delta variant solidifies its position as the most prominent COVID-19 strain in the nation, accounting for more than 97% of new COVID-19 cases. While available vaccines do offer protection against serious illness for multiple variants, including Delta, vaccination rates have stalled. As of mid-August, just over half (50.7%) of the total U.S. population is fully vaccinated.
Another factor to consider is that while the initial wave of COVID-19 came with the passage of enormous federal relief packages, that is unlikely to happen again. Boosted federal unemployment benefits put in place by the CARES Act, which include an extra $300 per week, are set to expire in the first week of September.
"Things were just starting to return to normal and it looks like the Delta variant may be a reprise. On a broad basis, it is unlikely to expect a second round of multi-trillion relief packages. Neither mature nor developing economies can support that. Credit revenue was protected by a series of accounting changes, such as CECL, which laid the groundwork for smooth operational revenue. The next time around may not be as smooth," warned Brian Riley, Director of Credit Advisory Service at Mercator Advisory Group.
The dominance of debit cards
Debit cards outpaced credit cards during the pandemic and continue to do so today. "The most recent surveys from the Federal Reserve are showing that debit cards are still outpacing credit cards in the number of transactions," said Shaw.
Also contributing to the dominance of debit is the revival of entertainment spending. "Entertainment—fast food restaurants, regular restaurants, video games, movies and those types of things—you wouldn't capture in a credit card because they're everyday things," explained Shaw.
At the same time, the Delta variant is tempering restaurant spend growth in the states COVID-19 is hitting hardest. Restaurant reservations on OpenTable were down 8% from 2019 levels for the week ending August 10, 2021. This is a stark contrast from June, when dining activity exceeded 2019 levels.
In Alabama, Idaho, Louisiana, Mississippi, and Wyoming, five states considered particularly high-risk for COVID-19, restaurant reservations were down 20%. Statistics like these show the continued influence the pandemic has on the trajectory of economic recovery.
There are too many external factors to predict exactly how consumer spending will evolve. It is possible that the spending decline seen in certain verticals will rebound quickly once Delta is under control, but the potential for future variants or other threats to consumer spending still exist.
While the future is unclear, one thing is for certain: change will come. "The one constant is that consumer spending continually shifts…It's just going to be a continued shift in what consumers see and what they're comfortable with," said Shaw.