Before I begin, let me start off by saying I am a mobile payments geek. I have been involved with mobile payments for many years, and I use my phone to pay whenever I can.
When the idea of mobile payment started circulating, I was a skeptic. I thought, "How hard is it to open your wallet and pull out a card?" Boy was I wrong. I am a committed mobile payments user now, and I can often be heard asking merchants if they accept mobile payments.
According to a recent article in Digital Transactions, I am in the minority.
In the article, Millions Sign Up for Mobile Payments—But How Many Stick Around Long Term?, the author cites a report from App Annie and Adjust GmbH that while many people have mobile payment apps on their phones (either through pre-install or download), few are using them. The report also points out that the usage numbers also are below the averages for other finance apps:
As the report points out, all mobile apps suffer erosion in usage over time, but some do better than others. For example, nearly two-thirds of users return to their mobile-banking apps on the day after install, and by the 30th day a relatively robust 15% are still using the app. By contrast, the corresponding averages for all finance apps are 29% and 9%, the report says.
The article is a little light on the reasons why people are slow to adopt mobile payments. Let me surface a few of them based on my work in this area for the past seven or so years.
Security – people don't realize that mobile payments are often the most secure way to pay. Try to explain tokenization to the lay person. Not to mention how a through the air transmission of data is safer than a swipe or a dip.
Inertia – People have been removing a card from their wallet and paying for things at the POS for eons, what is the compelling reason for them to change.
Choice paralysis – there are so many different ways to pay these days people don't what is best so they default to the tried and true. I wrote more about this here .
Acceptance – not all merchants accept payments, and even when they do, many of the staff at the POS aren't sure.
The burn factor – if someone tries to pay with their mobile wallet and it doesn't work after one or two tries, they are much less likely to try it again.
A few weeks ago, we released a report on mobile payments in the U.S., Mobile Payments: Making a Comeback (heads up, it's behind a paywall), we see that there may be some hope for mobile payments on the horizon.
Are the chart below shows, after a two year dip in usage statistics, we are starting to see the use of mobile payments making a comeback. By the way, Chase recently announced that it is shutting down Chase Pay.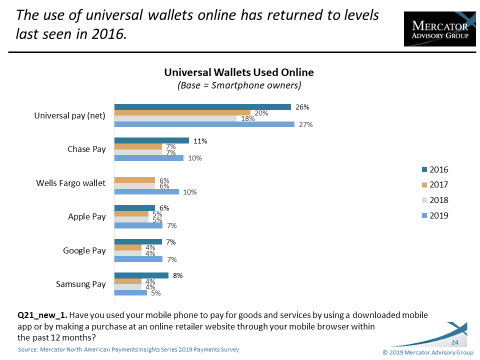 Now, one year's results don't necessarily mean we are on the verge of a "hockey stick" curve on the horizon, but it does give a digital pay enthusiast like myself some hope that others will join me in using their phones to pay.
Overview by Peter Reville, Director, Primary Research Services at Mercator Advisory Group