Even before COVID-19 started to spread, dispute management had become an important aspect of the payments industry. When a consumer contests a transaction, the mechanism for resolving the chargeback can make a considerable difference in the company's operating costs and reputation.
But with the pandemic disrupting entire industries and changing the way consumers transact, dispute management has become even more important.
To provide payments professionals with a better understanding of dispute management, Mercator Advisory Group partnered with BHMI to host a webinar on the topic. During the webinar, Brian Riley, director of Credit Advisory Services at Mercator, spoke with Casey Scheer, director of Marketing and Sales at BHMI. They discussed why dispute management is important and what tools exist to help companies handle this complex process.
"An unprecedented time in payments"
Prior to COVID-19's sudden spread around the world, the number of disputed transactions was high. Mercator Advisory Group estimated that there are currently 25 million transactions disputed each year.
Complicating matters for these parties is the fact that transaction volume in the payments industry is growing. This is important because as the number of overall transactions goes up, the number of chargebacks goes up linearly as well, explained Riley.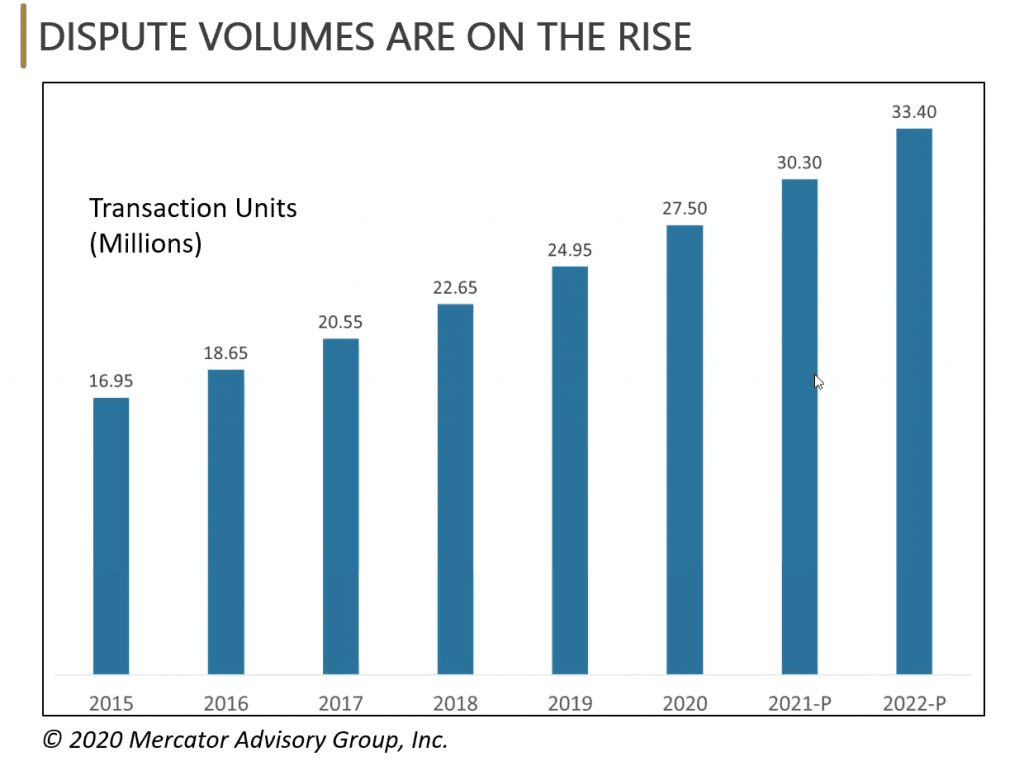 Mercator predicts that by 2022, there will be as many as 33 million disputed transactions annually, out of 66 billion total transactions. With COVID-19 added to the mix, it's hard to predict with certainty how disputes will be impacted. "We're really at an unprecedented time in payments today with COVID-19," noted Riley.
However, it is plausible that the pandemic could cause disputes to increase in frequency, especially in certain industries. While chargebacks have dropped in industries such as hospitality and travel—due to these businesses cratering under lockdowns and decreased consumer interest—other industries have seen an uptick in traffic. E-commerce, for example, has surged with physical stores closed and consumers stuck at home.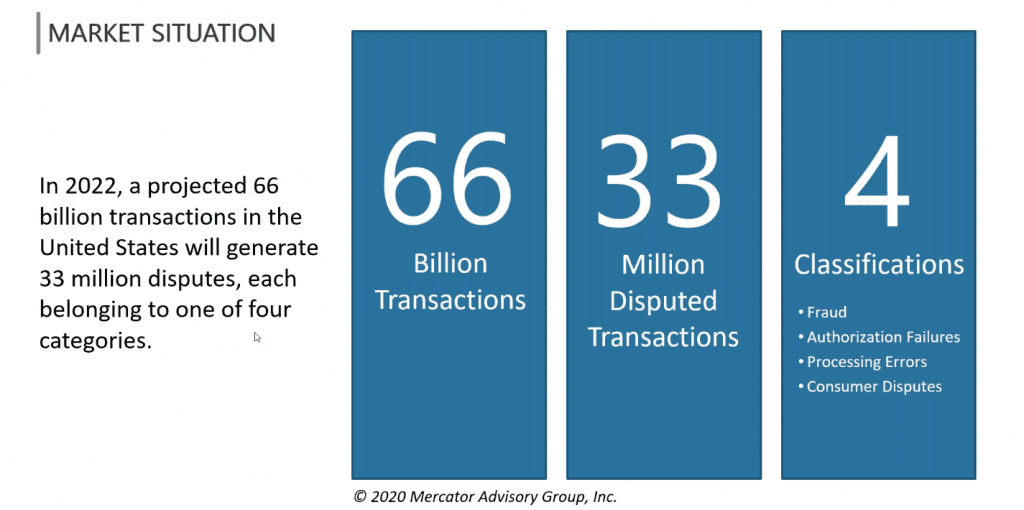 To demonstrate how COVID-19 is influencing dispute volumes, Riley and Scheer conducted an informal poll of those participating in the webinar, many of whom are payments professionals who handle disputes for their respective companies. The poll asked if dispute volumes have increased since COVID-19. Of all those who answered, 68% responded that the volume of disputes has increased. For 40% of respondents, dispute volumes have increased anywhere between 10% and 50% compared to pre-COVID levels.
Although the poll does not definitively reveal dispute volume trends across the entire payments industry, it does indicate that COVID-19 has resulted in more disputes for many businesses. No matter the amount of disputes, companies should take disputes seriously.
The many costs of disputes
Although disputes only comprise a sliver of total transaction volumes, the immense volume of transactions is large enough to make disputes a costly issue for a variety of reasons. Riley pointed out that the immediate problem is that irrefutability of a payment is a core feature of the payments industry.
"As an industry, we want these transactions to be irrefutable and clean," said Riley. Therefore, contested payments need to be resolved. To resolve a dispute, issuers and merchants must spend time and money establishing whether the transaction was legitimate or not. For many companies, this often requires teams of people working exclusively on disputes.
Scheer explained that BHMI's research revealed that dispute management can consume as much as 20% of the operating budget of a company processing payments. As the number of disputes creeps upwards, the amount of time and money needed to resolve them will increase as well.
But there are also reputational harms. If an issuer or merchant is perceived as incompetent or unjust by consumers, its reputation will be adversely impacted. In such a situation, consumers may take their business elsewhere, turning a reputational cost into a financial one.
Attrition rates, the number of consumers who stop using a service or product, is already a problem in the credit industry. In the United States, for example, the attrition rate for cardholders is about 15% a year, noted Riley. Since "it costs about $275 to book a new customer, keeping them happy is essential," he continued.
Effective dispute management solutions: Technology is key
Riley broke an effective dispute management process into three components: management, function, and process.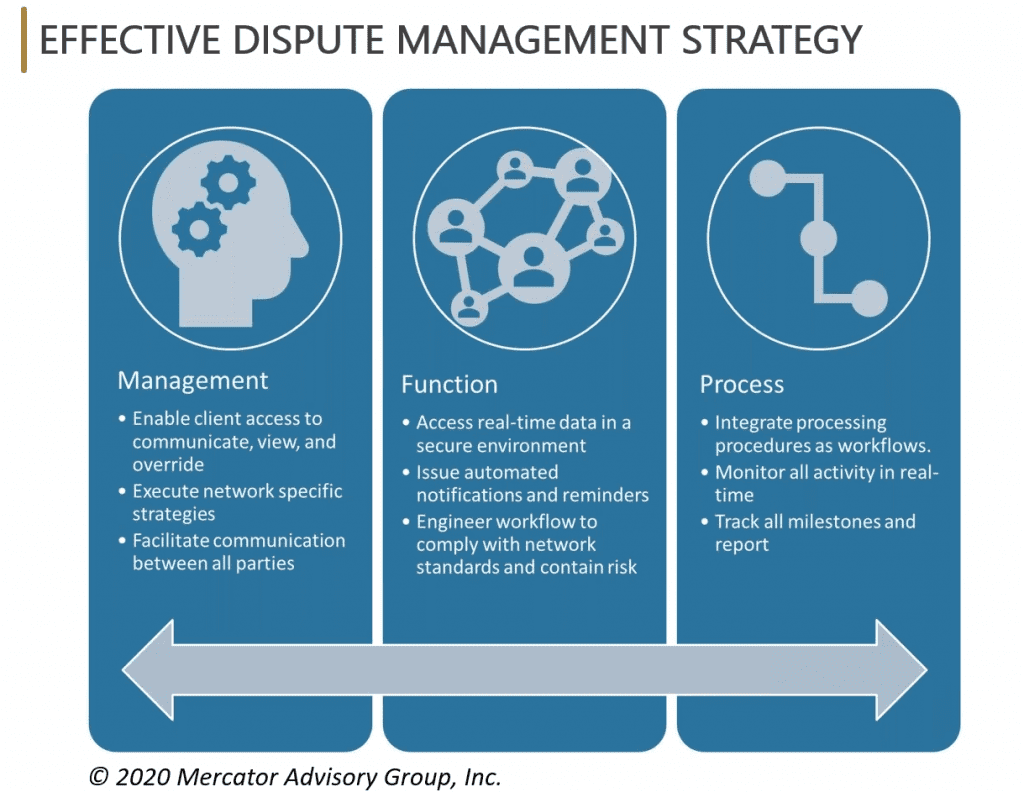 The management component entails enabling clients to communicate about and view disputed transactions. When it comes to the function, Riley stressed the importance of accessing real-time data to evaluate a dispute. Also important is having automated notifications and alerts, in addition to having an engineered workflow that complies with network rules and regulations.
Both Scheer and Riley emphasized the importance of understanding the card networks' rules and regulations around chargebacks. Each network has its own rules and dispute codes. This means that an effective dispute solution needs to be able to fluidly navigate the differing rules and regulations.
Since the networks can change their rules—as both Visa and Mastercard have recently done—companies need to stay up to date. Scheer recounted how one company spent over 10,000 hours updating its system to support Visa's new regulations.
Regarding the process component of a dispute management solution, Riley highlighted how the solution needs to be fully integrated into the payments procedures and workflows of the company. Moreover, the solution needs to provide reports and track milestones so companies can better understand how the dispute process is working.
BHMI's Concourse – Disputes™
Toward the end of webinar, Scheer and Riley discussed how BHMI's dispute management solution can help companies, including both acquirers and issuers, effectively manage chargebacks. Concourse—Disputes™ is a comprehensive workflow management system that automates the time consuming tasks required to resolve disputes.
BHMI's solution "guides the user step by step through the workflow process, so that nothing is missed and everything is handled in a compliant manner," explained Scheer. It entails real-time messaging and data processing capabilities, and documentation is automatically sent to the payments networks and merchants. By using Concourse—Disputes™, a company can decrease the cost of managing disputes by as much as 45%.
To learn more about dispute management solutions and how BHMI is helping companies navigate the complicated and costly dispute process, you can view the webinar here.
---