As a tried and true millennial, if you don't have a mobile banking app, chances are I'm judging you. But it turns out I'm judging a lot more people than I initially thought. According to data analyzed by Finbold, an average of 38.7% of global internet users between the ages of 16 and 64 use banking and other financial apps as of Q3 2020. Less than half of the world's population has hopped on the mobile banking train, and to a privileged American such as myself…I literally can't even.
Among the ten countries selected, Japan holds the tenth spot with 24.7% of its citizens using a banking or financial app. China comes in ninth with 27.7%, followed by India with 32.2% and United Arab Emirates with 37.2%. Germany closes out the bottom five with 38.6% of its citizens connected to a banking app. It is surprising to see Germany, China, and Japan in the lower percentile brackets because they are leading economies.
However, there is potential for immense growth in banking app usage amongst these lower ranking countries. According to the Finbold report, "[these countries] operate in regions with advanced technological innovation and regulatory support. At the moment, for example, China's regulatory concerns might be stopping more consumers from leveraging financial services apps. However, once regulators bring full clarity to the sector, the numbers will potentially surge."
Asian countries may be lagging right now, but the growth of Alipay and WeChat Pay appears to be unfaltering in China. According to a recent report by Mercator Advisory Group, "fully 90% of mobile payment activity in China is conducted through these two apps, with most of the remainder belonging to China Union Pay's (CUP) solution, Mobile QuickPass. These two apps have such a commanding hold on payments that The Peoples Bank of China has recently called on The State's Council Antitrust Committee to consider if these two apps have an unfair position in the market that precludes competition." Any significant restrictions placed on either of these two apps could cause massive instability in the payments market and disrupt the everyday lives of its users.
For the countries whose user numbers are above the global average, the U.S. brings up the rear (seriously?!) with 43.1% of citizens using banking and financial apps. Canada takes fourth place with 51%, followed by the U.K. (53.3%) and Singapore (55.8%). Thanks to a new set of friendly regulations, Brazil has the most connected users, with 57% using these apps.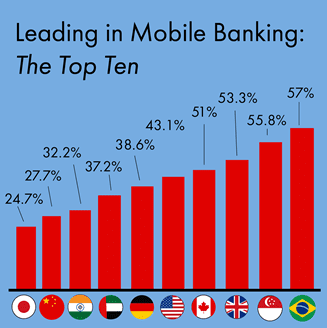 Additionally, the Finbold analysis shows that Canada accounts for 82.6% of people age 15+ who have their own credit cards. Japan comes in second with a whopping 14.2% less than the North American leader (68.4%). The U.S. takes third place with 65.6%, followed closely by the U.K. at 65.4%. India (3%) is the only country below the 18.4% global average of the selected countries.
The future of banking and financial services apps seems bright, especially with the accelerated digitization of nearly all aspects of our daily lives following the onslaught of COVID-19. New fintechs are joining up with more traditional financial institutions to shift businesses online, and this will surely increase the presence of such apps on the smartphones of everyday citizens.