Money mules are a big challenge for global fraud leaders. Many financial institutions are at a loss as to how to effectively combat money mule activity. A newly released report by NICE Actimize, "Mule Defense—Product Review: Know More. Risk Less," details just how much of a challenge money mule activity has become and the best practices FIs can implement to detect and stop it.
The Current Challenges
According to the NICE Actimize report, the challenges posing the greatest fraud threats to FIs today are money mules (53%), followed by unauthorized payments fraud (36%), customer first-party fraud (29%), and authorized push payment (APP) scams (20%).
With the rise of real-time payments, bad actors are attempting to benefit from the advantages of rapid payments. The global adoption of real-time payments, particularly within the P2P sector, is expected to push payment volumes from $1.8 trillion in 2021 to $5.2 trillion in 2028.

NICE Actimize sees a 146% increase in attempted fraud amounts year over year—in addition to a 92% increase in attempted fraud transactions year over year.
What's more, nearly 60% of new-account fraud is mule-related. Money mule activity can be particularly catastrophic for financial institutions. Besides the losses that come from money being stolen, a considerable amount of operational overhead must be used to address the fraud.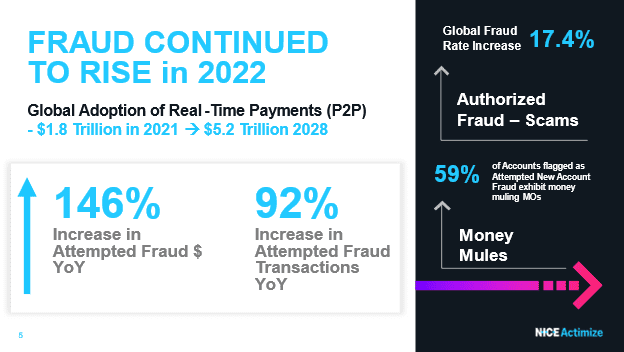 Aside from the financial loss at stake, the non-monetary losses can be damaging to an FI. This can include reputational damage, a permanent blemish on the brand, and even a loss of stock value.
Some FIs have begun to take note of the seriousness of this illicit activity, but there is more to be done. What makes matters worse is that detecting mule activity has been historically difficult. Luckily, technological innovations are equipping FIs with more tools to make better detection possible.
How Typology-Centric Fraud Detection Can Help
With peer-to-peer (P2P) scams rising, causing consumers to lose a considerable amount of money via fraud, banks will soon be on the hook to refund the financial losses. It's high time that banks consider a new way to approach fraud detection.
NICE Actimize is leading the way with a disruptive approach to fraud detection. Instead of legacy, transaction-centric monitoring, the use of specialized data enrichment, multiple, parallel typology-based AI models, and typology-specific risk scores can help improve detection and reduce false positives.
Also, the legacy way of addressing and investigating alerts, taking one transaction at a time by an operations and investigations team, is inefficient. New strategies and workflows can be created by fraud type to improve operational execution. Fraud departments can be divided into specialized teams, including those that assess money mules, authorized fraud (scams), account takeover, and account origination risk.  
Why Real-Time Money Mule Detection Works
Real-time money mule detection is crucial to mitigating the losses associated with authorized and unauthorized fraud. As fraud teams grow in sophistication and financial clout, more money is being thrown at amplifying the type of fraud schemes and technology used to exploit vulnerabilities. FIs must act equally fast to protect their customers' money and personal information. By not mitigating the mule activity in real time, FIs also risk regulatory scrutiny and a shift of liability.
NICE Actimize's fraud solution IFM-X – Mule Defense will detect, investigate, and prevent mule account activity from occurring throughout the entire customer lifecycle for existing and new accounts.
When it comes to halting mule activity at the front door, (i.e., application and account opening), AI-enabled identity profiling models are used to detect any stolen identities and synthetic identity fraud.
In early and mature accounts, AI-powered behavioral analytics are used for account monitoring. Advanced network analytics and packaged network narratives are used to uncover related mule accounts.
FIs Need a Solution
Money mule activity continues to be difficult and complex for FIs to effectively detect and mitigate. Early and rapid detection is the key to reducing far-reaching damage to consumers and FIs alike.
NICE Actimize's solution leverages AI and industry-wide collective intelligence to combat fraud. It's the only real-time money mule detection solution on the market, a reason for FIs to give it a try.
---