A  study by Autonomous Research found that "over $1 trillion of today's financial services cost structure is exposed to replacement by machine learning and artificial intelligence (AI)." Meaning that in the near future, AI will have a huge impact on how financial services enterprises run and do business.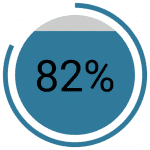 Today, the main use case for AI in financial services is in the contact center – shifting calls to self-service or a chatbot to lower costs. However, there is a lot of potential to use AI for higher-value conversations. This is especially true when combining AI with another hot technology – video. Video banking is being widely adopted throughout the financial services industry. In fact, the latest edition of our annual video banking report highlights that 82% of financial institutions plan to offer video banking services.
Combining the two technologies can deliver tremendous value to any financial services institution. And this is not just a futuristic vision; the different scenarios below can either be delivered today or will likely take shape in the not-too-distant future.
Predictive routing
AI-powered predictive routing engines can use historical performance data and match customer and employee attributes to predict which contact center agent is most likely to achieve targeted business goals. For those financial institutions that have video banking programs in place, it becomes possible to identify the inquiries most likely to be valuable and route them to agents who not only have the right profiles to address the needs but are also video-enabled.
Next best action
Contact center platforms, leverage AI to suggest the "next best action" to agents in real time. This recommendation is typically based on an analysis of the customer profile, the type of inquiry they are making, and keywords being used in the conversation. The next best action can be virtually anything, but at a video-enabled contact center, the suggestion can be to offer a particular product and to escalate the interaction to video in order to have a more engaged and effective conversation that is likely to facilitate the closing of the transaction.
Chatbot-to-human escalation
In an attempt to keep their contact center agents focused on high-value transactions, many financial institutions have deployed chatbots for lower-value interactions. However, even as chatbot technologies are rapidly improving and can effectively address basic needs, they cannot establish a personal connection that builds confidence and drives customers to invest more. What they can do well, is identify pivotal moments, such as when customers' emotions are running high and they need advanced expertise — and escalate the conversation to a video-enabled agent who can personally handle the request with face-to-face engagement.
Biometric identification
Having a reliable way to identify a customer is a fundamental step in closing a financial transaction remotely and is almost always a compliance requirement. While video banking is already bringing value to the identification process with the ability for customers to present an ID that the agent can take a snapshot of, an even bigger breakthrough will be the use of facial recognition software. An AI-based software program can analyze the video stream to verify that the photograph of the identity document presented matches the face of the individual who is holding it. It can also facilitate and expedite the process of checking that the document has not been forged, digitally tampered with, lost or stolen.
Real-time sentiment analysis
Analysis of the video and audio streams will also dramatically enhance the assistance that can be provided to the agents. Facial expressions, body language, tone of voice, and keywords all reflect underlying states of mind, and uncovering them in real time feeds more informed suggestions to agents, who can then act more effectively.
Simultaneous interpreting
Video interactions combined with technologies like speech recognition, automatic text translation, and speech synthesis will enable participants to speak their own languages but see on screen or even hear a translation of what the other party is saying. For financial services institutions, this means being able to more easily serve a global customer base and always having the best expertise available, regardless of location or language differences.
Analytics
Last but not least, contact center executives are constantly looking for ways to better collect and analyze the content of interactions to improve the quality and effectiveness of their services, provide more value to customers, and identify relevant post-contact actions. With speech recognition, the audio content of a video conversation can be transcribed into text, stored, and analyzed like any other text-based interaction channel.
Video is a crucial channel for addressing cases that cannot be handled by self-service, and one that has enormous potential when combined with AI. It can and will improve the financial services experience for customer and institutions alike — especially for those inquiries that really need a human touch.