In today's highly competitive online economy, e-commerce sellers are increasingly forced to look beyond traditional advertising on social media sites as they battle for the attention of potential customers. Collaborations with A-list creators and influencers, who have become highly effective brand ambassadors for a captive subset of users, can help boost sales rates. These creators are uniquely positioned to leverage the trust they've built with their audiences to promote relevant products. Fueled by the social media platforms themselves, an interesting new dynamic between sellers, creators and customers is beginning to take shape. How will these affect social commerce?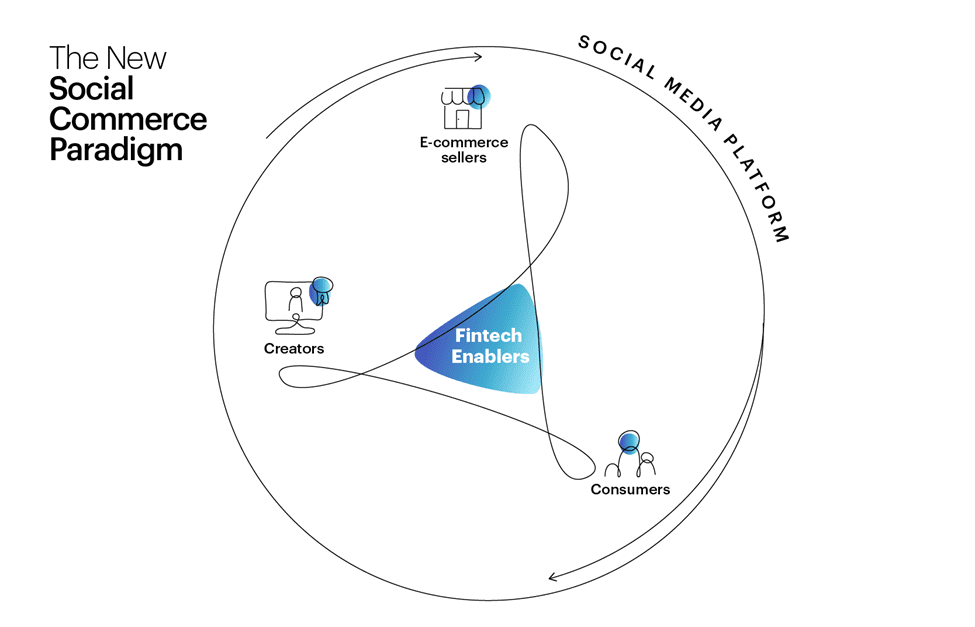 As social media companies compete to carve out their share of e-commerce spoils, they work hard trying to make sure as many online sellers as possible are setting up shop across their platforms, a trend called social-commerce that I discussed in my previous article, E-commerce Goes Multiverse. The rules of the influencer marketing game are still being written, but it's increasingly clear that popular social platforms like YouTube, Instagram, and TikTok need creators, and not only sellers, if they want to make a successful e-commerce play.
Today, an astonishing 50 million product reviewers, life coaches, fashion bloggers, and other creators are gainfully self-employed thanks to brand partnerships and the platforms which provide them with a virtual stage to communicate with their customers. Because consumers today are more likely to buy from people they know and trust, creators are fast becoming an instrumental part of the digital sales process.
Social media platforms are embracing the creator culture
Social media platforms are aggressively ramping up partnerships with e-commerce platforms to woo sellers and capitalize on unprecedented growth in digital commerce. To boost this synergy, social media companies are racing to develop features that will attract e-commerce sellers and help them target prospective customers. Doing so not only enables them to acquire valuable consumer insights; it helps keep customers engaged on their platform — especially when a user's purchasing decisions are creator inspired.
In the new social commerce paradigm, on-platform sales volumes are intrinsically linked to creators with social equity. With large numbers of creators already active on their sites, social media giants are well aware of the cost of losing them to other platforms. So, most are hopping aboard the creator bandwagon. In July 2021, for example, Meta announced plans to pay $1bn in creator incentives to encourage content creation on their platforms — a small fraction of a rapidly expanding market estimated to be worth over $100 billion.
Social media players have a clear incentive to provide not only sellers, but creators, with practical monetization tools — rewards and more commerce options — that enable them to harness their content for financial gain while incentivizing activity on their platforms. This is where Fintech comes into play.
Creators want (and deserve) to get paid!
The deployment of fintech solutions within social media platforms makes life a lot easier for creators, but it's also aligned with a broader social commerce strategy. Recently, TikTok announced the launch of its 'Creator Next' initiative, enabling creators to unlock all of TikTok's money making features, such as brand partnerships and rewards based on content popularity. It also partnered with Stripe to provide new in-app tipping features that allow creators to directly accept money from fans. The creator-centric rewarding culture is growing in popularity, with Twitter's new CEO stating that money-making creator tools will help drive business in the coming year, along with Instagram's decision to test a new subscription service for creators, allowing them to earn a recurring monthly income.
By facilitating revenue-generating distribution opportunities for creators, social media companies have given a huge boost to the Creator Economy. Newly available in-platform financial services are helping creators to cultivate and monetize their audience base, while also empowering them to unlock income streams that extend beyond conventional ad revenue shares. NFTs are now being discussed in terms of unconventional revenue generators for creators, with YouTube Chief Product Officer Neal Mohan recently outlining how the platform is looking at integrating NFTs and other new monetization tools for creators.
From creator economy to creator autonomy
Creators are clearly becoming the new darling of both brands and social media platforms. Supported by fintech innovations, they are now a critical pillar in the social commerce ecosystem.
Individual creators function like a lean startup, and when viewed in this light, the numerous benefits of offering financial services to these entrepreneurs becomes obvious. Moving forward, creators will require a full suite of business tools to formalize and legitimize their operations. This is already presenting new creator-centric market opportunities across a range of verticals. In banking, the likes of Karat are offering a banking service tailored for creators; in the lending space, Spotter is offering cash-advances for YouTube creators; while in the payments sector, the arrival of Stir allows creators to split payments easily. Alongside these breakthrough offerings, we can expect to see new market opportunities across insurance, invoicing, and taxation. The development and accessibility of these offerings will help creators build sustainable businesses to bolster sellers and platforms and set the stage for the next hyper growth wave in the e-commerce industry.
As things stand, the scope of creators' monetization opportunities hinges on the social media platforms that connect them with their audience. Looking forward, however, it is reasonable to expect greater levels of creator autonomy with the promise of Web 3.0. In this new era of the Internet, creators may very well own their relationship with audiences independent of social media platforms, giving them more freedom to monetize their content and work. In that sense, the high-profile controversy surrounding Spotify and the widely popular Joe Rogan Experience illustrates the shifting power dynamic that is already taking place between creators and social platforms, and highlights the main questions around Creator Autonomy: who's really calling the shots, and who needs who needs who more?