Mastercard and Visa both reported earnings for the fourth quarter yesterday. Consumer spending was uncharacteristically not very robust in fourth quarter compared to third quarter, but much higher than the same quarter in 2019. Debit card growth is being driven by:
A shift from credit card spending as consumers use debt more sparingly.
Economic impact payments that were delivered to consumers' checking account or on prepaid cards continue to be spent. Mastercard and Visa include prepaid activity in their reported debit activity. The stimulus payment that was delivered in January 2021 will contribute to a similar spike in debit activity.
Average transaction values continue to be high, around $42-$44 as consumers consolidate their shopping to fewer stores and also use debit for ecommerce, which typically results in a higher per transaction value.
The following is a summary of activity for the last two years: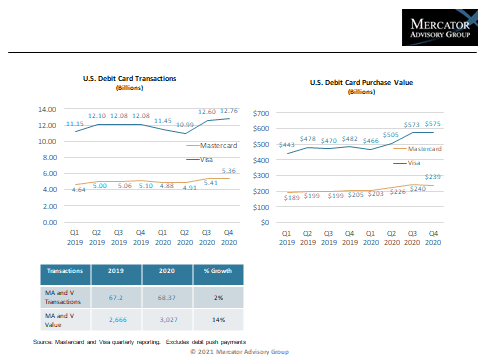 Here's how Digital Transactions summarized Mastercard's results:
Behind the uptick in the quarter was spending on debit cards, as Mastercard recorded a nearly 15% year-over-year rise in the category in the United States, to $291 billion. At the same time, however, credit card volume sank almost 7% to $237 billion. For the rest of the world, slipping credit card volume more than offset an increase in debit card spending, leading to a flat $1.22 trillion in volume. Debit usage is rising, (chief executive Michael) Miebach said, because "people want to spend the money they have" rather than take on additional debt in the face of the pandemic's uncertainties.
And this is what MarketWatch had to say about Visa's results:
Visa Inc. rode strong debit-card and e-commerce trends to better-than-expected earnings and revenue Thursday while also announcing a new $8 billion buyback program.

Shares were up 1.3% in after-hours trading Thursday.

Though Visa saw revenue slip once again as international travel spending remains depress, the company saw signs of progress in its December. Payments volume, transaction growth, and cross-border volume all improved relative to the September quarter, and the company is "actually back to [its] pre-pandemic growth trajectory" in the U.S., Chief Financial Officer Vasant Prabhu said on the company's earnings call.

The company's debit business is "significantly ahead" of its pre-pandemic growth in the U.S., thanks in part to reduced cash usage during the pandemic, while the credit business "remains a drag," according to Prabhu.
Overview by Sarah Grotta, Director, Debit and Alternative Products Advisory Service at Mercator Advisory Group