Podcast: Play in new window | Download
According to Stripe's latest Insights Report, businesses are treating the impending slowdown with a motto: The best defense is a strong offense. Businesses are using this as an opportunity to improve their online operations by offering better payment experiences and removing friction from checkout.
In a recent podcast, Nicole Paglia, product marketing lead for Stripe, and Daniel Keyes, head of merchant services at Javelin Strategy & Research, discussed the latest trends in consumer payments from Stripe's Insights Report and how companies can build a payments experience that increases revenue and drives brand loyalty. Here are the highlights from their conversation.
PaymentsJournal
How Businesses Are Tapping Into Payments to Increase Revenue
Payments as a Revenue Driver
The Stripe Insights Report found that many business leaders are focused on finding new ways to make money and not just cutting costs during the economic slowdown.

"Going into our research, we were actually expecting to find businesses to be laser-focused on cost cutting, given everything happening in the economy. But surprisingly, the survey said that companies aren't really playing defense as much as you might think. They're really focused on top-line growth as well as costs," Paglia said.
To optimize revenue, businesses are looking to give customers more payment options and make checkout more convenient.
"Seventy-one percent of businesses we surveyed are planning to offer more payment methods and more affordable payment options," Paglia said. "Also, 65% of businesses said that they think their customers would prefer to pay with one-click versus manually entering payment details, and are planning on adjusting accordingly."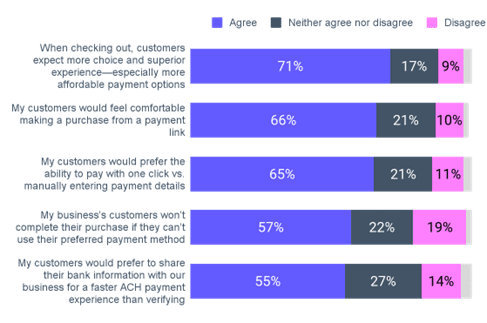 To find new revenue streams, many businesses are planning to offer financial services like charge cards and bank accounts embedded in their products or platforms.
"A stunning 75% are planning to embed payments or financial services like a charge card or bank account, right into their platform," Paglia said. "Businesses can earn money when a cardholder makes a purchase, because they're ultimately able to keep a portion of that interchange fee. So they're building an entire new business just from payments."
Keyes agreed that embedding payments on native platforms can be a moneymaker, but he also identified other benefits.
"It also allows platforms to have a deeper relationship with the merchants they work with, by offering additional services," Keyes said. "This can lead to more revenue and value for both parties involved."
Reducing Friction at Checkout: A No-Brainer
Consumers want more convenience, speed, and security when they buy things online. If the checkout process requires more than two minutes, most people won't do it. So businesses need to make it as easy as possible to pay.
"For businesses, this means if you're not removing every single piece of friction from your checkout, you're leaving money on the table," Paglia said.
Optimizing conversion begins even before you get to checkout.
"Integrating financing offers like BNPL (buy now, pay later) throughout the consumer journey, from awareness to purchase, can increase conversion up to two or three times," Paglia said. "Consumers are more likely to purchase if one-click checkout options like Apple Pay and Google Pay are offered, and these mobile wallets are three times faster than manually entering card information."
It's also important to offer the payment methods that people in various countries prefer. For example, US consumers like to pay with cards, but in the Netherlands, people prefer a method called iDEAL, and in Brazil, people like to pay with a voucher payment called Boleto.
"We found that 85% of consumers will frequently abandon their carts if their preferred payment method isn't offered," Paglia said.
Companies like Stripe can help businesses accept many payment methods and choose the ones that are most likely to convert customers, based on where they are and which device they're using, for example. All of this can have a substantial payoff.
"We did a study and found that businesses who use Stripe's optimized checkout suite earn 10.5% more revenue on average than businesses who haven't upgraded," Paglia said.
Over the past 10 years, consumer expectations around online checkout have changed a lot.
"People used to be OK with entering information and clicking through multiple pages to check out, but now they expect fast and easy checkout options like digital wallets, such as Apple Pay and Google Pay," Keyes said. "It's important for businesses to consider creating a frictionless experience for their consumers, starting before the checkout page and maybe rethinking the traditional checkout process altogether. This will help create a positive experience for consumers and keep up with their changing expectations."
Unified Commerce Should Be a Unifying Goal
Customers now expect fast and seamless experiences online and during in-person shopping. Even though 80% of commerce still happens in person, many businesses haven't adapted to the new demand for in-person experiences such as curbside checkout and contactless payments.
"Businesses that offer unified commerce may see a 20% uplift in total revenue within the next two years, according to a Gartner prediction," Paglia said.
Unified commerce, also known as omnichannel commerce, refers to the seamless integration of online and offline commerce channels into a single, unified experience. With unified commerce, businesses can offer customers more flexible and convenient options for shopping, such as buy online and pick up in-store, or returning online purchases to physical stores. By integrating all channels into one cohesive system, businesses can gain a better understanding of their customers and provide a more personalized shopping experience, ultimately increasing revenue and customer loyalty.
Although some companies will choose to do this in-house, it may be easier to turn to a third-party payments provider to implement this. For example, Stripe offers a solution that meets customers wherever they are, with a single integration. Stripe Terminal offers two types of payment acceptance, including Stripe-designed hardware and contactless Tap to Pay on iPhone or Android. Plus, businesses can get unified views of their customers across online and offline purchases.
Key Takeaways for Businesses to Improve Payments
After a customer clicks to purchase, a lot is happening behind the scenes that could cause a payment to fail. Issuing banks make a final decision on whether to accept or decline a payment, based on such factors as available funds and suspicion of fraud, but they often decline many nonfraudulent transactions.
Paglia noted that "industry experts estimate that 75% of declines are actually legitimate customers."
To prevent customers' purchasing attempts from being declined, businesses should keep fraud rates low using fraud-prevention tools like Stripe Radar, which reduces disputes by 41% on average, Paglia said. Businesses can also enable network tokens and card account updater products to automatically update customers' payment information when their cards are reissued.
"By optimizing checkout and meeting customers where they are, you can turn payments into a competitive advantage for your business that ultimately helps you build more brand loyalty and create successful repeat customers," Paglia said.
---