DailyPay has become an essential part of the American worker's benefits package in recent years, as 62% of employers feel an extreme sense of responsibility for their employees' financial wellness. Daily pay, also known as on-demand pay or earned wage access, refers to employees' ability to access their earned money as they need it.
Employees earn wages every day they work, but they have long had to wait for a scheduled payday to access their earnings. What if they want (or need) to access their money sooner than the next scheduled payday?
In an interview with PaymentsJournal at the 2021 Money20/20 event, DailyPay Chief Innovation and Marketing Officer Jeanniey Walden spoke about how, the DailyPay Marketplace enables banks, fintechs, and other financial service providers to participate in the on-demand pay movement.
DailyPay's role in the payments ecosystem
On-demand services have been gaining traction for some time, not only for the payments industry, but for other industries as well. With just the push of a button, consumers can beckon rideshare drivers to their front doors, get food delivered, or book a place to stay at all hours of the day. With the shift to on-demand services, which Walden referred to as 'on-demand everything,' came questions about how people get paid.
"Why are we waiting for two weeks to get a paycheck? Why not press a button and have your pay when you need it? After all, it's your money. You've earned it, you should be able to access it," she said.
Now you can. DailyPay enables employees to take control of their finances like never before. "Whether you need to spend it or you want to save it, DailyPay gives you the opportunity to watch your earnings accumulate as you're working and then use that money. You have choice and control over the money that you make," added Walden.
On-demand pay tackles employee retention challenges
On-demand pay is a valuable way to increase employee retention and satisfaction. Companies that offer DailyPay are using it to differentiate themselves from competitors in the market. This is especially important given employees' rising expectations of their employers.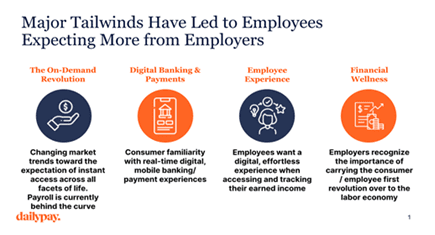 Companies are offering DailyPay to demonstrate concern for their employees' wellbeing. By allowing workers to access their wages on day one, companies are sending the message that employees' financial wellness is top of mind. And in a world still reeling from the economic consequences of the pandemic, many workers could use this cushion of support.
"Think about the last time you had a new job… When you start that job, it's never directly aligned with the payroll timeline of the company. You're usually waiting three weeks to get your first paycheck, or you get a partial paycheck for the first week that you work until you can catch up with the system. And if you're any type of family in America right now, that might not match up with the financial needs of your household," said Walden.
The DailyPay Marketplace
DailyPay has been partnering with America's top employers to provide on-demand earned wage access to employees. Now, DailyPay is opening its platform to partners across the financial system through the DailyPay Marketplace. The DailyPay Marketplace invites banks, fintechs, and other financial services organizations to join the on-demand pay movement by participating in their own environment or becoming part of the DailyPay ecosystem.
"The DailyPay Marketplace could possibly be the best announcement that we've made… With the Marketplace, we're now giving companies that have been really interested in working with us the ability to connect to our ecosystem in a more fluid way," said Walden. The Marketplace's API allows banks to easily connect to the DailyPay ecosystem and incorporate the DailyPay balance into existing infrastructure or interface.
Companies can also opt to white label the DailyPay solution. "Maybe somebody else wants to look like they're offering the same financial wellness benefit that we do at DailyPay without having to build it internally… The Marketplace allows many companies to do that and invest and share something that they can feel really confident [about] with their customers," she added.
The DailyPay Marketplace unveils new opportunities for banks
The DailyPay Marketplace offers multiple options based on the specific needs of bank and financial services customers. For example, integrating DailyPay into a banking interface enables employees to see their balances rise as they earn wages. "People get excited and are checking their DailyPay balance multiple times a week," said Walden.
This differs from traditional pay schedules. "During the course of a pay period, your checking account balance goes down. Who really wants to log in and see that their checking account balance has gotten smaller?" she asked. As a bonus, the increased usage of banking interfaces by employees translates into opportunities for banks to get relevant messages and offerings in front of them that they otherwise wouldn't have seen.
The takeaway
Organizations from neobanks to traditional financial institutions, insurance companies, retailers, and merchants can use the DailyPay Marketplace to connect with customers on a more personal level.
"DailyPay created the ability to see your pay balance and have absolute pay transparency, it not only helps the employee understand how much money they have so they can manage their bills better, but it enables the entire financial ecosystem to appreciate how to better connect with people," said Walden.
By partnering with DailyPay via the Marketplace, partners will gain access to DailyPay's proprietary on-demand pay capabilities at the intersection of payroll and banking. This includes PAY, DailyPay's flagship product that gives employees access to earned pay prior to payday, as well as the entire suite of DailyPay capabilities.
"The DailyPay balance and integration with the DailyPay Marketplace eliminates the guessing game for the financial industry. Now, you can connect with consumers in a very intelligent way… There's an opportunity to really do something good for the community and look into the data as far as you want to go and create some interesting and innovative programs," concluded Walden.