An article in today's CrowdFunder Insider suggests that young adults who use mobile payments spend more and make worse financial decisions than millennials who don't use mobile payments. Part of the poor financial decisions this author suggests is that they need to use alternative financing or online lenders to finance their purchases, short-term payday loans to pay their bills and often get charged for overdraft fees on their checking accounts and carry balances on their credit cards. They see many millennials as underbanked or unbanked, and relying upon alternative financial services to support their lifestyle. They find millennials using mobile payment services like Apple Pay Cash as their primary bank account.
In May, Square CEO Jack Dorsey told an audience at the Consensus Conference in New York that many Square Cash App users are "underserved and even unbanked (something the company wants to) lean into more."
"What we're seeing now is people are using it as their (primary) bank account," said Dorsey, who added that the majority of Square Cash App payments are flowing in from Walmart, McDonalds and several other fast food outlets.
This fall, a study by the Global Financial Literacy Excellence Center at the George Washington School of Business also showed that users of mobile payment apps, though they tend to control more assets, also tend to be less financially literate and more impulsive than counterparts using traditional banking interfaces.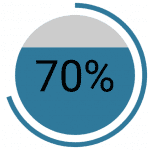 According to Mercator Advisory Group's CustomerMonitor Survey Series Payments survey of June 2018, nearly all millennials own smartphones and 70% of millennials use their mobile phones to pay for goods and services including 40% who use universal mobile payment apps such as Apple Pay or Google Pay.  Millennials, in general, are less likely to have checking accounts than older adults, and those who use mobile payments are no exception.
When comparing millennials who use mobile payments and those who don't, millennials using mobile payments have slightly higher incomes than non-users, but are also more likely than average consumers and especially millennials to have savings accounts at a bank or credit union (77% of millennials who mobile pay vs. 71% of millennials and 74% of all adults) and have investment accounts or use online brokerage services. Millennials using mobile payments are more likely than average millennials to use credit cards, and are just as likely as average millennials to pay their balance in full, but less likely than average consumers to do so (59% of millennials who pay by mobile vs. 60% of millennials vs. 66% of all adults).
Millennials have less access to credit and those that mobile pay may tend to spend more than those who don't pay with their phones. While issuers are starting to relax credit policies, young adults are forced to seek alternative financing to get the credit they need to make purchases. Given their stage in life, millennials are more likely to need to pay fees to use checking accounts or for the use of a debit card. And, yes, millennials are more likely than average to pay overdraft fees for their checking account and those who pay by mobile are even more likely to do so (18% of millennials who use mobile payments vs. 14% of millennials and 9% of U.S. adults). But, that doesn't mean they are making bad financial decisions, or are worse than other millennials. They are just getting used to their financial freedom.
Overview by Karen Augustine, Manager, Primary Data Services at Mercator Advisory Group