17th February 2022: The UK's online shopping hotspots have been revealed, and – spoiler alert – London isn't at the top.
Payments provider Mollie analysed a list of 60 locations and ranked them on a number of factors to determine where shoppers are most likely to splurge online – and where businesses should focus their marketing efforts to drive sales.
Home to some of the fastest broadband speeds across the UK, as well as one of the lowest numbers of postal and courier complaints last year, is Reading – which pipped London to the post as the online shopping hotspot.
Reading also has the third highest average salary (£36,500), and, all in all, ranks in the top 10 for five out of the six factors.
Each location was given a rank based on the following: number of business closures, high street strength, offline spending, postage and courier complaints, broadband speed and average salary, before being given an overall position.
Also making it into the top five is Glasgow – which has the second least popular high street of all the locations analysed – Slough and Milton Keynes.
At the bottom of the table sits Sunderland, Barnsley and Plymouth, where residents are more likely to head to a brick-and-mortar shop, rather than online shopping. According to the data, Sunderland has the fewest business closures, but second to lowest average salary at £24,961.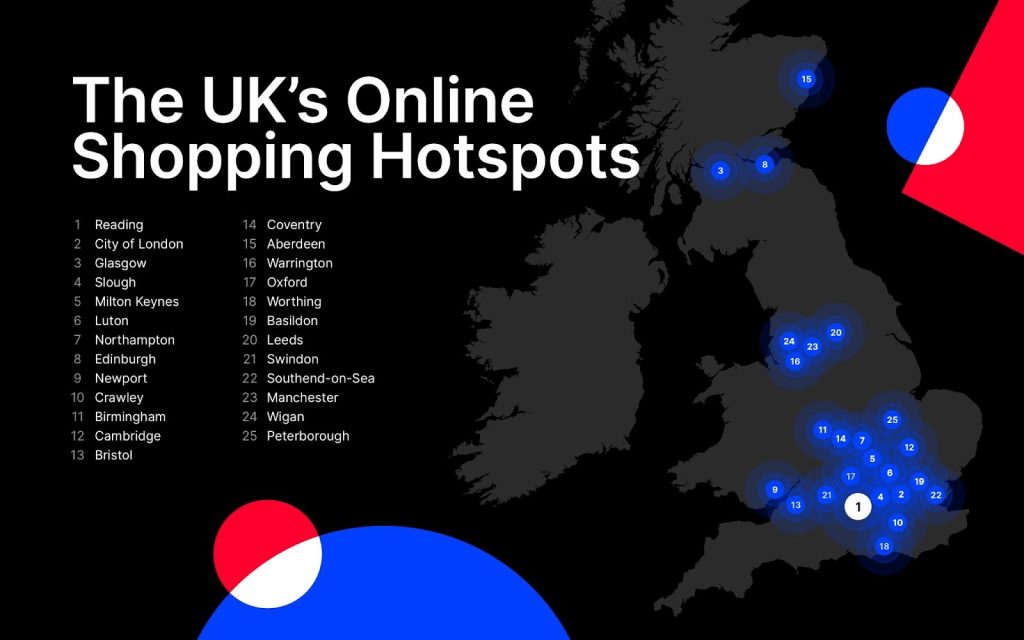 Mollie's UK country manager, Josh Guthrie comments: "With Covid-19 accelerating the shift towards online shopping, businesses have never had a better opportunity to grow. At the same time, competition for businesses to attract and engage with consumers is more fierce than ever.
"We wanted to gather this data not only to highlight the areas of the UK most likely to shop digitally, but to give businesses a steer as to where they could be focusing their marketing efforts more".
Industry statistics released last week reveal total UK footfall decreased by 17.1% in January, with a 1.5 percentage point improvement on December.
Helen Dickinson OBE, chief-executive of British Retail Consortium, said: "It was a slow start to 2022, with only minor improvements to UK footfall despite a significant decline in Covid cases. Indeed, it was quality over quantity in January; less people visited retail parks and shopping centres, but those who did went to more stores at each location.
"Even as restrictions are eased, retail footfall will not return to pre-pandemic levels any time soon. This poses a challenge to many town and city centre retailers who continue to be impacted by lower commuter numbers. However, opportunities retain; innovative retailers are reacting to new consumer behaviours by investing in physical and digital offerings in order to draw in new customers".
Official statistics show that internet sales currently count for 27.7% of total retail sales.
About Mollie
Mollie is a pioneer in the payments industry and one of Europe's fastest-growing payment service providers (PSP). Founded in 2004, the firm facilitates companies of all sizes to scale and grow with an easy-to-use payments API that offers multiple payment methods, including online shopping. Mollie's mission is to simplify complex financial services to become the world's most loved PSP.
Mollie has over 125,000 customers in Europe and an international team of more than 700 employees. It has offices in Amsterdam, Kiel, Lisbon, London, Maastricht, Munich, and Paris.
Mollie | Grow your way.
www.mollie.com