Have a plan matters when it comes to paying down credit card debt, according to a recent CompareCards.com survey.
When CompareCards asked 1,000 Americans about how they managed to pay down their debts during 2017, those who said they were successful were much more likely to have had a plan. Seventy-five percent of those who succeeded in resolving to pay down their debt also created a specific plan to tackle it.  Of those who didn't reach their goal, only about half constructed some sort of guide or roadmap to help pay down their debts.
Balance transfers, and other tools of the trade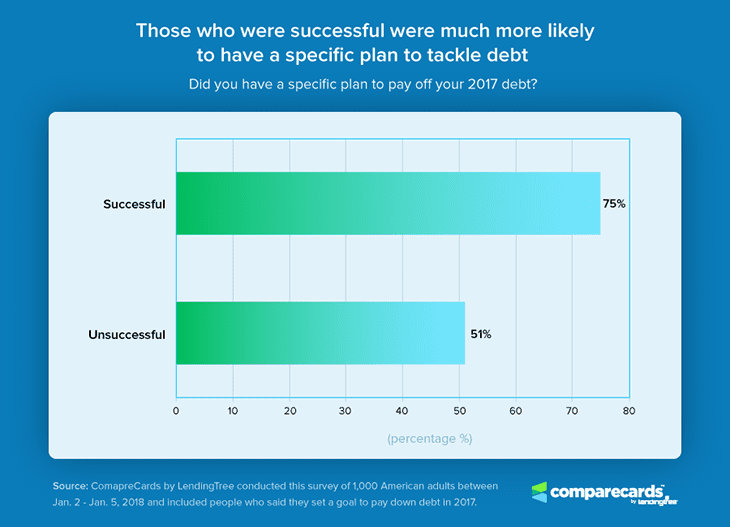 In other findings within the survey, credit card balance transfers and balance transfer offers were a favored tool among the resolution makers last year, with 14 percent of those surveyed saying they used a balance transfer offer or program to help pay down their debts. Ten percent used a debt consolidation service or program, while another 8 percent used personal loans from a financial institution.
Recent estimates from Experian claim that balance transfers to represent about $40 billion of card activity annually, but that most of the balance transfer activity is concentrated in a small segment of the credit card population.
Most resolved to take aim at credit card debt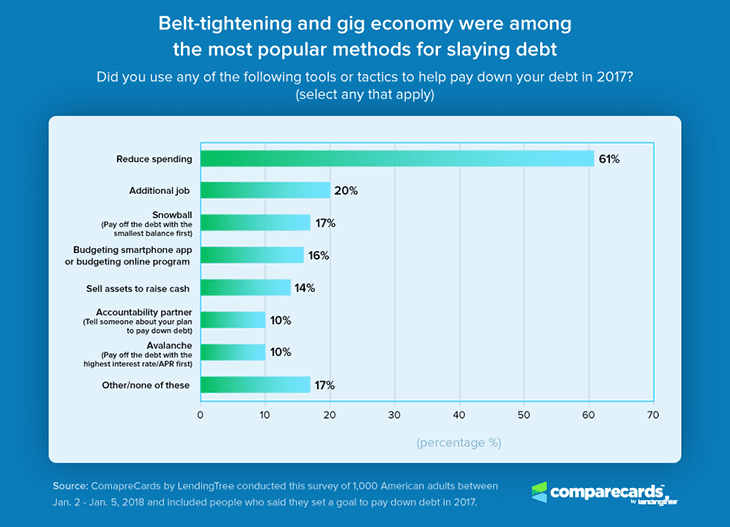 Unsurprisingly, credit card debt was far and away the type of debt most in the survey were trying to pay down or eliminate. 61 percent of those who tried to pay down debt last year mentioned credit cards as one of their targets. Personal loans were the second most mentioned type of debt, with about a quarter of respondents having a plan to pay it down in 2017.
On the real estate front, 10 percent of respondents had ambitions of escalating their mortgage payments, while 6 percent aimed to pay down a second lien on their home. Many HELOCs – 1 million in 2017, according to the Wall Street Journal – reset in 2017, resulting in subsequent higher monthly payments as principal begins to be repaid in addition to interest payments.
Reducing spending also part of the mix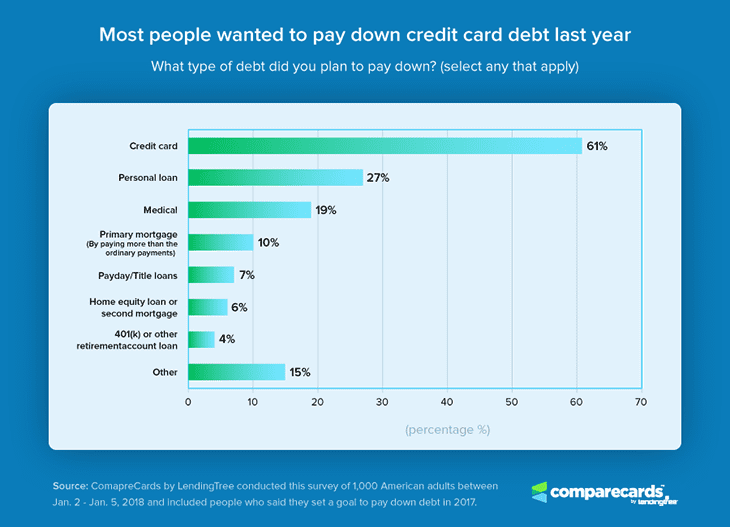 Respondents to the CompareCards survey also overwhelmingly used belt-tightening as a favored tactic to reign-in debt, with the gig economy running a distant second. 61 percent said that they were reducing spending, presumably to drive more discretionary oncome toward debt repayments. 20 percent looked for additional employment to bring in extra income, and 14 percent said they would part with assets to meet their goal to retire debt.