The payments industry is constantly shifting due to technological innovation and changing consumer expectations. Driving many of these changes on the business side are fintechs, companies focused on applying technology that disrupts the financial services industry and empowers consumers in new ways.
Coming at financial services from a technology-led mindset, many fintechs rely on app-based digital platforms that allow people to conduct all sorts of financial activity with better rates and a finely crafted user experience. From loans to e-commerce and everything in between, app-based digital platforms have changed the way people shop, pay, and bank.
One major shortcoming of many fintech offerings, however, has been the physical interface, specifically, a way to work with cash. Even though consumers have more options to conduct financial transactions than ever before, app-based financial services, by their nature, do not provide a way to access or deposit physical currency. Given the continued strong consumer demand for cash, this shortcoming is not trivial.
To get a sense of how consumers' cash needs interact with mobile banking features, Cardtronics commissioned a consumer survey with findings revealed in a recent white paper titled "Mobile Cash Access: Tomorrow's Must Have Fintech Feature Explained." The paper details how digital wallets offering cash access have a competitive advantage over those that do not.
Cash is critical
In an age where digital payment offerings abound, it is fair to ask what the role of cash looks like today and in the future. A plethora of digital payment platforms, from P2P wallets to tried and true debit and credit cards, continue to jockey for share of wallet and share of mind. However, despite the stiff competition, cash is still a critical part of payments.
"Consumers are not ready to give up cash," noted Peter Reville, director of Primary Research Services at Mercator Advisory Group. "Despite a number of different payment solutions available to them, cash still plays a part in their payment repertoire," he continued.
In fact, the Cardtronics paper, citing the Federal Reserve's Diary of Consumer Payment Choice, points out that "cash payments account for 35 percent of in-person payments and nearly 50 percent of payments under $10." Based on this fact, it's no surprise that Cardtronics' survey found that access to cash was important to consumers, even in the context of digital wallets and app-based financial services.
Cash access can help digital wallets become a consumer's primary financial service provider
Between 50 to 60 million U.S. consumers use mobile banking applications of some variety. Many of these consumers use apps from traditional banks and credit unions, but up to 15 million consumers use a non-bank digital service as their primary financial services provider.
In either case, both traditional and non-traditional financial companies want to ultimately become consumers' primary financial service provider. Cash access can help make this a reality.
When asked what features were important when choosing a primary bank or deposit account, 69.5% of consumers named "convenient, fee-free access to cash through an ATM." The second most popular response, at 62%, was "convenient branch locations." Right behind that response was "convenient locations to deposit cash," at 59.2%. Consumers value physical access, an on-ramp to their digital finances firmly planted in the real world, and they want that access to be convenient and easy.
Companies in the digital wallet space should take note of these findings. In comparison to the nearly 70% of consumers who listed convenient access to cash as important, only 54.6% listed a "mobile banking application to manage my account" as an important consideration. While app-based or online banking has become table stakes, access to cash remains essential. As the authors of the Cardtronics report state: "The reality of today's digital-first banking world is that consumers want both virtual and physical, and gaining a competitive advantage in the battle for consumer dollars requires integrating digital account services with physical ATM access."
Mobile cash access at the ATM appeals to many consumers
Adding mobile cash access to a digital platform appeals to many consumers. For those already using digital platforms, including Venmo and Paypal, adding this functionally can result in increased use of that platform. Cardtronics' survey found that 31% of consumers would "start using this service more often" if they had ATM access. A full break down of responses is presented below.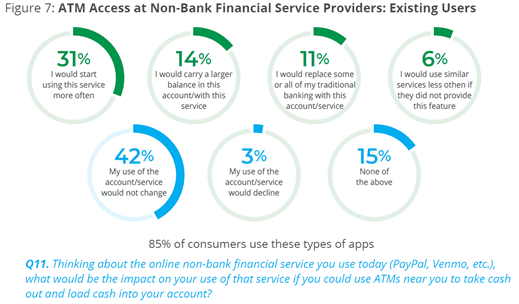 For those not using these non-traditional platforms—about 15% of consumers—adding mobile ATM access could encourage them to use such digital platforms for the first time. Cardtronics found that half of respondents reported a willingness to try an alternative financial platform, "with 31% saying they would 'consider using' such a service, 16% indicating they would start using such a service, and 4% saying they would begin using the service and start moving some of their traditional banking to the new service." The findings are displayed in the graphic below.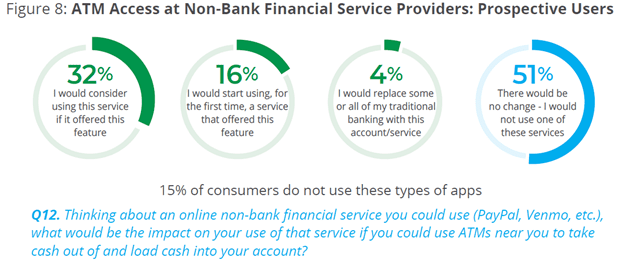 Overall, 56% of all respondents "showed some level of interest in mobile access at the ATM." Taken together, all these responses show how adding mobile ATM access to a digital wallet can drive usage and elevate the importance of that digital wallet in the consumer's financial life.
How to offer mobile cash access
The Cardtronics report concludes by explaining how fintechs, and others, can offer mobile cash access. The functionality can be implemented using several different methods, including "using a one-time-use passcode delivered via the app, through tap-and-go using NFC (Near Field Communication), or by scanning a QR code."
Another challenge is finding the right ATM network. For fintechs, creating an effective financial app that utilizes NFC or QR codes is the easy part. Finding ATM networks that support mobile cash access is more difficult. As the authors of the Cardtronics report noted, "connecting those digital bits and bytes to real-life dollars and cents has not been easy." While there are many third-party ATM networks, fintechs should look for those that have best-in-breed solutions. These solutions must be flexible, have proven distribution channels, and entail "continuous technology investment in the ATM channel, including the ability to take in cash (not just dispense it) and provide a fully digital card-free interface via a mobile cash access strategy."
Those interested in learning more can view Cardtronics' white paper here.